| | |
| --- | --- |
| Posted by me on July 26, 2015 at 2:20 PM | |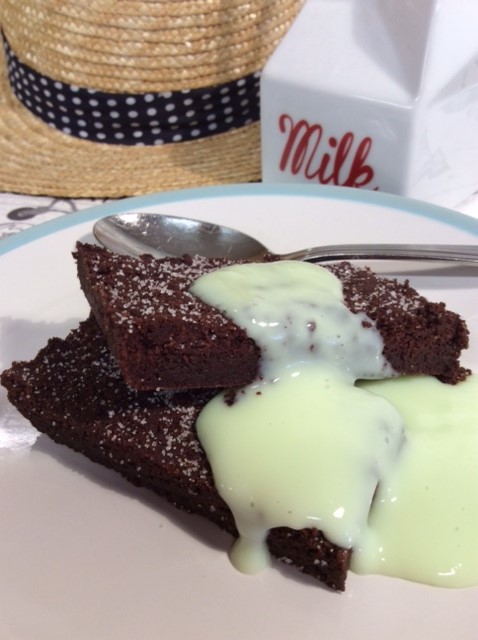 As a child growing up in the seventies I ate school dinners on a very regular basis, unless I went on a school trip then mushy white bread pilchard and vinegar sandwiches in a plastic Tupperware box were mandatory.
Although I loved the savoury main meals my favourite course had to be the puddings and I was one of the rare students that loved the thick, rubbery skin from the top of the custard and was always pushed to the back of the oblong dull, grey metal serving tin and vividly resembled the folds and nodes of a large, neon yellow aliens brain… Mmmmmm I can picture it now…
There were several desserts that were favourites, prunes and custard which enabled me to play 'Tinker Taylor' with the prune stones and decreed who I would end up marrying, Gypsy tart or butterscotch tart which is already on my website and lastly Monmouth pudding which I ate at my senior school in Taunton.
Chocolate Concrete was a staple in the dinner ladies repertoire of quick, cheap and easy dishes that could be produced in vast amounts to feed lots of hungry, growing stroppy teenagers and was served hot with bright green mint ( we always called it toothpaste sauce) flavoured sauce, never custard! Occasionally when the cook was in a particularly good mood we had it cold the day after with wobbly orange jelly, happy days….
Here is my recipe for Concrete, although I'm sure that the cook would never have used real butter in her recipe and instead opted for cheap as chips Stork margarine or even Echo margarine – blimey that's really showing my age…. I also add a touch of salt too as it brings out the deep rich chocolate flavour better.
What you need
300g plain flour
300g granulated sugar, plus a little more to sprinkle once baked
100g cocoa powder
1 level teaspoon salt
150g butter, melted
What you do
Preheat the oven to 180c or 160c for a fan assisted oven and grease a 12 x 8" rectangle baking tin
Place the flour, sugar, cocoa powder and salt in a large bowl and stir well with your hand or a wire whisk to combine all the ingredients.
Pour in the melted butter and stir to combine (use your hand if you find it easier) tip the mixture into the prepared tin and flatten the mixture with your hand to compact it.
Bake in the preheated oven for 20 minutes then sprinkle with a little bit more granulated sugar, mark into 16 bars or squares and leave to cool in the tin.
Serve with green minty white sauce
Mint sauce
600mls full cream milk
4 level tablespoons cornflour
4 heaped tablespoons granulated sugar
few drops mint essence (to taste)

Green food colouring ( few drops) to the shade you want
place the cornflour and milk into a non stick saucepan and bring to the boil,stirring allthe time. boil gently for a few minutes then add in the mint essence, sugar and green food colouring, continue to cook for another minute then pour over the chocolate concrete...

Categories: Chocolate... chocolate and more chocolate!, Brownies and bars, Just like Grandma used to make