| | |
| --- | --- |
| Posted by me on July 26, 2015 at 2:30 PM | |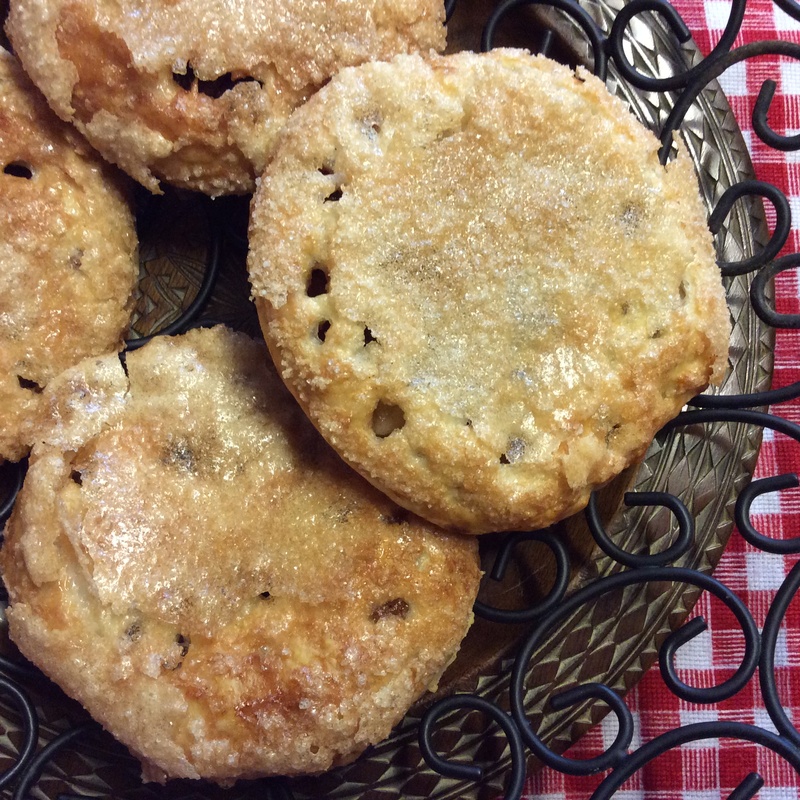 Here in Lancashire there is good natured rivalry between the towns of Chorley, Accrington and Eccles as to who produces the best fruit filled pastry 'cake'. Despite being an inhabitant of the market town of Chorley, I much prefer the sugar encrusted puff pastry Eccles version compared to the plainer Chorley or Accrington short crust pastry cakes that are traditionally eaten slathered in a bit'o best butter, my Husband a true Chorley Boy doesn't agree with me in the slightest…..
Normally filled with just currants, butter and brown sugar I have added a bit of spicy cinnamon and a generous dollop of chunky Bramley apple sauce to make a lighter, fruity filling and topped them with a flaky, crunchy sugar crust, they are divine…
What you need
500g readymade puff pastry- all butter if you can find it, it gives a much nicer taste
A little plain flour to dust the work surface whilst rolling out the pastry
200g dried mixed fruit
100g Bramley apple sauce
1 level teaspoon ground cinnamon
15g butter, melted
1 egg white
100g granulated sugar
What you do
Preheat the oven to 180c or 160c for a fan assisted oven and line a baking tray with baking paper.
In a small bowl combine the dried mixed fruit, cinnamon, apple sauce and melted butter, mix well to combine all the flavours
Roll out the pastry on a lightly dusted work surface until the pastry is no thinner than ½ cm thick, cut out 10 circles using a 10cm plain edged cutter, re-rolling the pastry if necessary to get 10 circles.
Place a generous heaped teaspoon of apple filling into the centre of each circle and dampen half of each pastry disc with a little cold water, pinch the pastry together into the centre to enclose the filling (they will look slightly ball shaped at this point) then turn them over so the neat surface is on the top. Roll them back out to a 10cm circle, using the cutter as a guide.
Beat the egg white in a small bowl then dip the top (neat) surface of each Eccles cake into it followed by a dip into the granulated sugar.
Place onto the prepared baking tray and bake in the preheated oven for approximately 25 minutes or until the cakes are well risen, golden brown and the underside of the pastry is cooked all the way through.
Leave to cool on the tray
Categories: Pies, pastry, Tarts and Tartlets, Just like Grandma used to make