| | |
| --- | --- |
| Posted by me on July 26, 2015 at 3:30 PM | |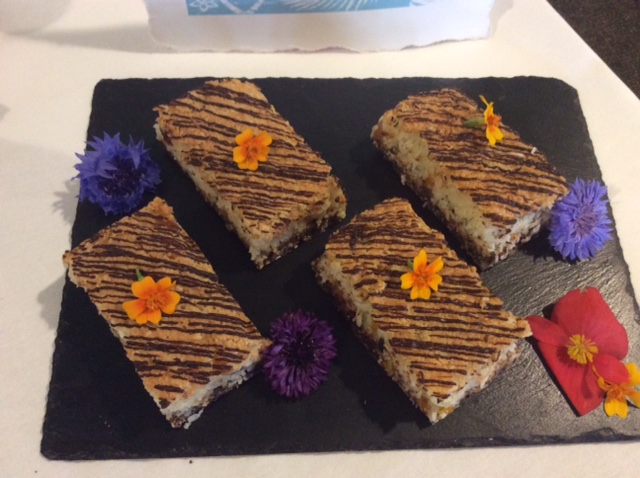 Deep in the Lancashire countryside on the A6 between bustling Preston and the pretty old market town of Garstang is a fabulous garden centre (complete with cool, giant flower head urinals in the gents for the fella's to wee elegantly into) that makes the most delicious cakes, cookies and scones. It's one of our favourite places to visit when the Husband gets his 'Alan Titchmarsh hat' on and there is nothing nicer than sitting out on the café veranda overlooking the gurgling river and munching on the slab of coconut and chocolate heaven that bears the name, Barton slice.
Coconut macaroon decadently laden with dried cranberries, apricots and cherries, sitting proudly on a plain chocolate base, this is a grown up Bounty Bar with attitude and very quick and easy to make
What you need
3 egg whites
180g caster sugar
150g desiccated coconut
60g dried cranberries
60g dried apricots, chopped
60g glace cherries, halved
400g plain chocolate, broken into small chunks
2 tablespoons vegetable oil
100g milk chocolate, broken into small chunks,
What you do
Line a 30cm x 20cm tin with baking paper.
Place the broken up chocolate into a heat proof bowl and either melt over a pan of hot but not boiling water ( don't allow the base of the bowl to touch the water) or in a microwave on short bursts then add the vegetable oil. Pour the melted chocolate into the prepared tin and level by tapping the tin gently on a work surface, leave in the fridge to set.
Preheat the oven to 160c or 140c for a fan assisted oven
Meanwhile make the topping by placing the sugar, egg white and coconut into a large non stick saucepan and warming over a low heat for a few minutes, stirring constantly. The mixture should be warm but not hot… Remove from the heat and add the cranberries, chopped apricots and cherry halves, stir well to combine then spoon on top of the cooled slab of chocolate.
Bake in the preheated oven for 30 minutes then reduce the heat to 120c or 100c for a fan assisted oven for a further 15 minutes until golden brown and firm to the touch, leave to cool in the tin before melting the milk chocolate and drizzling over the surface. Place in the fridge for an hour to completely chill then cut into 12 equal sized bars.
Categories: Chocolate... chocolate and more chocolate!, Brownies and bars, something a little bit special...