| | |
| --- | --- |
| Posted by me on August 10, 2015 at 4:05 AM | |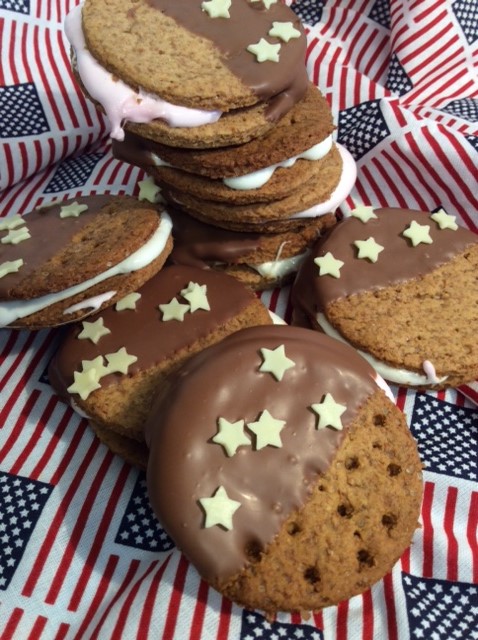 I am off on my holidays tomorrow to our favourite city on the planet, Las Vegas, Nevada in the good old USA (11,8,2015) and thought I would share the baking I indulged in yesterday in honour of our little excursion across the Atlantic... These bad boys are a cross between an English Digestive biscuit        ( boring!) a Rich tea biscuit (even more boring) and a child hood favourite a Wagon Wheel ( so much bigger when I was a child :D) but OH BOY boring and bland they S'mores definately aint!!!!
Squidgy marshmallow oozes between two crisp wholewheat biscuits and they are half smothered in creamy milk chocolate and a sprinkling of little white chocolate stars....
Quick and simple to make, they take minutes in a food processor or very slightly longer by hand and can be on the table in under an hour, go on get that baking apron on, you know you want to!!! x

what you need

220g wholemeal self raising flour, plus a little more to dust the work surface
55g plain flour
90g Demerara sugar
1 ½ level teaspoons ground cinnamon
¼ level teaspoon sea salt
½ level teaspoon baking powder
90g butter
45mls milk
65g runny honey
1 level teaspoon vanilla extract
250g milk chocolate, chopped into small chunks
Approximately 20 marshmallows
White chocolate stars or other white chocolate decoration (optional)
What you do…
Preheat the oven to 180c or 160c for a fan assisted oven
Place the flour, sugar, cinnamon, sea salt and baking powder into the bowl of a food processor and blitz for a few seconds to mix all the ingredients. Add the butter and blitz again until the mixture resembles fine breadcrumbs (alternatively place the dry ingredients into a large bowl, mix with a wire hand whisk to mix them all together then rub the butter into the dry mixture with your fingertips until they resemble breadcrumbs).
In a small bowl mix the milk, honey and vanilla extract together then add into the flour mixture. Blitz again until the mixture comes together into a ball or use your hand to bring it together in the bowl, the mixture should be soft but not sticky, if it's too dry add a little bit more milk.
Sprinkle your work surface with a little flour and roll out until it's the thickness of a £1 coin or 3mm thick, cut out circles using a 5-6cm cutter and place onto a non stick tray, prick holes with the end of a skewer or use a fork then bake in the preheated oven for 15-18 minutes or until the crackers are just brown around the edges, don't over bake or they will taste bitter. Remove from the oven and allow half of the crackers to cool on the tray. Turn the remaining half of the crackers over on a tray and place a marshmallow on top then place back into the oven for a few minutes until the mallows just start to soften and swell, place a cooling cracker on the top of each one and squish down slightly, leave to cool completely.
Place the milk chocolate, broken into small pieces in a glass bowl and Melt in short bursts in the microwave or melt in a bowl over a pan of hot but not boiling water until smooth.
Dip the crackers half way into the melted milk chocolate, shake gently to remove the excess then place onto a tray lined with baking paper or parchment, sprinkle with the white chocolate stars and then leave to set.
Categories: Biscuits and Cookies, Chocolate... chocolate and more chocolate!