| | |
| --- | --- |
| Posted by me on October 29, 2015 at 12:35 AM | |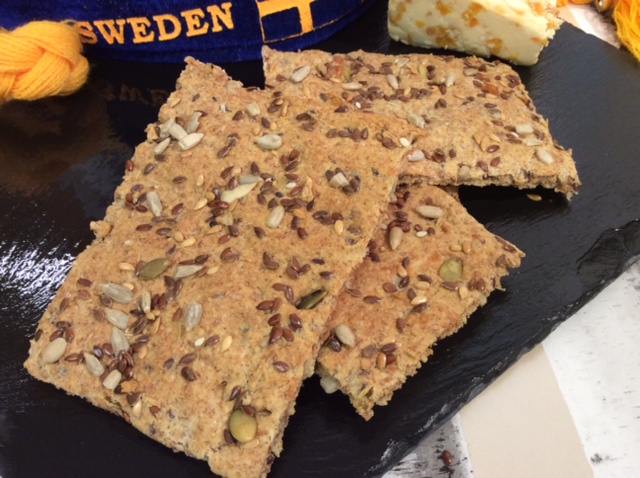 If you think that Crispbreads are the cardboard tasting, diet induced slices of 'nothingness' then you really need to wrap your gnashers around homemade cheddar and multi seeded oaty crispbreads inspired by delicious Smorgasbord breads from Scandinavia, because there is absolutely nothing bland or cardboard like about these crisp, seed packed and tasty little babies...

Try them heaped with creamy butter, slabs of cheddar, smooth pate or zingy houmous, or simply with some Roll mop Herring like the Swedes,  and they are free from both dairy and eggs, if the honey was substituted for maple syrup or agave syrup they would be suitable for vegans too.

what you need
250g self raising wholemeal flour, plus extra for dusting
50g oat bran
70g mixed seeds (I used a mixture of pumpkin, sunflower, linseed and sesame seeds but you can use any variety you like) plus another 2 tablespoons for the top of the crackers
50g extra mature cheddar cheese, grated plus another 20g for the top of the crackers
1 level teaspoon sea salt
1 heaped teaspoon runny honey
30mls olive oil
175mls water
What you do....

Preheat the oven to 180c or 160c for a fan assisted oven
Place the 250g flour, into a large bowl with the oat bran, mixed seeds, sea salt and grated extra mature cheddar and mix well to distribute all the ingredients, ensuring there are no large lumps of cheese visible.
Drizzle over the olive oil and honey then the 175mls cold water and bring the mixture together into a ball with your hand, it will be sticky at this point but if you leave it for 15 minutes the extra moisture will be absorbed by the flour. Divide the dough into 2 equal pieces
Sprinkle two non-stick 12" x 9" baking trays (30 x 23cm) with a little flour and then squash half the dough into a thin layer using your fingers and knuckles, sprinkling a little extra flour on top to stop the dough sticking.
Once you have an equal thin layer sprinkle with a tablespoon more of seeds, squashing them in slightly to the dough and then sprinkle with half of the extra grated cheese. Repeat with the second tray
Bake in the preheated oven for 15 minutes until golden brown then remove the baking trays from the oven and score each into 8 equal pieces, then reduce the heat in the oven to 140c or 120c for a further 45-90 minutes or until the crispbreads are totally dry and snap when broken along the score lines.
Leave the Crispbreads to cool completely then store in an airtight container for up to a week.
Perfect with a good chunk of cheese, some glorious golden butter or some creamy pate or houmous…
Categories: Something savoury, Biscuits and Cookies, Free From.....