| | |
| --- | --- |
| Posted by me on June 19, 2016 at 11:50 AM | |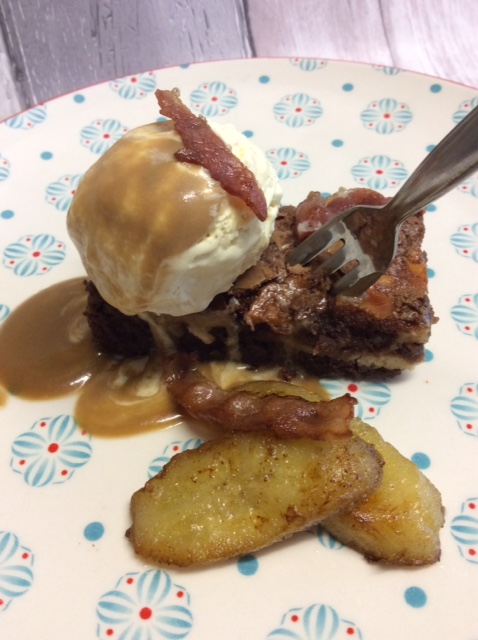 ( serves 12 ) free from gluten
225g plain 70% chocolate, broken into small pieces
225g butter
200g soft light dark brown sugar
3 medium eggs
150g ground almonds
For the cheesecake swirl
180g full fat cream cheese
1 small very ripe banana (the browner and squidgier, the better the flavour)
½ teaspoon vanilla extract
1 egg
20g caster sugar
For the caramel drizzle
25g butter
150mls single cream
50g soft dark brown sugar
To serve
2 large firm, green (or only just ripe) bananas,
20g butter
1 tablespoon of vegetable oil
2 teaspoons caster sugar
6 slices of streaky bacon pulled thinner with the back of a knife then cut in half Good quality Vanilla ice cream
Start by lining a 28cm x 18cm baking tin with baking or parchment paper and preheat the oven to 180c for a standard oven or 160c for a fan assisted
Place the broken chocolate and butter into a heatproof bowl and melt in short bursts in the microwave then leave to cool for 5 minutes.
Place the soft brown sugar, 3 eggs and ground almonds into a mixing bowl and stir with a wire whisk then stir in the slightly cooled chocolate and butter mixture.
Place the cream cheese, caster sugar, mashed banana, egg and vanilla extract into a small bowl and beat well to combine then dollop alternate large spoonfuls of the brownie and cheesecake mixture into the prepared tin and place into the preheated oven.
Bake for 40-45 minutes or until the top is cracked and the brownie is a little risen and just set, it will firm up on cooling so don't worry but this isn't a firm brownie by any means. Cook the bacon too at this stage, place the slices of streaky bacon onto a baking tray and bake in the oven until crispy and golden brown, don't overcook or the bacon will taste bitter. Remove from the tray, drain and cool on paper kitchen towel, reserve.
Once the brownie is baked, leave to cool down, then place the tin in the fridge for at least two hours.
Once the brownie is completely cold, cut into 12 equal sized pieces.
Make the sauce by placing the cream, butter and soft dark brown sugar into a small saucepan and bringing the mixture to the boil, cook at a rapid boil for 3-5 minutes, stirring gently, until the mixture is caramel coloured and thickened. Leave to cool.
Slice each of the bananas into 12 equal slices on the slant so that they are oval and not round in shape, melt the butter and oil in a shallow frying pan and heat until the fat is sizzling and just beginning to colour. Place the banana slices in a single layer then sprinkle with the caster sugar. Fry gently, turning once until the banana slices are golden brown on each side. Remove from the pan and leave to cool.
To serve.
Place a piece of brownie onto a plate and garnish with a light dusting of cocoa powder, a scoop of the vanilla ice cream, two slices of the fried banana, a slice of crispy bacon and a drizzle of the caramel.
Categories: Chocolate... chocolate and more chocolate!, Brownies and bars, something a little bit special...