| | |
| --- | --- |
| Posted by me on September 20, 2016 at 2:55 PM | |
If you happen to visit Northern Ireland you will find this lovely fridge cake on every tea time table and on every café menu.
It's called a fifteen because there is almost no weighing involved, you just count out 15 of each ingredient, which is perfect if you can't be bothered getting the weighing scales out.
I have made a traditional Fifteen and also tweaked the recipe a little and given it a caramel and toasted caramel twist which is just delicious, its up to you which version you decide to make but both are equally delicious and set to become a firm favourite
Traditional recipe
15 digestive biscuits
15 marshmallows ( I used pink and white ones which I then snipped into 4 pieces using scissors dipped into water)
15 glace cherries
200g of sweetened condensed milk (half a can)
A couple of handfuls of desiccated coconut
Caramel Fifteen with Toasted coconut
15 digestive biscuits
15 marshmallows (I used pink and white ones which I then snipped into 4 pieces using scissors dipped into water)
100g chocolate chunks, milk or plain- it's up to you which flavour you would prefer
200g of caramel condensed milk (half a can, you can buy this already made or you can take a can of sweetened condensed milk and boil the unopened can in a pan of gently boiling water for 2 hours- take care when opening, make sure the can is completely cool before you attempt this)
1-2 tablespoons of double or whipping cream ( or milk)
A couple of good handfuls of desiccated coconut which needs to be toasted in a dry frying pan ( keep turning the coconut whilst you do this to get a lovely golden brown colour and to stop it burning)
100g milk or plain chocolate –melted in a microwave or in a small bowl over a pan of hot but not boiling water
4 or 5 pieces of fudge or toffee, cut into small chunks ( optional)

What to do
Blitz the digestive biscuits to fine crumbs in a food processor or put them in a bag and bash them with a heavy rolling pin, tip the crumbs into a large bowl and add the chopped up marshmallows and either the cherries or chocolate chunks.
Add the condensed/caramel milk (and the cream or milk if making the caramel version) and using a spoon (or even better your hand) mix the crumb mixture together until it forms a stiff paste.
For the traditional Fifteen- Lay a sheet of tinfoil on your work surface and place a sheet of cling film on the top then sprinkle with the desiccated coconut. Place the biscuit mixture on the top and form it into a log shape about 2" wide, covering the sides with more desiccated coconut. Wrap the log into a sausage shape and place into the fridge for 2-3 hours then cut into ½" thick rounds.
For the caramel Fifteeen's divide the mixture into golf ball/ large walnut sized balls and roll each ball in the toasted coconut. Place onto a tray lined with a sheet of baking parchment and drizzle with the melted chocolate. top with the chopped up fudge or toffee if you really want to push the boat out then place into the fridge for 1-2 hours.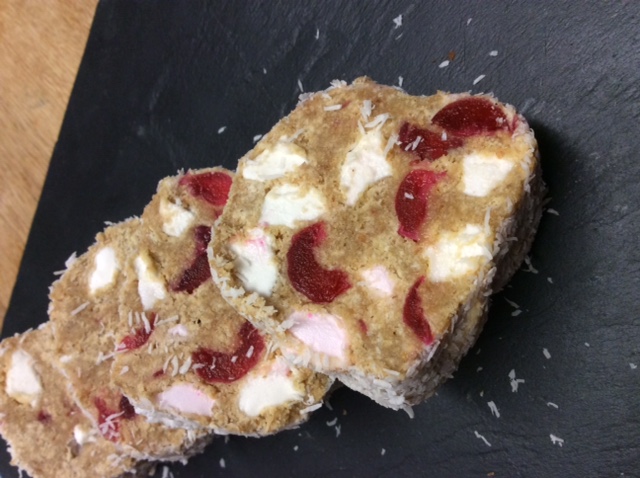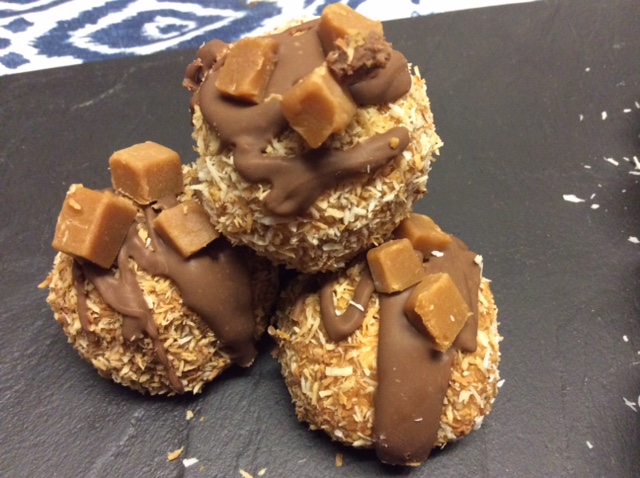 Categories: Brownies and bars, Just like Grandma used to make