| | |
| --- | --- |
| Posted by me on October 9, 2016 at 11:30 AM | |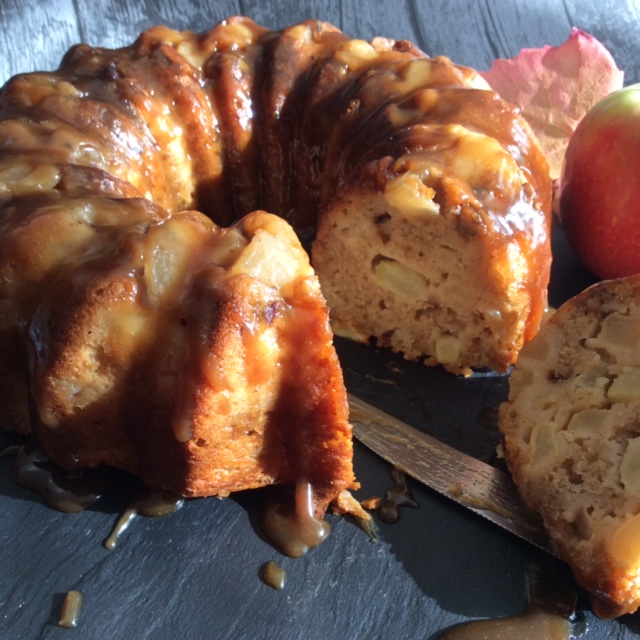 Every autumn I create a cake or dessert that fills my soul and my tummy with a warm fuzzy feeling and the promise of nature's bountiful harvest- crisp, juicy apples and fragrant spices. This year I decided to make a dessert and a cutting cake all in one beautiful ring of gorgeousness and it was inspired in memory and honour of my lovely Mum 'Pammy' who we lost very suddenly at the end of 2015.
Mum hated with a passion, two foods - cabbage and CUSTARD so some might think it strange that i have created a dessert with custard in it... funny old way to honour someone... but Mum would have loved this pudding (I wouldnt have told her the secret ingredient lol until AFTER she finished eating it) and I know she would be having a little chuckle up in heaven with my 'mean' trick....

Try and use a Bundt tin if you have one as the finished cake will look beautiful but a 10" round tin will work perfectly well.
What you need
275g plain flour
4 level teaspoons baking powder
2 teaspoons ground cinnamon
1 level teaspoon salt
125g caster sugar
125g butter
300g of finely diced cooking apples
200g good quality tinned custard, I used Ambrosia Devon custard
2 eggs
2 teaspoons vanilla essence
For the topping
1 eating apple- I used a Pink Lady apple, peeled and cored, finely diced
50g walnuts or pecans, roughly chopped
For the salted caramel sauce
50g soft dark sugar
50g double cream
30g butter
Good pinch of salt
What you do.
Preheat the oven to160c for a fan assisted oven or 180c for a regular oven then prepare your tin by sprinkling the chopped walnuts and finely diced eating apple into the bottom of the tin- I used a Bundt pan because it looks so pretty but you can easily swap the Bundt pan for a 10" round baking tin or pudding dish.
Sieve the flour, baking powder, salt and cinnamon into a large bowl. Break the butter into chunks and add to the flour then using your fingertips, rub the butter and flour together until it resembles fine breadcrumbs.
Tip in the prepared chopped baking apples followed by the custard, eggs and vanilla essence and stir well to combine and coat all the ingredients. Dollop the mixture over the top of the apples and walnuts then place into the preheated oven and bake for approximately 1 hour or until the pudding is well risen, golden brown and a skewer comes out cleanly when inserted,(this might take less time if you change the Bundt pan for a round tin or pudding dish) leave to cool in the tin for 10 minutes then turn out onto your serving platter.
Place the butter, cream, sugar and salt into a small saucepan and bring slowly to the boil, stirring all the time, then boil the mixture gently for 2-3 minutes until it thickens slightly. Leave to cool for five minutes then pour the sauce over the upturned pudding.
Serve warm with more custard or a big dollop of creamy vanilla ice cream. Delicious!
Categories: Puddings and desserts, Just like Grandma used to make