| | |
| --- | --- |
| Posted by me on October 17, 2016 at 1:25 AM | |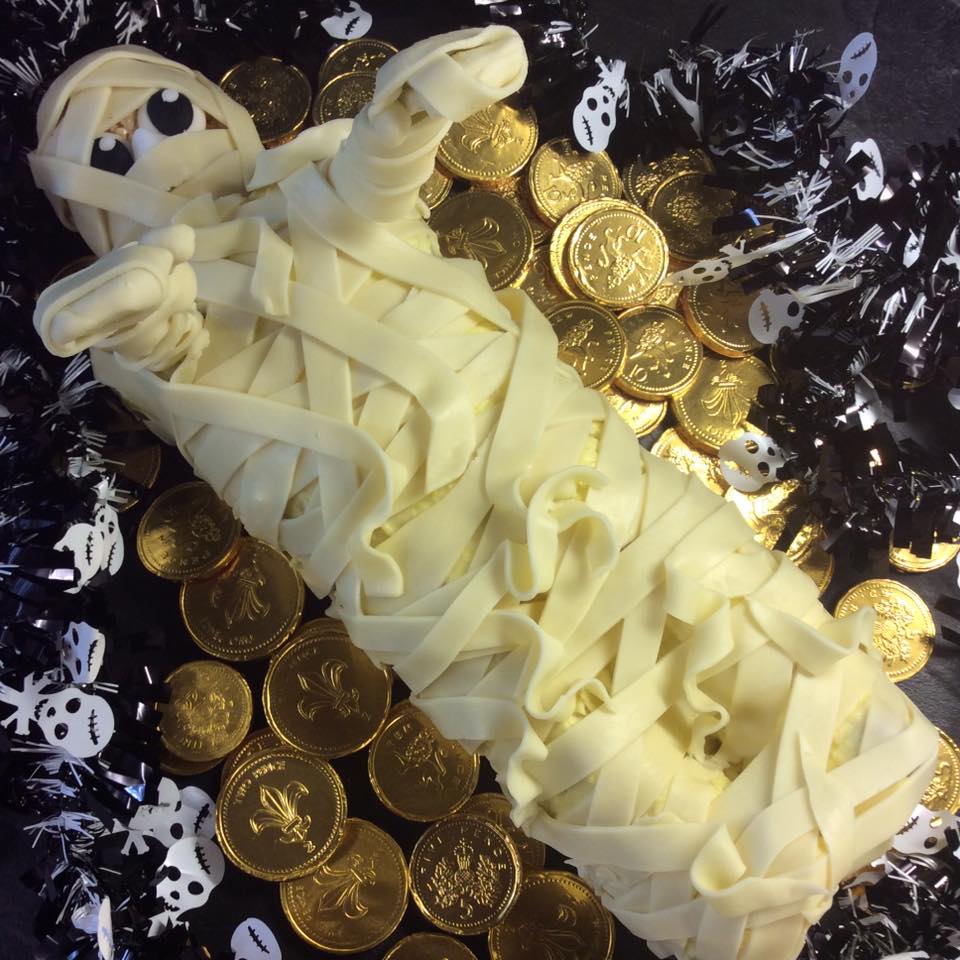 Sometimes you just have to let your 'INNER FREAK' out, and Halloween seems to me the perfect excuse to have some decidedly creepy and freaky fun with my Mummy cake covered in chocolate bandages and filled with frog spawn and beetle bug frosting….
I had been thinking about this cake for days before I finally managed to get into the kitchen to create it and I wanted to ensure that it was easy enough to be made by everyone and all the ingredients and tools required were readily available. NO specialist shops required, just the baking aisle of your local supermarket.
Have some Devilishly good fun and whip up this ghoulishly, freaky Mummy surrounded by his money, BE WARNED… you will have to grab them carefully tho or he's likely to come and get you…
Happy Halloween!
What you need
For the chocolate bandages
300g cheap white chocolate- Tesco's is brilliant for this and less than 40p a bar
1 tube of glucose syrup (find it in the baking aisle) I use DR Oetker
For the Mummy cake
300g plain flour
4 teaspoons baking powder
1 teaspoon ground cinnamon
½ teaspoon salt
300g caster sugar (divide into 2) plus a little extra for sprinkling onto a sheet of baking paper when you come to roll up your cake
50g desiccated coconut
2 very ripe bananas, the browner the better as they will give you more flavour in the cake
140g grated carrot, don't bother peeling them, just wash and dry well and grate away
425g can pineapple chunks, drain the juice (reserve it for later) and whizz the chunks with a hand held whizzer- alternatievely if you don't own a whizzer you can finely chop them instead
150mls vegetable oil
30mls milk
2 whole eggs
2 egg whites- keep the egg yolks for something else
For the frog spawn filling and beetle bug frosting
2 large passion fruit (or four small ones)
30g caster sugar
100mls of the reserved pineapple juice
375g mascarpone
100g icing sugar
100g butter
Grated zest of an orange plus 3 tablespoons of juice
50g milk chocolate chips
To decorate
2 x Kelloggs marshmallow squares,
A little black fondant (also known as sugar paste)
A little white fondant (also known as sugar paste)
Chocolate coins
You will also need 2 plastic forks and a sharp pair of scissors to trim them
What you do…
This isn't a hard cake to make it just involves a few stages so start by making your modelling chocolate first.
Place the broken up chocolate into a heatproof bowl and microwave in short 15-20 second bursts, stirring every time it pings.
Once the chocolate is fully melted, add all the glucose syrup ( the easiest way is to cut the opposite end of the tube off and squeeze it out in one go, but I needed to take a photo one handed which is why I am squeezing from the proper end)
Stir gently until the mixture is just mixed and starts to look grainy, just make sure you mix it completely!
Pop the mixture into a small bag and squash it down with your hand until its about 1-2cm thick then place into the fridge to set and harden whilst you make your cake. Once it's hard, remove from the fridge and leave at room temperature until you are ready to use it
Preheat the oven to 160c for a fan assisted oven or 180c for a regular oven and line a large baking pan with some baking paper. I used a roasting tin 35cmx30cm but anything a similar size will be perfect.
Place the flour, baking powder, HALF the caster sugar, cinnamon, salt and desiccated coconut into a large bowl.
Mash the banana and whole eggs together in a separate bowl then add the grated carrot and whizzed up pineapple.
Place the egg whites into another bowl and whisk until stiff peaks are formed, add the remaining HALF of the caster sugar and whisk again until peaks are formed and the mixture is lovely and shiny.
Mix the oil and milk together
Add the carrot and banana mix to the flour and stir well then tip in the oil and egg mixture and beat to combine, make sure there are no pockets of dry flour at this stage.
Finally, gently and carefully fold in the whisked up egg whites until the mixture is smooth and well combined, tip into the prepared tray and bake in the preheated oven for approximately 30 minutes or until well risen, golden brown and the cake bounces back when gently pressed with your finger.
Remove from the oven and carefully tip the cake out onto a sheet of baking paper that has been sprinkled with a little extra caster sugar.
Carefully, loosely, roll up the cake along the LONG side so you have a long thin roll, rather than a short fat one, be careful tho' the cake is very hot at this stage so use a clean tea towel to help you if necessary, leave to cool.
Whilst the cake is cooling- doesn't it smell SOOOOOooooo good , prepare your frog spawn.
Put the caster sugar and 100mls of pineapple juice into a small saucepan, then cut the passion fruits in half and scoop out the seeds, adding them to the saucepan. Boil rapidly until the mixture is thickened and now measures approximately 75mls, leave to cool.
Place the butter, orange zest and icing sugar into a bowl and beat well until creamy and smooth then add the mascarpone and orange juice and beat again until just combined, don't overbeat or the mixture will curdle at this stage.
Squash the two Kelloggs Marshmallow squares together in your hands to form a ball then make two balls out of white icing the size of a marble, two small balls out of the black fondant about the size of small peas and two more very small balls of white (a quarter of the size of the black balls)
Using your thumbs push down into the marshmallow crispy ball to form eye sockets and place the biggest white fondant ball into each indentation. Place the black ball on top, pushing down to form the pupil then position the very small white ball on top of the black- this is the light reflecting…. I formed a further small piece (marble sized into a triangle nose shape but this really isn't necessary.
Mwah…ha…ha…. Now to put your Mummy together!
Unroll the completely cooled down cake, don't worry about it cracking or breaking, that's quite usual, spread with half of the mascarpone frosting followed by the chocolate chips and passion fruit puree. Roll the cake back up again using the paper to help you.
Place the cake ( you may need another pair of hands for this bit) onto your serving board, trim the top and bottom then cut a strip out to form the legs, trim the shoulders a little too. Cover the cake with the remaining mascarpone frosting, then position the head.
Take 2 plastic forks, mine were black but it really doesn't matter what colour they are as they will be covered with chocolate bandages and using a pair of sharp scissors, cut the prongs off, half the way down their length. Insert the forks into the top of the cake near the shoulders.
Take the modelling chocolate out of the fridge if you haven't already done so and break golf ball sized pieces off, knead each piece to soften and make it flexible (the warmer your hands the easier this job is- mine are always cold so I find this job a little harder to do.
Roll out each piece between clingfilm until it's very thin, cover the plastic forks with separate pieces of modelling chocolate, then continue kneading, rolling and then cutting into long strips the remainder(1cm wide), positioning them on your cake to form the bandages.
Scatter the chocolate coins around your finished Mummy…
Store in a cool dry place until he's ready to be devoured.
Categories: something a little bit special..., Cutting cakes, Seasons eatings....