| | |
| --- | --- |
| Posted by me on October 31, 2016 at 9:15 AM | |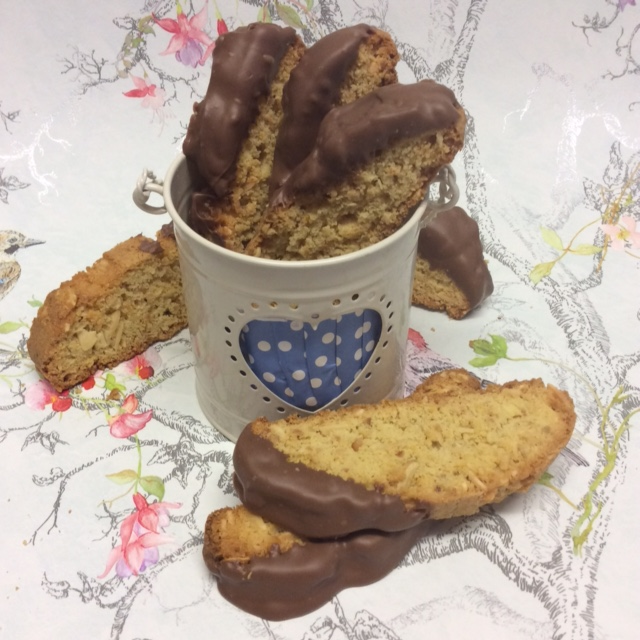 Biscotti- are Italian cookies which literally translates into 'twice baked' and are one of the tastiest and simplest biscuits to bake as well as making a wonderful gift when placed into a pretty glass jar or cellophane bag tied with ribbon or raffia.
A 'good' biscotti should be crunchy but not teeth breaking or jaw crunchingly hard and the secret is to bake them for the second time at a lower heat and a slightly longer time.
I make several variations when friends are due to pop around, from coffee and pecan, chocolate and chunky hazelnut or cappuccino with two luscious layers but these Orange and hazelnut ones with an indulgent little layer of creamy, orange infused, milk chocolate are probably my all time favourite, especially when dunked into a rich dark espresso or a chilled glass of sweet dessert wine at the end of a meal.
What you need
380g self raising flour
Grated rind of two large oranges
100g flaked almonds
100g chopped hazelnuts
150g butter
230g caster sugar
½ teaspoon salt
3 medium eggs
I x Terry's chocolate orange or 150g of orange flavoured milk chocolate
What you do
Preheat the oven to 160c for a fan oven or 180c for a regular oven and line a large baking sheet with baking paper.
This is a very 'hands on' recipe so don't be afraid of getting a little messy…. Start by Placing the flour, caster sugar, salt and orange zest into a large bowl and use your hand to stir the ingredients together thoroughly, then break up the butter into large lumps and rub the mixture between your fingers until it resembles fine breadcrumbs.
Add the flaked almonds and chopped hazelnuts and use your hand to stir again. Now break in the three eggs and either combine the mixture with your hand or start off with a fork until it starts to clump together and then use your hand at the end to form it into a fairly soft ball.
Divide the mixture into two equal sized pieces, shape into log shapes about 8" long and 1" high and place onto the prepared tray with plenty of space around and between them- they will rise and expand on baking so make sure they have lots of room to grow. Bake in the preheated oven for 30-40 minutes or until the logs are golden brown and fairly firm to the touch, then remove from the oven and leave to cool for 5 minutes (don't walk away and forget them, they must be cut whilst still warm or they will be almost impossible to cut thinly). Turn the oven down at this point to 140c if you are using a fan assisted or 160c for a regular oven.
Once the logs have cooled down for 5 minutes cut into slices ¾ cm thick (you might find it easiest with a finely serrated bread knife) and place back onto the tray, pop the biscotti back into the oven for a further 20-30 minutes or until they are a light golden brown colour and are lovely and crisp, remove and cool on a wire rack.
Once all the biscotti are baked and cool break up the Terry's chocolate orange into segments and place into a small heat proof bowl, melt carefully over hot, not boiling water then dip the top of one end of each biscuit in the melted chocolate, leave to set on a fresh sheet of paper.
Categories: Biscuits and Cookies, Chocolate... chocolate and more chocolate!, something a little bit special...