| | |
| --- | --- |
| Posted by me on November 4, 2016 at 7:25 AM | |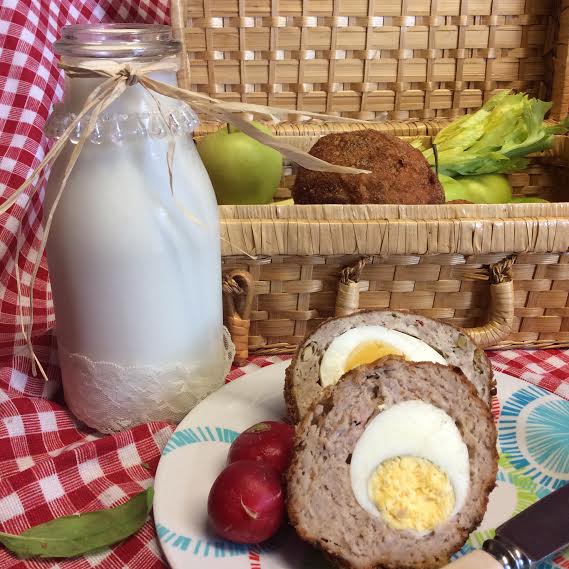 Ok, so I know these aren't baked but baked-schmaked they are so damn good who is complaining.... perfect when eaten in the garden on a lovely warm summers day with a nice cold half of cider.....

What you need
400g good quality pork sausage meat
60g vintage mature cheddar cheese, grated
50g good quality apple chutney
½ level teaspoon freshly ground black pepper
4 large eggs, boiled for 8 minutes then chilled under running water
To coat
1 ½ thick slices of day old bread, blitzed to a fine crumb in a food processor
3 tablespoons plain flour
1 egg, beaten
Vegetable oil to fry
What you do
Combine the sausage meat, grated cheese, apple chutney and freshly ground black pepper in a bowl and mix well with your hands.
Divide into four equal portions and shape each into a round, flat circle approximately 12cm wide, wrap around the hard boiled eggs and shape into neat oval shapes completely enclosing the egg.
Roll the sausage covered eggs in the flour followed by the beaten egg and then finally the fine bread crumbs. Leave to chill in the fridge for half an hour.
Heat oil to 160c and deep fry the scotch eggs for 8-10 minutes until the outside coating is golden brown and the sausage meat is cooked.
Drain on kitchen paper and serve warm or cold
Categories: Something savoury, Just like Grandma used to make