| | |
| --- | --- |
| Posted by me on November 27, 2016 at 11:20 AM | |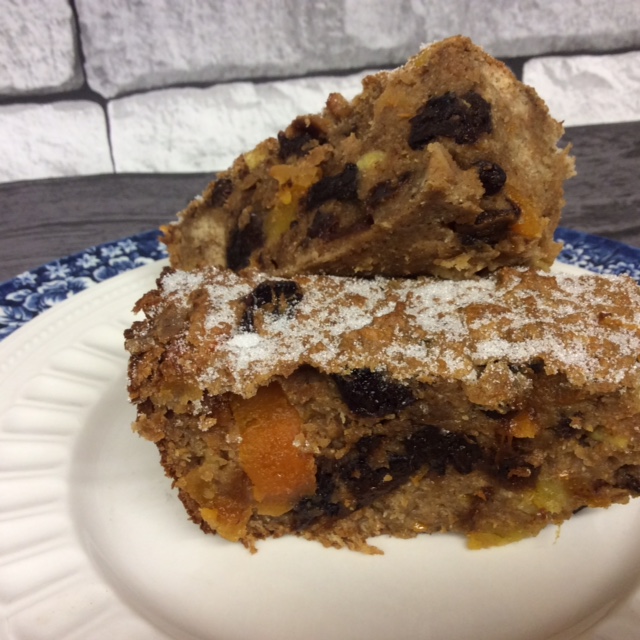 As a dirty 'suv-er-ner' I am familiar with good old fashioned, rib sticking bread puddin's (my Dad, especially, makes a mean one!) rich with dried fruit and spices and normally soaked in cold tea or water then baked and served hot with creamy vanilla custard or cold (my favourite) with a dusting of granulated sugar. It was popular in the war years in London and the home counties as bread was un-rationed and a little sugar and spice and dried fruit (when these were unavailable it was made with a dollop of marmalade or hedgerow fruit) and went a long way to filling hungry tummies, it was definitely poor man food and filled the boots after a long day working in the factories, docks or fields .
As a migrant to the North West of England I have never seen or heard of a regional version until yesterday when Hubby and I visited the 15th century, Tudor, Speke Hall in Liverpool.
To my amazement they sell an old, local 'Scouse' Speciality known as Wet Nelly, soaked overnight in milk but with familiar fruit and spices.
After a little research I discovered that it can also be served in a pastry crust (top and bottom), and is named after a similar cake or pudding known as a Nelson cake. As the North West of England has a plethora of pastry based puds I decided to forgo the shortcrust and keep it simple but revise the dried fruits and spices it probably would have originally been made from.
Here is my version with dried prunes, apricots, mixed citrus peel and dates and rich with the aromas of fresh orange, cinnamon and cloves as well as a generous slug of spiced dark rum, delicious…….
What you need
800g day old, brown bread ( I used an 800g uncut loaf)
100g butter
150g soft dark brown sugar
500mls milk
150mls sour cream
100mls dark spiced rum
200g dried, ready to eat prunes, chopped
200g dried ready to eat apricots, chopped
100g dried mixed peel
100g dried chopped dates
Grated zest of 2 large oranges
½ teaspoon ground cloves
1 tablespoon ground cinnamon
3 medium eggs
A little granulated sugar to dust once cooked
What you do
Start by slicing the (un-crusted ) bread into 1" thick slices then break it into 1" rough chunks, place into a large bowl.
Place the milk and butter into a saucepan and warm until the butter melts, add the sour cream and rum then pour it over the chunked up bread, cover and leave to soften for 3 hours.
Once the bread has softened and soaked up all the liquid preheat the oven to 160c for a fan assisted oven (180c for a regular oven) then add the remaining ingredients and beat well to combine (I love to squish it all with my hand, it's very therapeutic and makes sure there are no lumps of dry bread anywhere)
Once mulched together tip into a dish so that it is at least 1 ½"-2" deep and place in the preheated oven, bake for 1 ¼- 1 ½ hours or until the pudding is springy when pushed.
Sprinkle with a little granulated sugar
Serve hot with custard or cold with a nice cup of tea
 Speke Hall, Liverpool on a very cold and foggy November morning....

Categories: Puddings and desserts, A blast from the past.... old fashioned recipes with a modern twist!, Just like Grandma used to make