| | |
| --- | --- |
| Posted by me on October 29, 2017 at 12:05 AM | |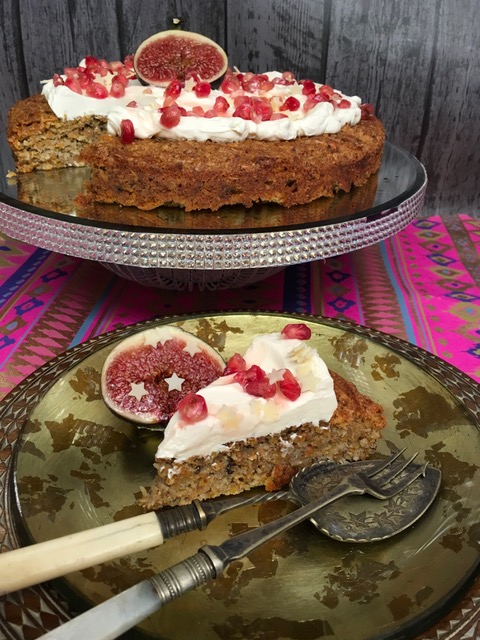 Serves 8-12
Light, moist and nutty, this is the perfect alternative to Christmas pudding after a heavy dinner. I would describe it as tasting a little like a coconut macaroon and with its mantle of whipped cream, chocolate stars and jewel like pomegranate seeds and it's just so pretty… best of all tho, its simplicity itself and can be baked a day or two before hand then finished with the whipped cream on the day.

What you need
4 medium eggs
200g caster sugar
300g freshly grated carrots
100g ground almonds
100g hazelnuts, roasted in the oven for 5-10 minutes then ground in a food processor or you can place them in a strong plastic bag and bash them with a rolling pin
100g desiccated coconut
150g butter, melted
Grated zest of 1 orange
2 heaped teaspoons of cinnamon
1 level teaspoon of ground cardamom

Good pinch of salt
300mls double cream, lightly whipped
3 tablespoons of rose syrup or rosewater with a drop of pink food colouring added - you can find rose syrup online or in specialist sections in good supermarkets and is delicious added to Champagne for a bit of decadence
1 pomegranate, de seeded
½ fig per person
2 tablespoons of white chocolate stars (find these in the baking section of most supermarkets)
What you do
Preheat the oven to 140c for a fan assisted oven or 160c for a regular oven
Line a 9" round shallow tin with a circle of baking paper or parchment.
In a large bowl mix the eggs, sugar, salt, orange zest, cinnamon, cardamom and melted butter then add in the ground almonds, hazelnuts, coconut and carrots, stir well and pour into the prepared tin, level the top. I know it looks pretty unappetising at this stage but bear with me because the finished dessert is delicious..
Pop the tin into the preheated oven and bake for 55-60 minutes then allow to cool completely.
to serve- Whip the cream until it forms soft peaks then spread in a generous layer over the top of the cooled cake, sprinkle with the pomegranate seeds, white chocolate stars and two halves of fresh fig then drizzle with the rose syrup
Alternative- use the juice from the orange you have zested, cut the figs into half and place into a heatproof oven dish, trickle the juice over with a little brown sugar or honey, then bake in the oven with the hazelnut cake until just soft. Serve with the cooled Cake as before.

Categories: Free From....., Puddings and desserts, something a little bit special...