| | |
| --- | --- |
| Posted by me on April 20, 2020 at 4:55 AM | |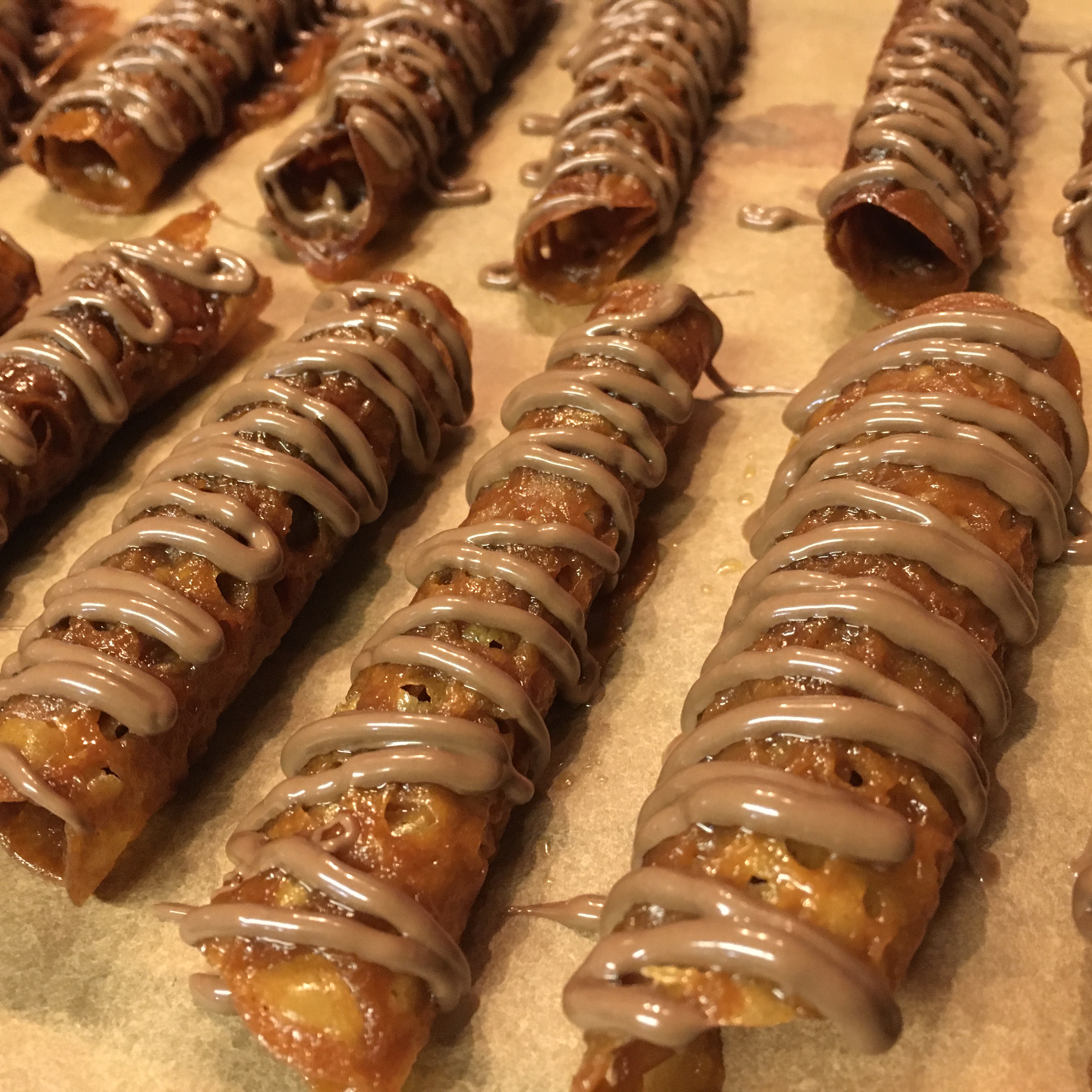 Brandy snaps
110g butter or block margarine
110g granulated sugar
110g golden syrup
110g plain flour
1 heaped teaspoon ground ginger
Pinch salt
Place the butter, sugar and golden syrup into a small saucepan and put onto a very low heat. Stir constantly, feeling the bottom of the pan with a wooden spoon. You want to melt the sugar, and you can tell it's melted when the bottom of the pan doesn't feel grainy - it might take up to 15 minutes so take your time and don't let it boil or get too hot... just keep gently stirring...
Add the flour, salt and ginger, mix well then leave the mixture to go cold and form a soft, pliable dough.
Line 2 large trays with baking parchment or silicone - do not use grease proof paper, you won't get get them off. If you haven't got baking parchment, lightly grease the non stick baking trays
Use your fingers to make small balls, the size of a large marble and place well apart on the trays - don't cook any more than 3 on each tray.
Cook @ 180c for between 8 and 10 minutes until they have spread, look lacy and have a good colour on them. Remove from the oven, lift the paper onto a work surface , leave for a few seconds until they firm up a little then wrap around a wooden spoon handle. As soon as they are firm enough to hold their shape remove from the handles so they don't stick. Leave to cool when they will be very crispy.
if you want to make them extra special, melt chocolate of your choice and drizzle over the cooled biscuits x
If they are chewy not crispy when cold, they need to be baked a little longer.
If they crack or break when being rolled, they are too cool, roll up earlier or quicker or pop them back onto the tray for a few seconds to warm back up.
If they are too soft when rolling, leave for a few more seconds to cool before wrapping .
Categories: Biscuits and Cookies, Chocolate... chocolate and more chocolate!, something a little bit special...