| | |
| --- | --- |
| Posted by me on April 20, 2020 at 9:05 AM | |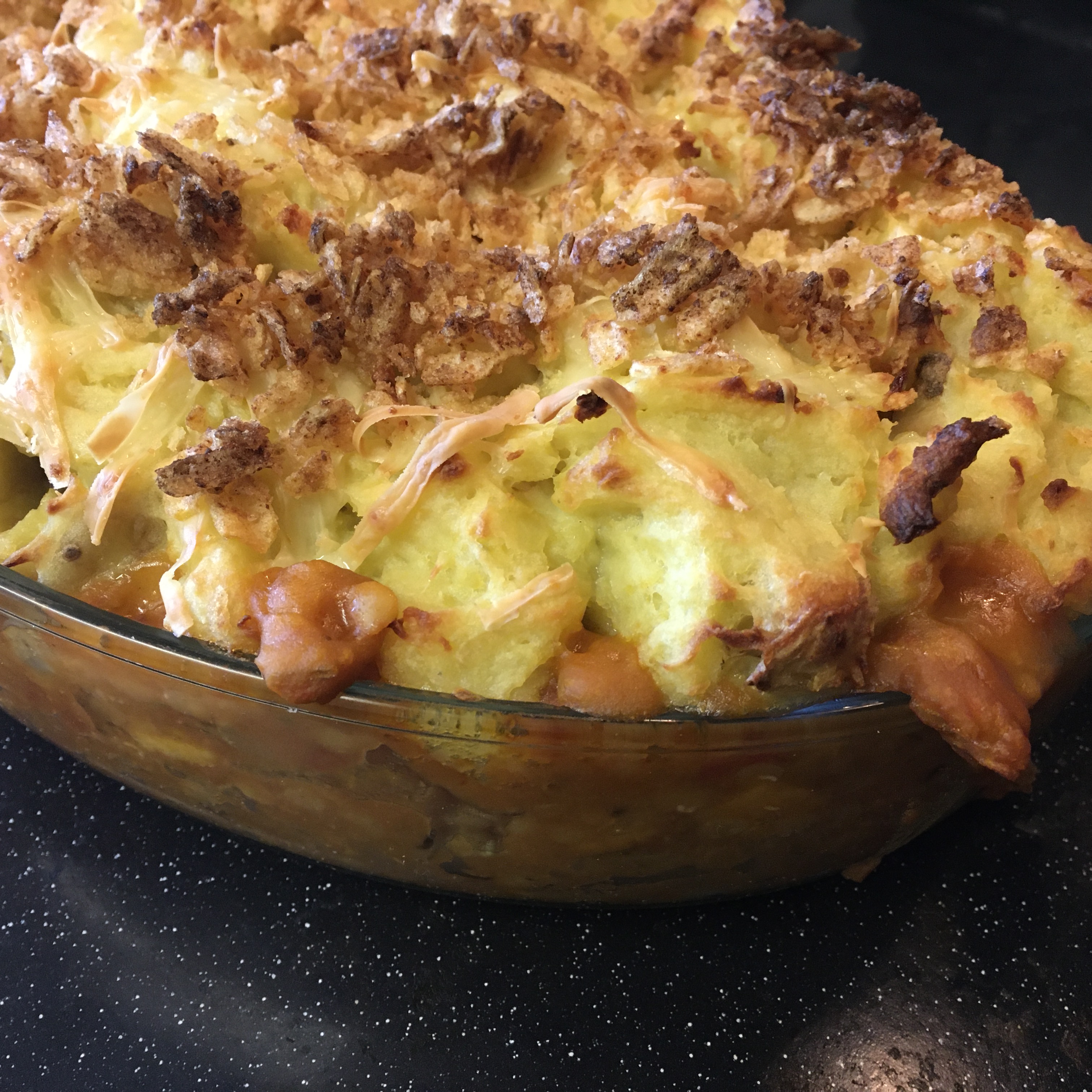 Shepherd-less pie
1 large carrot,washed but not peeled and cut into small dice
1 large onion, peeled and cut into small dice
1 small sweet potato, washed but not peeled and cut into small dice
400g can chopped tomatoes - save the can as you will need it to measure water
300g Can mushy peas - trust me on this one, they will disappear completely but will change the colour of the mixture from red to a lovely chestnut brown! The greener the peas, the browner your mixture will be so don't miss them out..
1 tablespoon tomato purée
170g red lentils
2 x vegetable stock cubes
1 teaspoon dried rosemary or sage
1 kilo potatoes, washed but not peeled, cut into chunks
Large knob of butter or margarine and a splash of milk for the mashed potatoes
1 packet cheese and onion or ready salted crisps - crushed to smithereens in the bag - go on... release your inner hulk! - these were my lovely mums secret ingredient on the top of every cottage or shepherds pie, so they definitely can't be missed off the top of this shepherdless pie
Handful grated cheddar cheese
Boil the chunks of potato in salted boiling water until soft, then drain and mash as usual with some butter or margarine and a splash of milk.
Place the onion, carrot, sweet potato and dried rosemary into a large saucepan with a tablespoon of oil and cook over a medium heat for 5 minutes.
Add the lentils, tomatoes ( plus 2 cans of water) tomato purée, stock cubes and mushy peas and bring the mixture to the boil. Turn the heat down and very gently simmer for 20-30 minutes or until the lentils are soft and the vegetables tender. The mixture should be lovely and thick, check the seasoning then tip into a oven proof dish, deep enough for the mash on top.
Spoon or fork the mashed potato over the top of the lentil mixture, sprinkle with the grated cheese and finally the crushed crisps..
Bake in a preheated oven 180c gas 4 for 20 minutes or until the top is golden brown x
Categories: Something savoury, Free From....., A blast from the past.... old fashioned recipes with a modern twist!