| | |
| --- | --- |
| Posted by me on April 20, 2020 at 9:10 AM | |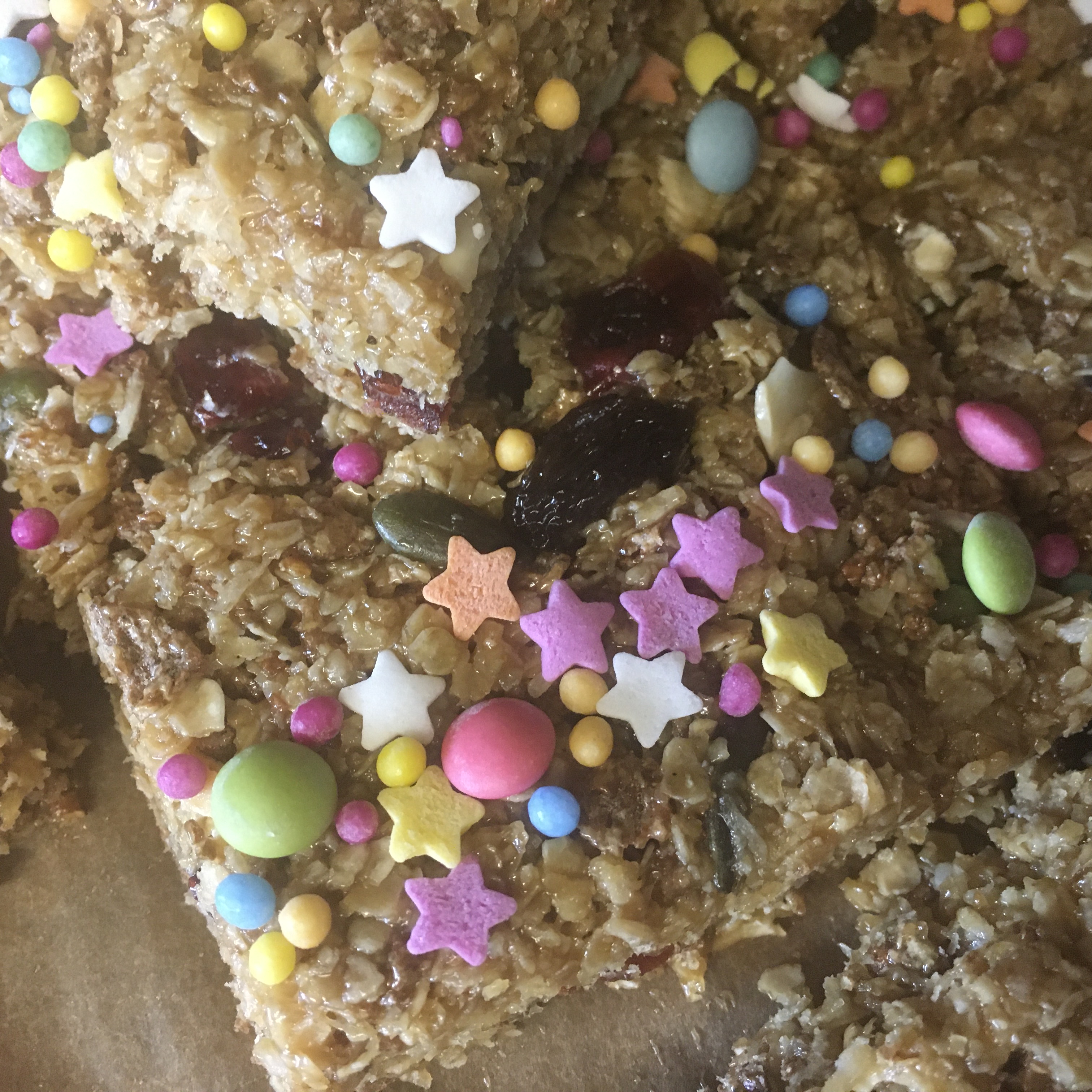 No bake flapjack
420g rolled oats - porridge oats....NOT READY BREK type oats
60g desiccated coconut
160g Branflakes crushed with your hands but not pulverised!
150g sugar, I used soft light brown sugar but you can use any sugar at all
300g golden syrup or honey, corn syrup,maple syrup or agave syrup
150g margarine or butter
Good pinch salt
100g of goodies - choose from any dried fruit/ seeds/ choc chips/ fudge pieces/ smarties/ nuts... whatever you fancy
Place the margarine, sugar and syrup into a large saucepan and melt over a medium heat, stirring occasionally.
Now the technical bit... as soon as the margarine has melted, turn the heat up full blast and wait for the whole surface to be completely boiling.
Set a stop watch/clock/media device for THREE MINUTES and boil the mixture rapidly. Do not stir...
Whilst the syrup mix is doing its bubbly madness, tip the broken bran flakes, porridge oats, coconut, salt and whatever goodies you have decided on, into a large bowl.
Once the caramel syrup has boiled for 3 minutes, tip into the oat mixture and stir really well to mix.
Pour into a roasting tin lined with baking paper and using the back of a spoon (or two) squash the flap jack down to compact it - alternatively you can place another sheet of baking paper on top and use your hands to squash it down.
Chill in the fridge until set, cut into bars.
Categories: Brownies and bars, Just like Grandma used to make