| | |
| --- | --- |
| Posted by me on April 20, 2020 at 9:40 AM | |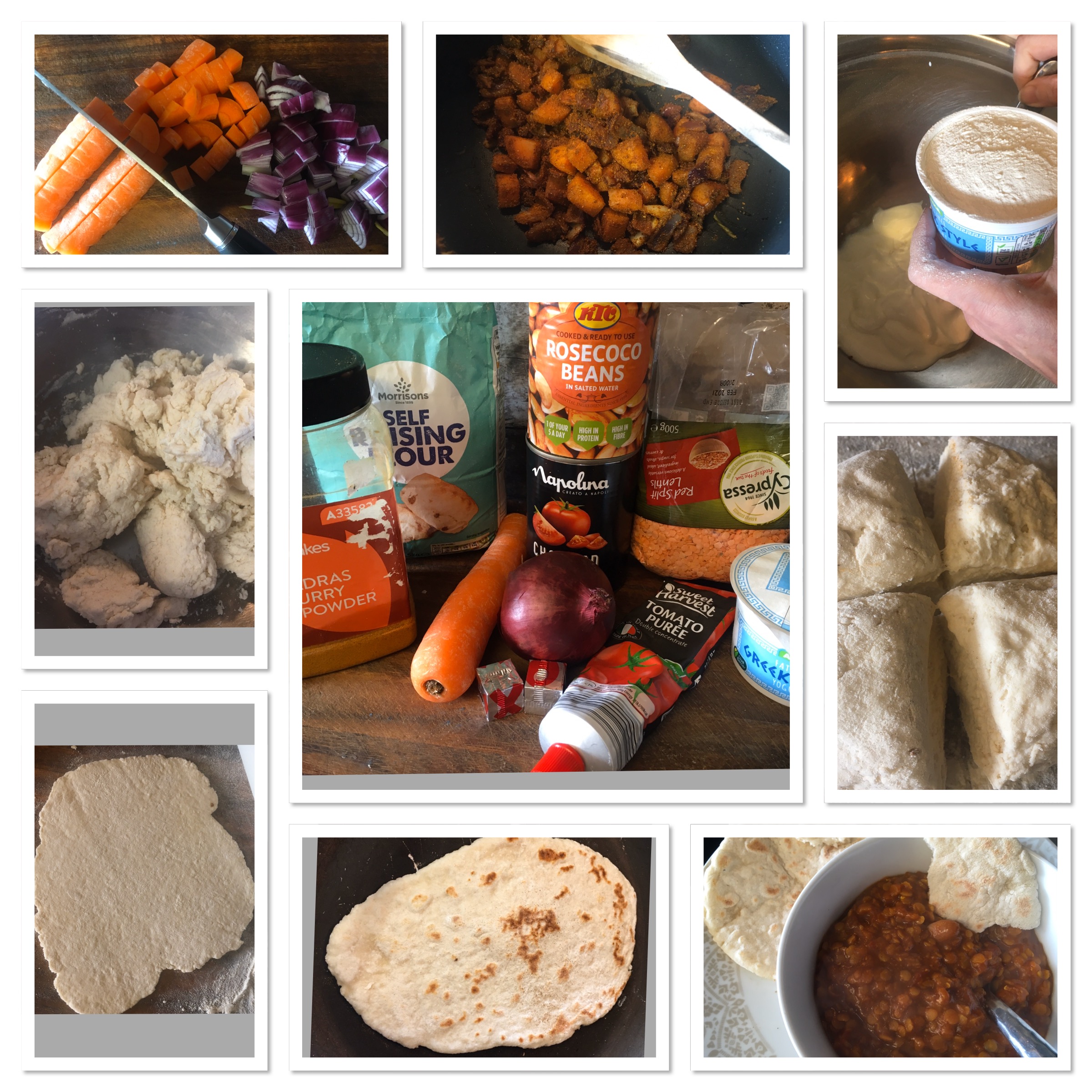 Store cupboard curry and yogurt pot flatbreads
1 x can chopped tomatoes
1 x can beans of your choice or chick peas
200g dried lentils
2-3 heaped dessert spoons curry powder
2 cloves garlic or a spoon of garlic puree/granules
1-2 stock cubes
1/4 tube tomato purée ( about 2 heaped tablespoons)
Sugar and salt/pepper to taste
1 medium onion
1 medium carrot
200g plain yogurt
200g self raising flour ( if you wash and dry the empty yogurt pot, it makes the perfect measuring device. Just fill with flour to the top, no need for weighing )
Chop the onion and carrot into small dice - don't peel the carrot, just give it a good wash then top and tail
Place into a large saucepan with a tablespoon oil/knob of margarine) and cook over a low to medium heat for 5 minutes.
Add the curry powder & garlic, cook 2 mins
Add the tomatoes, lentils, tomato purée, liquid from the beans ( leave the beans or chick peas to the end) & 1 1/42 cans of water ( just use the empty tomato can). Add the stock cube, bring to the boil, turn the heat down & simmer until the lentils and carrots are soft .Add a heaped teaspoon of sugar ( brings out all the flavours), check the seasoning adding salt and pepper etc. Add the drained beans, reheat to boiling.
Make the bread.
Place the yogurt & flour with 1/2 teaspoon of salt into a large bowl and mix with a fork until it clumps together. Use your fingers to gently bring it together into a dough- no need to knead! Tip out onto a lightly floured work surface, divide into 4 and shape each into a ball, roll out thinly.
Heat a large dry frying pan, over a medium high heat and cook the flat bread, a piece at a time 1-2 minutes each side. The bread will puff up slightly with little patches of colour.
Divide the curry between 4 bowls and serve with the flatbreads ❤️
Categories: Something savoury, Bread and dough