| | |
| --- | --- |
| Posted by me on April 26, 2020 at 5:05 PM | |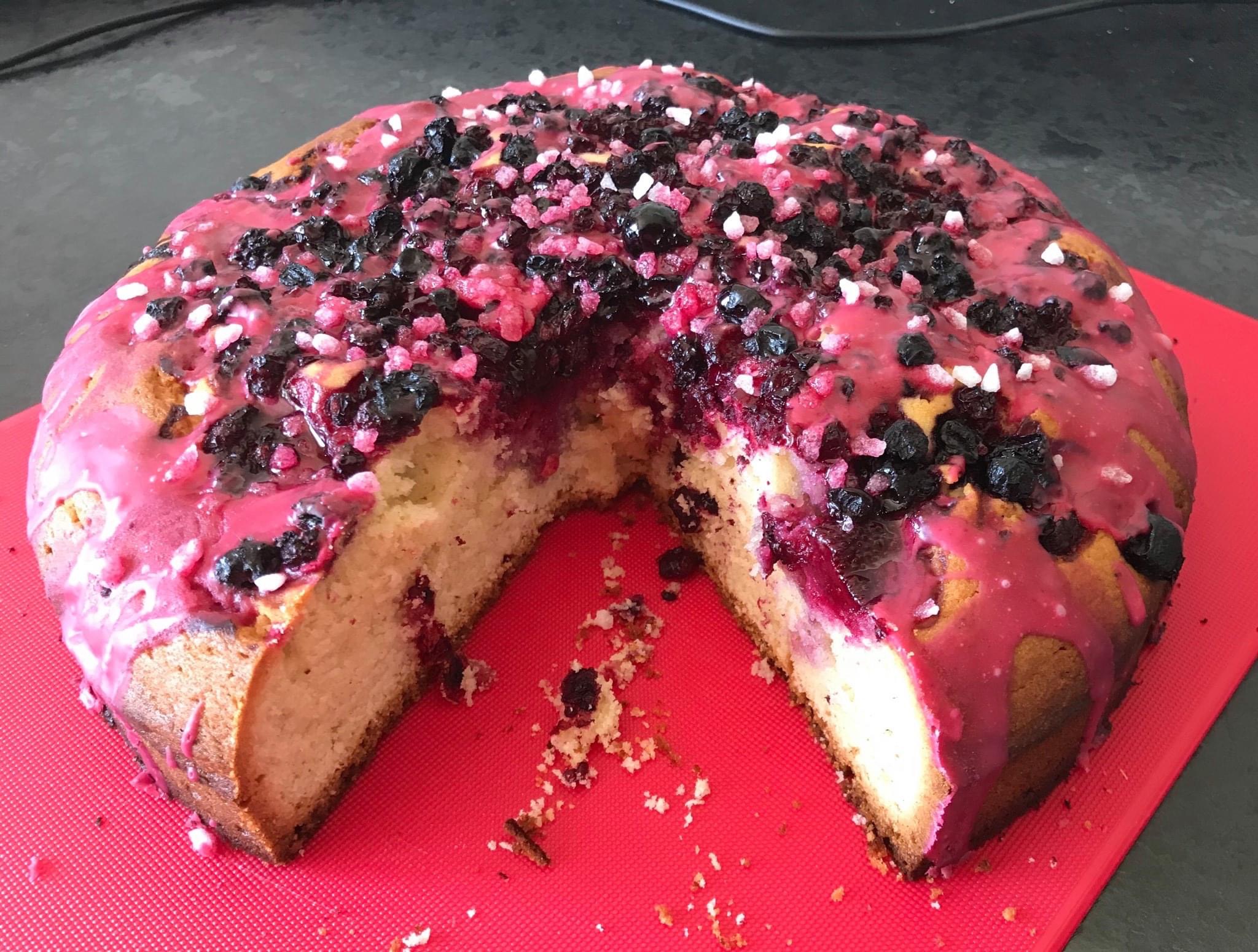 Although you pile the berries on top of the batter before baking, expect them to sink like jewels into the soft and fluffy cake...
What you need
320g plain flour
200g butter - melted, then left to cool but not set
5 medium eggs
180g caster sugar
2 teaspoons baking powder
1/2 teaspoon of vanilla/lemon/orange or almond essence - whatever you prefer
800g frozen fruits of the Forrest berries, defrosted and drained - the juice reserved
100g icing sugar
Preheat a regular oven to 180c , 170c for fan assisted line a 24-25cm (9-10") tin with baking paper on the bottom and sides.
Place the sugar and eggs into a large mixing bowl and using a hand held beater, whisk at high speed for 5 minutes. The Sugar should be completely dissolved in the eggs and the mixture will be light and fluffy, leaving a ribbon trail when the beater blades are lifted from the mixture
Slowly pour the melted butter into the egg mixture, whisking on high speed until the butter is completely incorporated.
Add 1/2 a teaspoon of vanilla/orange/almond or lemon essence if desired.
Sieve the flour and baking powder directly on top of the frothy loveliness then carefully and gently fold in, using a figure of 8 movement - you don't want to knock any of the air out!
Tip the batter into the prepared tin and smooth the surface.
sprinkle the drained berries over the top but don't bother pushing them into the batter as they will easily sink into the batter during the baking.
Place the cake on the middle shelf in the preheated oven, bake for 50 minutes, checking after 40 minutes. Carefully open the oven door and stick a wooden skewer or thin bladed knife into the centre, it should come out clean.
After baking, open the oven door slightly For 10 minutes, but don't remove the cake , then open the door halfway for a further 10 minutes before removing the cake from the oven completely. Remove from the tin and leave to cool on a wire rack .
Mix the icing sugar with a teaspoon of berry juice at a time, until you have a smooth icing. Drizzle over the top of the cooled cake
Categories: Cutting cakes