| | |
| --- | --- |
| Posted by me on May 13, 2020 at 4:10 AM | |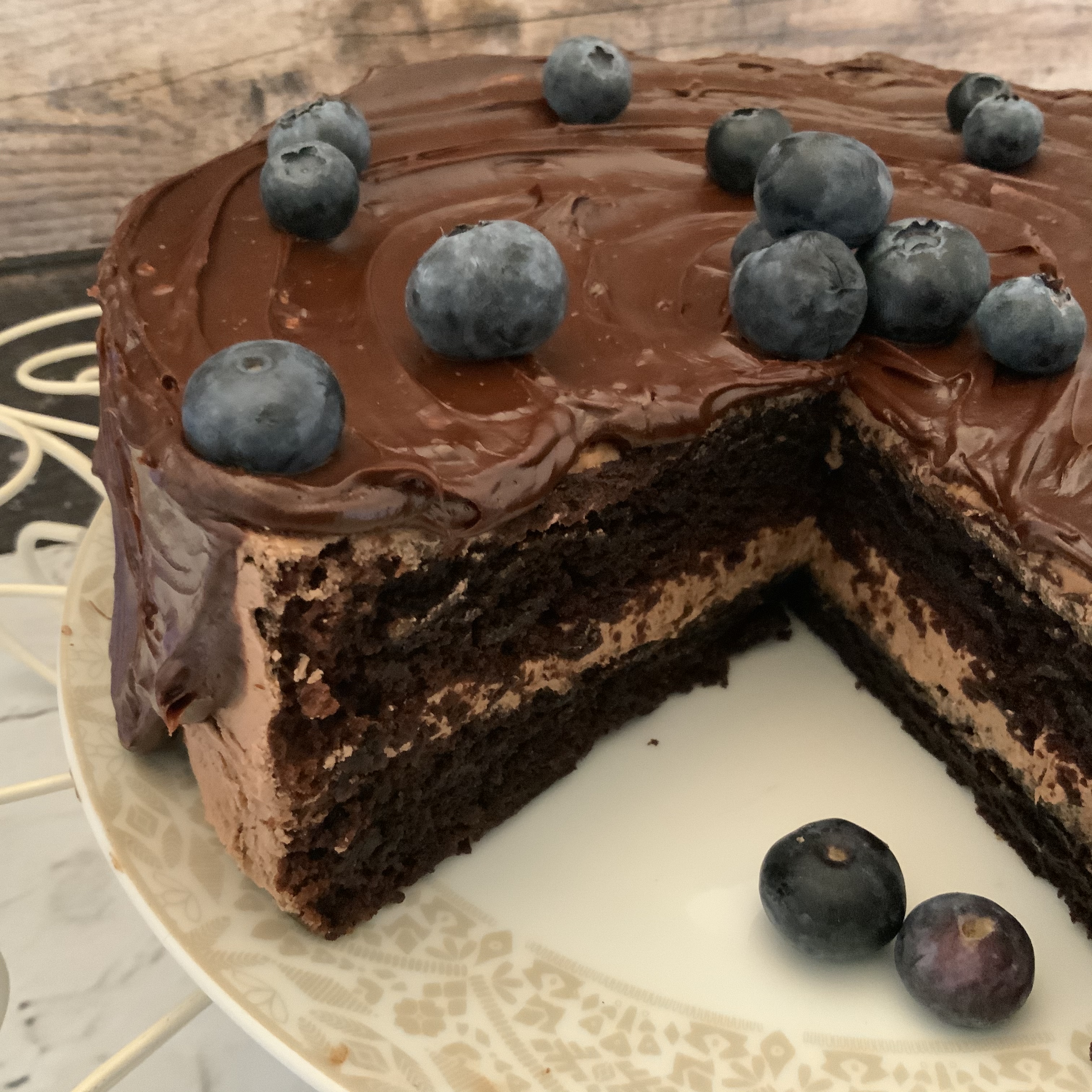 Don't let the addition of the lovable or loathsome avocado dissuade you from this utterly delicious cake. It's completely undetectable and You cannot taste it.... it just adds a richness and moisture that so many plant based (vegan) cakes lack. I made this for the first time during the first few weeks of the Covid outbreak when I couldn't get hold of eggs, but veggies and fruit were plentiful in the shops. If you're not interested in going green and vegan, just swap the dairy free to your normal butter or margarine, cream and milk ❤️
a little dairy-free sunflower spread, for greasing
1 large, ripe avocado - make sure this is really soft but not black 

300g light soft brown sugar
350g plain flour
50g good quality cocoa powder
1 tsp bicarbonate of soda
2 tsp gluten-free baking powder
400ml unsweetened soya (or almond/hazelnut) milk
150ml vegetable oil
2 tsp vanilla extract
Buttercream
250g dairy free margarine (block not tub)
400g icing sugar
1 teaspoon vanilla essence
1 teaspoon almond essence
2 heaped tablespoons cocoa powder mixed into 2 tablespoons boiled water, left to cool
Ganache
200g plain chocolate, melted
100ml dairy free cream ( or boiled water)
Blueberries or other berries to garnish
Heat oven to 160C/140C fan/gas 3. Grease two 20cm sandwich tins with a little dairy-free sunflower spread, then line the bases with baking parchment.
Put 1 large avocado and 300g light muscovado sugar in a food processor and whizz until smooth ( or you can use a hand held soup blender) 
Add 350g plain flour, 50g cocoa powder, 1 tsp bicarbonate of soda, 2 tsp gluten-free baking powder, 400ml unsweetened soya milk, 150ml vegetable oil and 2 tsp vanilla extract to the bowl with ½ tsp fine salt and process again to a velvety, liquid batter.
Divide between the tins and bake for 25 mins or until fully risen and a skewer inserted into the middle of the cakes comes out clean.
Cool in the tins for 5 mins, then turn the cakes onto a rack to cool completely. Place the bottom layer of cake onto a serving plate.
Buttercream - beat all the ingredients together until soft and fluffy then fill and cover the cake. Leave for 30 minutes to set.
Ganache - stir the melted chocolate and dairy free milk or boiled water together, then smother over the top of the cake and the side.
Decorate with berries of your choice ❤️
Categories: Cutting cakes, Chocolate... chocolate and more chocolate!, Free From.....