| | |
| --- | --- |
| Posted by me on June 1, 2020 at 4:20 PM | |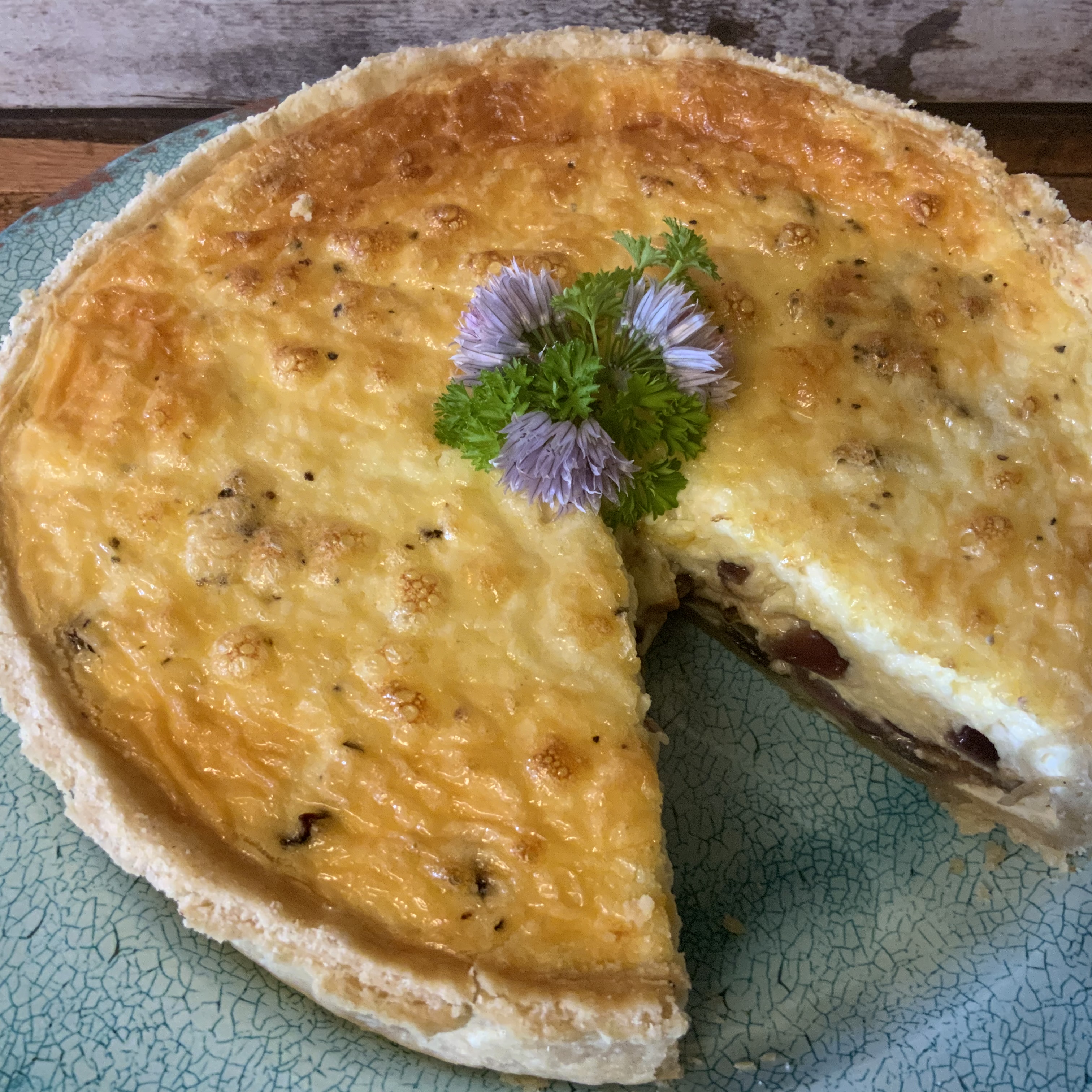 A good quiche is a thing of beauty, and this onion and cheddar tart is perfect for a light summers lunch with salad and baby new potatoes or as a hearty dish with creamed potatoes and loads of lovely veggies in the winter months
Filling
300g red onions, peeled and finely sliced
30g butter or margarine
Pastry
150g plain flour
40g butter or margarine -chilled
35g lard - chilled
Large pinch salt
Approximately 75ml cold water
Egg custard
150ml double cream
200ml milk
5 eggs
1/2 teaspoon salt
1/2 teaspoon ground black pepper
150g mature cheddar cheese, grated
Preheat the oven to 180c for a regular oven, 160c for a fan assisted oven.
Melt the butter in a frying pan and gently fry the sliced onions for 15 minutes or until they are soft and golden brown.
Place the plain flour and salt into a large bowl and break the butter and lard into small chunks, rub into the flour with your fingertips until it resembles fine breadcrumbs then add the cold water. Stir with a fork then bring the dough together with your hand , it shouldn't feel either sticky or have lots of dry crumbs ( if it does add a little more water to the dry crumbs and bring together with your hand).
Roll out the pastry and line a 2" deep 20cm (8") loose bottom baking pan , leaving the excess pastry hanging over the edge . Line with a layer of clingfilm and fill with baking beans, then cover to form an enclosed parcel of beans
Bake blind for 15 minutes. Trim the excess pastry and bake for a further 10 minutes before removing the pouch of baking beans, bake for a further 10-15 minutes or until the pastry is almost fully cooked.
Reduce the oven to 160c or 140c for a fan assisted oven
Break the eggs into a jug and whisk, add the cream, milk, salt and pepper.
Spoon the caramelised onions into the pastry case, followed by the cheddar cheese. Pour the egg mixture right to the top of the pastry then carefully place back into the oven, bake for 30 - 40 minutes or until the egg is set, golden brown and slightly risen.
Categories: Something savoury, Pies, pastry, Tarts and Tartlets, Just like Grandma used to make