| | |
| --- | --- |
| Posted by me on June 11, 2020 at 7:40 AM | |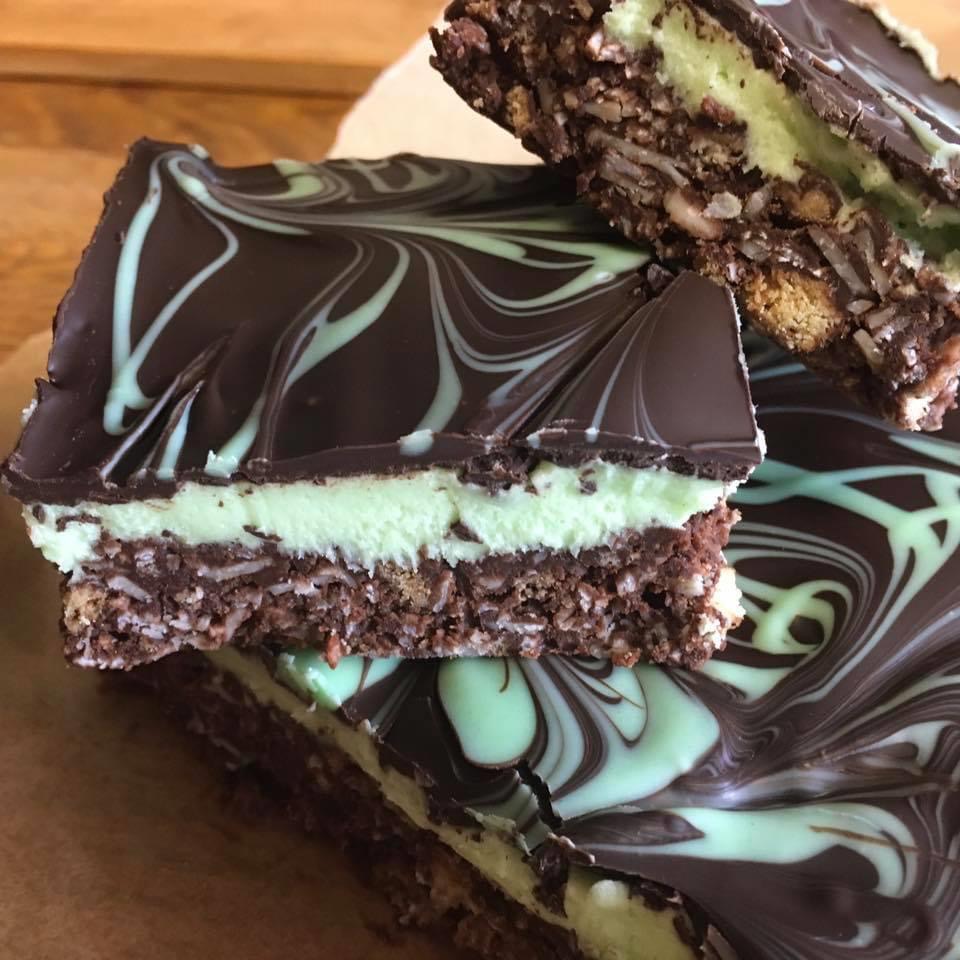 I have no idea on the history behind these yummy, scrummy squares of minty and chocolate gorgeousness but they are one of my absolute favourite traybakes to munch on , especially when the weather gets a little colder and the evenings a little shorter. Snuggle up under the duvet with a good book, a warm mug of Ovaltine and a piece of this.... you can thank me later x
75g butter
125g plain chocolate, broken into very small pieces
75g digestive or hobnob biscuits, crushed
75g desiccated coconut
50g flaked almonds
1 tablespoon cocoa powder
For the filling
1 medium egg yolk
1 tablespoon milk
75g butter
1/2- 1 teaspoon mint essence
A little green food colouring
For the filling
1 medium egg yolk
1 tablespoon milk
75g butter
150g icing sugar
For the topping
125g plain chocolate
1 tablespoon oil
30g white chocolate
1 teaspoon oil
A little green food colouring ( it's best to use a gel , paste or petal dust for this, not liquid)
Line an 8x6" tin with baking paper ( I find it easier to wet the inside of the tin first to help stick the paper to the sides, don't waste butter or margarine)
Place the butter and chocolate in a bowl set over a saucepan of nearly boiling water and stir gently until the chocolate has melted. Stir in the crushed biscuits, cocoa, coconut and almonds and stir well to combine. Tip the biscuit mixture into the prepared tin and squash down with the back of your spoon.
Place in the fridge for 30 minutes whilst you the make the filling layer.
Place the egg yolk and milk into a bowl and set over a saucepan of nearly boiling water, whisk ( using an electric whisk) for 2-3 minutes or until a little paler and slightly thickened.
Remove from the heat and add the butter, mint essence and icing sugar and continue whisking until the frosting is fluffy ( about 5 minutes) add a little green food colouring ( it should be a lovely, pale green, not an 'in your face' green colour)
Spread in a nice even layer over the biscuit base.
Place back into the fridge for an 15-30 minutes or until the buttercream is firm
For the topping, break up the plain chocolate and place into a bowl, melt as before then add 1 tablespoon of oil and stir well.
Melt the white chocolate in a very small bowl in the same way and add the teaspoon of oil and a very small amount of green colour ( if using)spread the melted dark chocolate over the filling layer and immediately drizzle with the melted white/green chocolate, use a cocktail stick or tip of a knife to gently swirl the two chocolates together to create a pretty pattern.
Place back in the fridge to set then cut into pieces.
Categories: Brownies and bars, Chocolate... chocolate and more chocolate!, something a little bit special...