| | |
| --- | --- |
| Posted by me on June 14, 2020 at 2:00 PM | |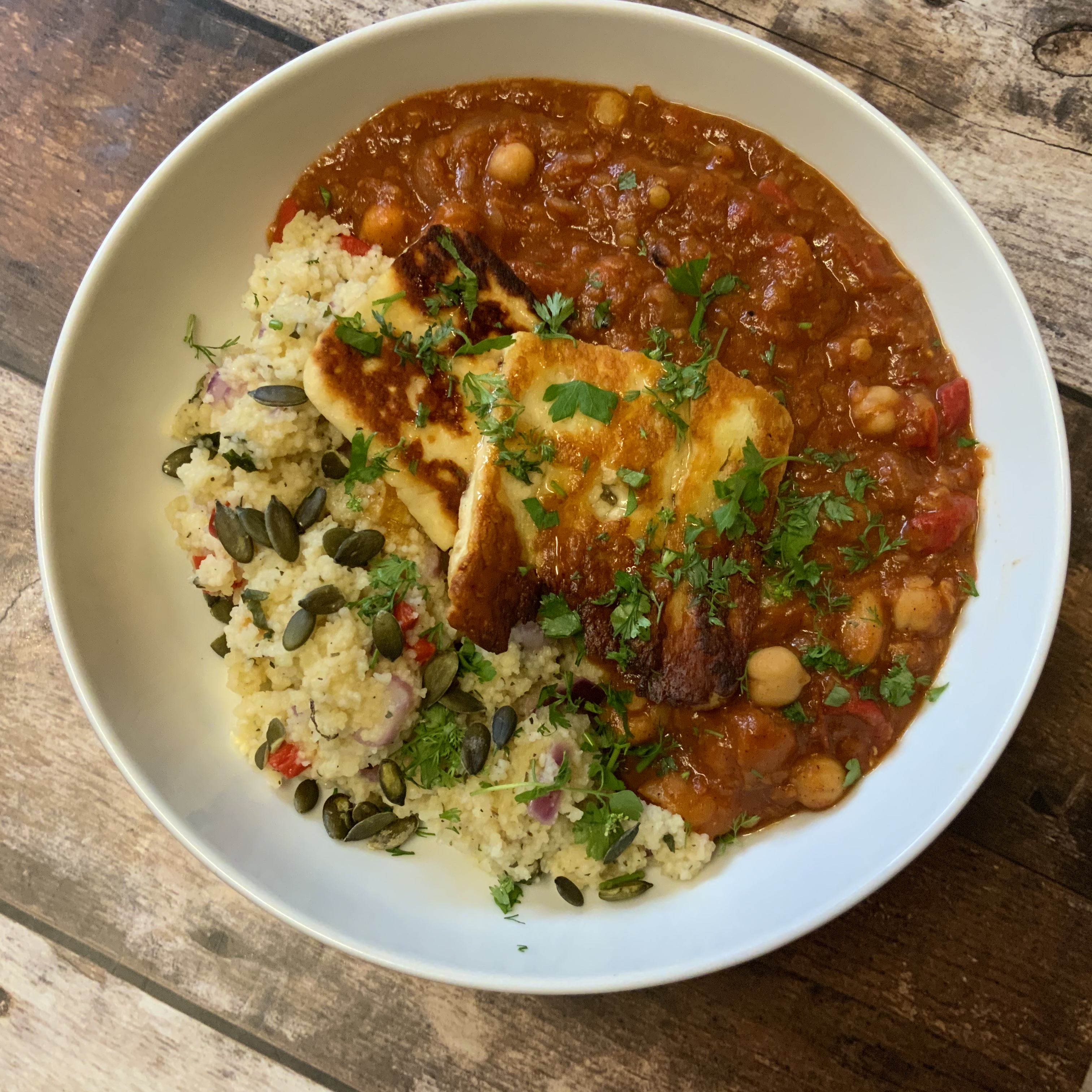 The flavours of Moroccan cooking are as warm and fragrant as the country itself. Cinnamon, garlic, juicy apricots, lemon and fresh herbs bring a touch of the exotic to a simple, economical but oh-so-tasty plant based dish.
1 long red pepper, thinly sliced ( save 1/4 for the couscous)
1 medium red onion, peeled and thinly sliced
2 cloves garlic, peeled and finely chopped
2 tablespoons oil
10 dried apricots, cut into 1/4s
400g can chopped tomatoes
150g dried red lentils
2 heaped tablespoons Tomato purée
400g can butter beans
400g can chickpeas
1 tablespoon Ground Cinnamon
1-3 small Fresh chillies - depending on how hot you like it
1 heaped teaspoon ground Cumin
1 heaped teaspoon ground Coriander
Finely grated Zest of 1 large lemon
2 x Vegetable stock cubes
Honeyed Halloumi
1 block haloumi, soaked in cold water for at least 30 minutes to remove excess salt
2 tablespoons runny hunny
Little oil to fry
Fragrant Couscous
200g Couscous, cooked as per manufacturers instructions
1 small red onion, peeled and finely diced
5 dried apricots, finely chopped
Small handful raisins
2 heaped Teaspoons mint sauce
2 tablespoons something crunchy - flaked almonds/sunflower or pumpkin seeds
Salt and pepper to taste
1 small handful fresh coriander, finely chopped to garnish
Heat the oil in a large saucepan and gently fry the onion, pepper ( save 1/4 for the couscous) garlic and fresh chillies for 10 minutes until they just start to caramelise and soften... be aware it may clear your sinuses!!!!
Sprinkle over the cinnamon, cumin and coriander and cook for a further 30 seconds to one minute , stirring constantly to stop it burning. Now add the lentils, chopped tomatoes, the liquid from the chickpeas and butter beans ( you will add them in towards the end of cooking) crumbled stock cube and a can of water ( use the chopped tomato can). Bring to the boil then reduce the heat to a gentle simmer and cook until the lentils and veggies are tender ( keep an eye on it, stirring frequently adding a little extra water if it's getting too thick or starting to burn. Add the tomato purée, lemon zest, drained butter beans and chickpeas and bring back to the boil. Check the seasoning.
Make the couscous as per the manufacturers instructions then add the remainder of the red pepper that's been finely diced, finely diced onion, chopped apricots, mint sauce, salt and pepper to taste, raisins and your chosen nuts or seeds.
Slice the halloumi into thin slices Then fry in a little oil until golden brown on both sides.
Serve the fragrant couscous with some of the chickpea and lentil stew, topped with a slice or two of the halloumi, a drizzle of honey and a little chopped coriander
Categories: Something savoury, Free From.....