| | |
| --- | --- |
| Posted by me on August 16, 2020 at 4:40 PM | |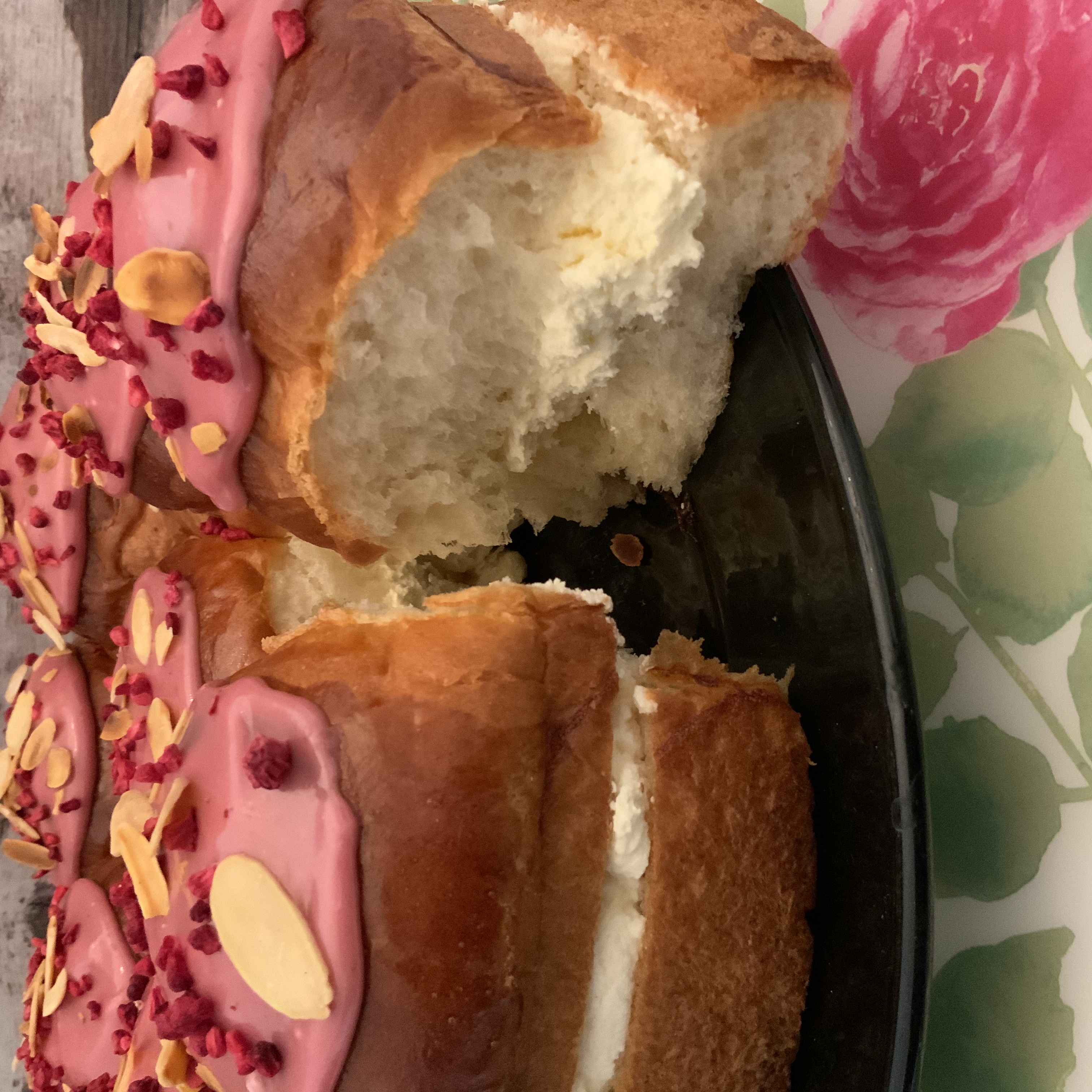 As a young teenager in the late 1970's I lived in New Addington , a large council estate on the Surrey/Kent border. Every Saturday we would buy our bread from a small, family run bakery at the parade of shops, and if Mum could be persuaded, a cake or two.... my favourite was a ring of soft, fluffy buns - filled with billowing, synthetic cream and topped with white fondant icing and a sweet glacé cherry! I loved them and would happily have eaten the whole thing, reluctant to share with the rest of the family.... I was a greedy bugger lol. This is my grown up version, topped with a raspberry coloured icing and filled with decadent almond infused cream. I have swapped the glacé cherry for toasted and flaked almonds and jewels of freeze dried raspberries, decadence personified and not a pair of 70's inspired flared trousers in sight....
Tangzhong (starter)
Part 1
43g water
43g whole milk
14g white bread Flour
Part 2
57g butter
113g whole milk
1 medium egg
2 x 7g fast acting yeast
Dough
298g white Bread Flour
14g dried milk powder
50g sugar
1 level teaspoon salt
Egg wash
1 medium egg
Pinch salt
Icing
1 heaped tablespoon seedless raspberry jam
100g icing sugar
Filing
300ml double cream
1 tablespoon icing sugar
1 teaspoon almond essence
To decorate
1 - 2 tablespoons freeze dried raspberries
2 tablespoons flaked almonds, lightly toasted
You will need a 9" shallow round baking pan, lightly oiled
To make the tangzhong: Part 1 - Combine all of the ingredients in a small saucepan, and whisk until no lumps remain, Place the saucepan over a low heat, and cook the mixture, whisking constantly, until thick about 1 - 2 minutes.
Part 2 - add the butter to the saucepan , whisking well, followed by the whole milk and then the egg. Sprinkle over the yeast and give a final whisk ( don't worry if there are some lumps, they will disappear in the kneading process.
To make the dough: Combine the tangzhong with the remaining dough ingredients, then mix and knead —
by hand - this method is not recommended as it's a very wet dough
Stand mixer - 2 minutes on the lowest speed, scrape the bowl down, then 6 minutes on medium speed
or bread machine — follow manufacturers instructions
until a smooth, elastic dough forms ( don't worry it is a very wet dough, this is what makes it so soft and utterly delicious)
***Top Baking tip*** Now place a shallow metal bowl of boiling water into the bottom of your oven and preheat on the lowest setting for 5 minutes - now TURN the OVEN OFF!!! (But dont open the door until your dough is ready for proving) - you want to create a lovely warm but not hot steamy environment to help your bread rise quicker and better ❤️
Scrape the dough out into a lightly oiled bowl then place into the preheated oven and shut the door, keeping all the lovely warmth and steam in, leave for 30 minutes with the door closed, until puffy but not necessarily doubled in size
Divide it into 8 equal pieces, and shape each piece into a ball.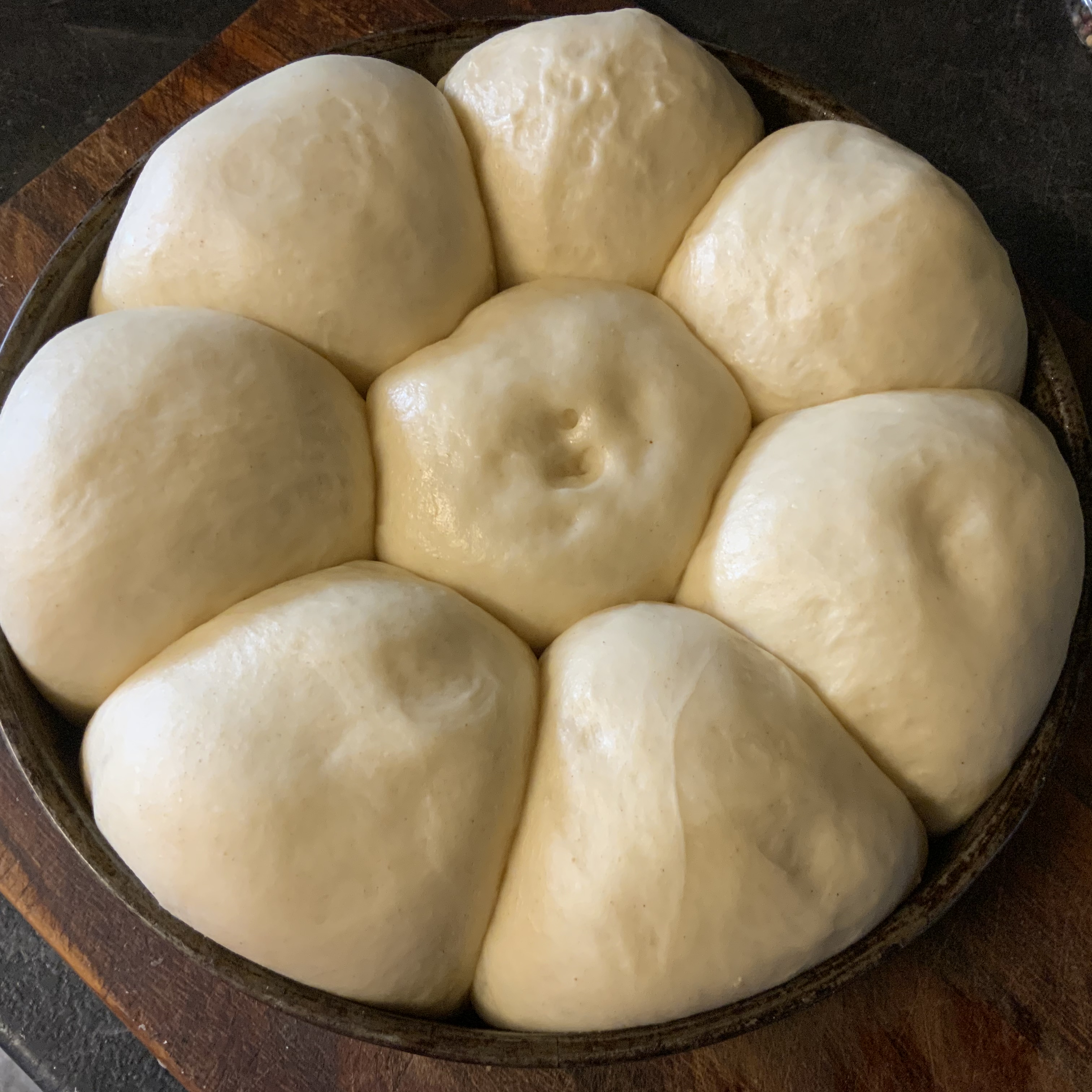 Place the rolls into a lightly greased 9" round shallow cake tin then pop the tin back into the warm steamy oven for a further 30 minutes, until puffy.  
Preheat the oven to 350°F, 180c regular oven, 160c for a fan assisted oven, Brush the rolls with milk or egg wash (1 large egg beaten with 1 tablespoon cold water), and bake for 25 to 30 minutes, until golden brown on top; a digital thermometer inserted into the center of the middle roll should read at least 190°F. Leave to cool.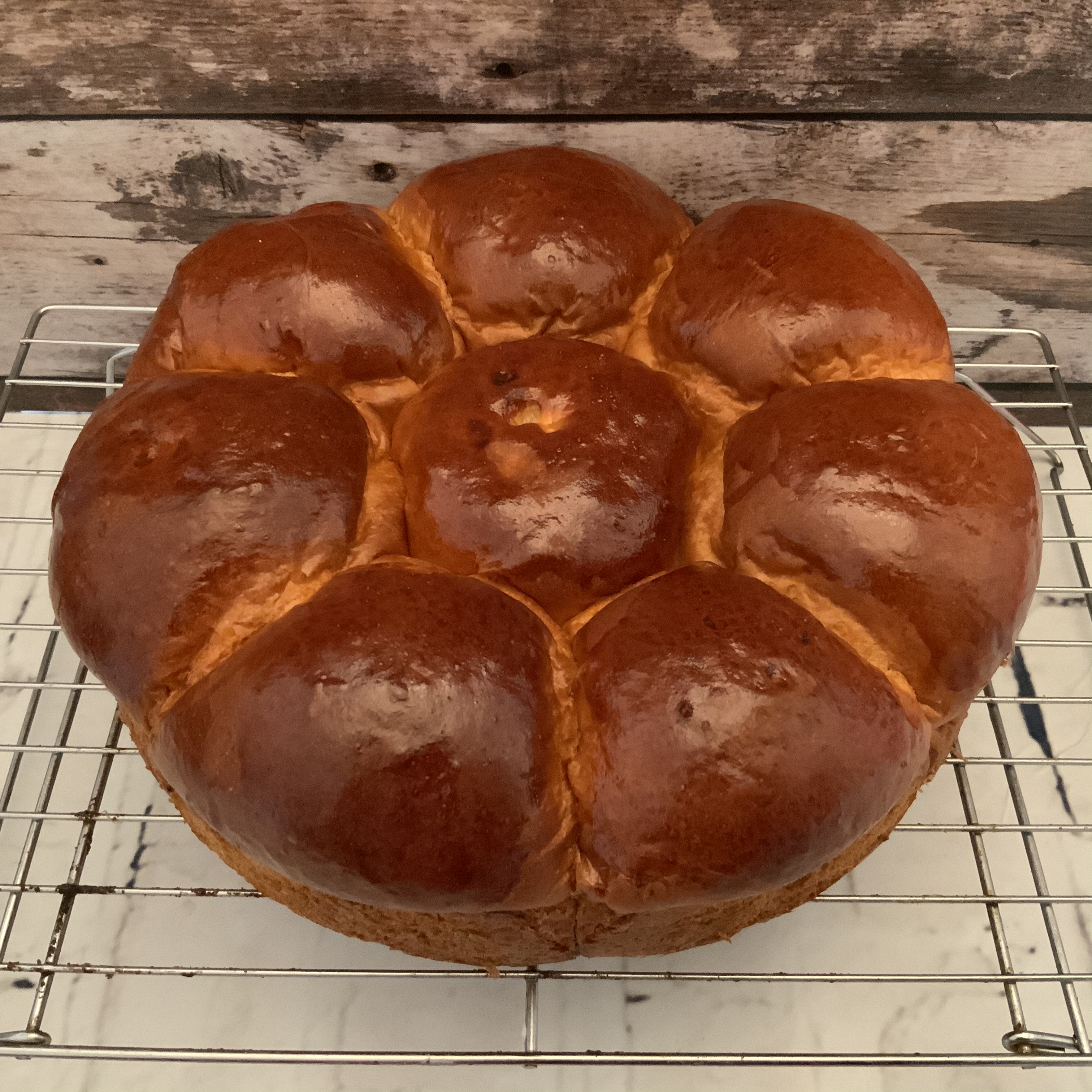 Icing - mix the jam and icing sugar in a small bowl until smooth.
Filling- Whip the double cream, almond essence and icing sugar together until it holds stiff peaks.
Split the cool bun horizontally and fill with the whipped cream, place the lid back on top then spoon and spread a little icing on each single bun, sprinkle with a few flaked almonds and some freeze dried raspberries.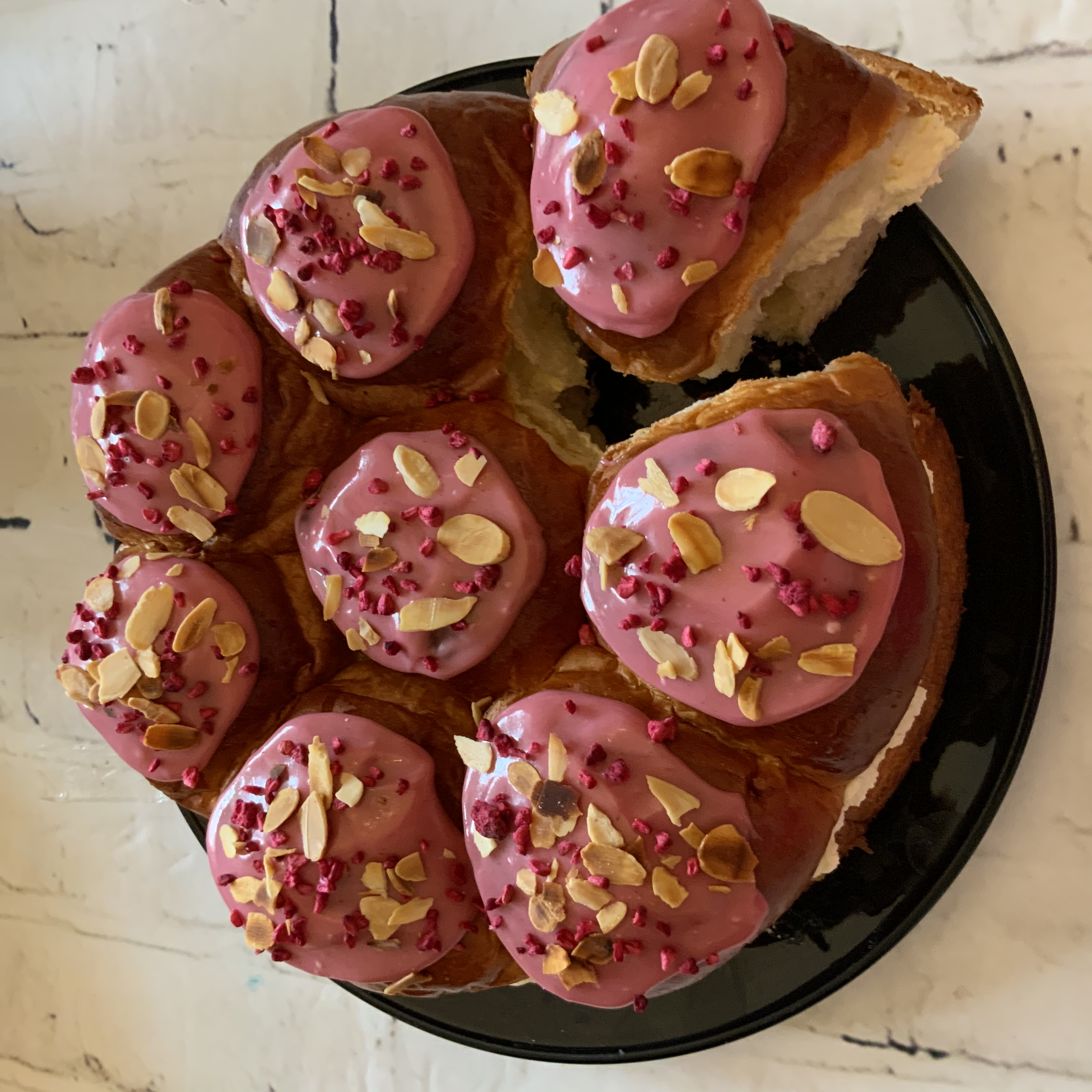 Categories: Bread and dough, A blast from the past.... old fashioned recipes with a modern twist!, something a little bit special...