| | |
| --- | --- |
| Posted by me on September 9, 2020 at 11:30 AM | |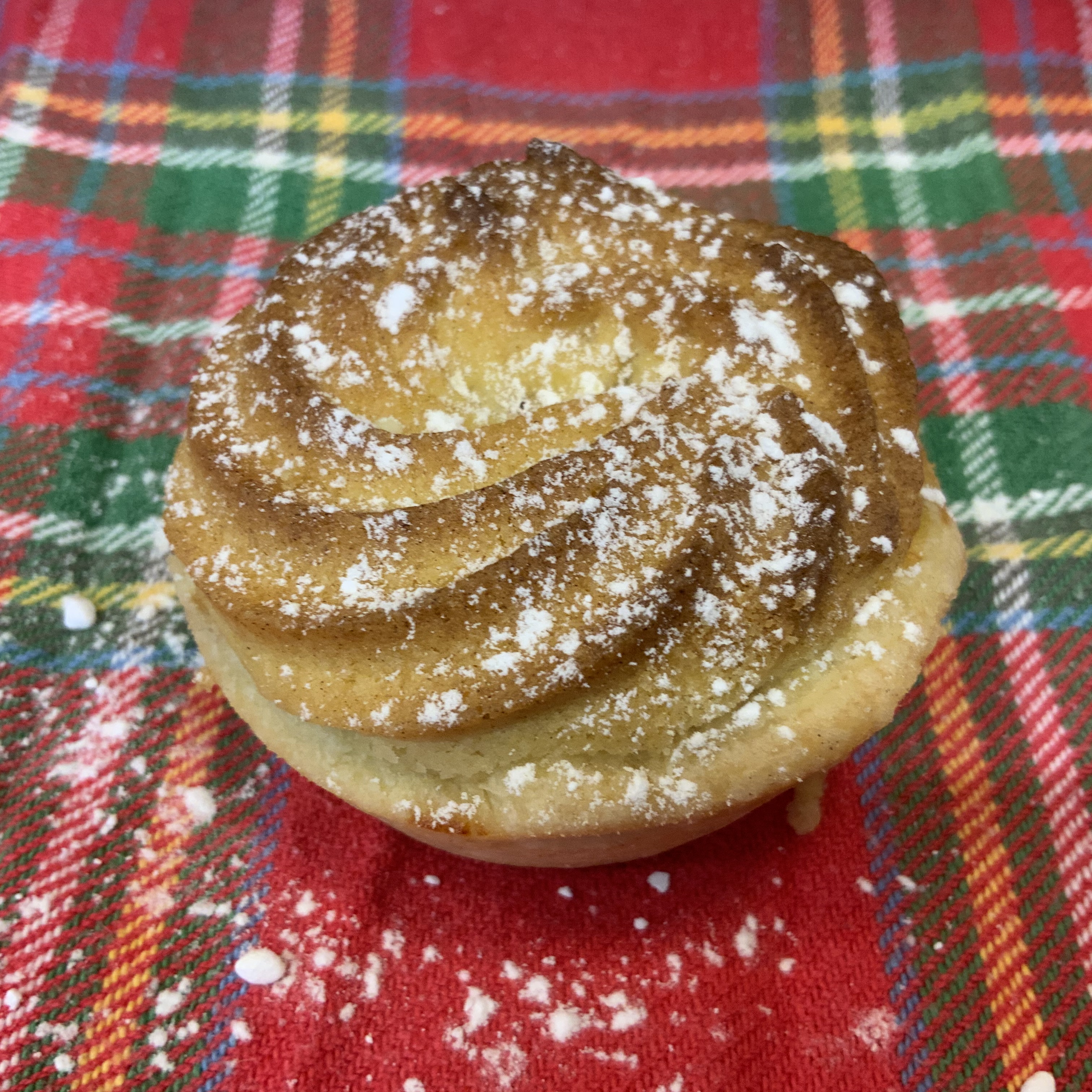 I worked for many years as a lecturer at Blackpool and the Fylde college in Lancashire, from the beginning of November, right through to the middle of December the students would bake literally thousands of these delicious mince pies with a buttery, melt in the mouth Viennese topping. The last year I was there, I think we ended up baking over 22 thousand pies....  that's how good they are! 
This recipe makes about 20-25 depending on how thinly you roll your pastry and make lovely gifts, wrapped up in a decorative tin or box 
500g pack ready to roll shortcrust pastry ( or homemade if you have the time)
Filling
850g mincemeat
2 large eating apples, peeled, cored and chopped into 1/2 dice
Grated zest of 1 large orange or 1/2 teaspoon orange essence
Grated zest of 1 large lemon or 1/2 teaspoon lemon essence
1 teaspoon ground cinnamon
1 heaped tablespoon flaked almonds ( optional)
1 - 2 tablespoons of Rum, brandy or whisky (optional)
Viennese topping
300g salted butter , softened
75g icing sugar
3 teaspoons vanilla essence
300g plain flour
1 level teaspoon baking powder
a little milk if required 
Preheat the oven to 180c for a regular oven or 160c for a fan assisted
Roll the pastry out and cut 22 circles using a 8cm cutter, line the holes of 2 muffin trays, rerolling the offcuts as many times as you need to.
Mix the mincemeat, diced apple, cinnamon, orange and lemon zests ( or essences) and flaked almonds/alcohol - if using , in a mixing bowl.
Use to fill the pastry cases.
Cream the softened butter, vanilla essence and icing sugar together  for at least 5 minutes, using a handheld or stand mixer, until very soft and fluffy then sieve the flour and baking powder on top. Mix until well combined , adding a little milk if necessary to form a stiff but pipeable dough, then fill a piping bag fitted with a large star nozzle. Pipe a swirl on the top edge of each filled pastry case .
Bake in the preheated oven for 20- 25 minutes until the tops are a lovely golden brown and the pastry bottom is fully cooked. Leave to cool in the tin for 15 minutes before gently removing. Cool completely on a wire rack.
Dust with a little extra icing sugar
Categories: Pies, pastry, Tarts and Tartlets, Christmas, Just like Grandma used to make