| | |
| --- | --- |
| Posted by me on October 18, 2020 at 3:05 PM | |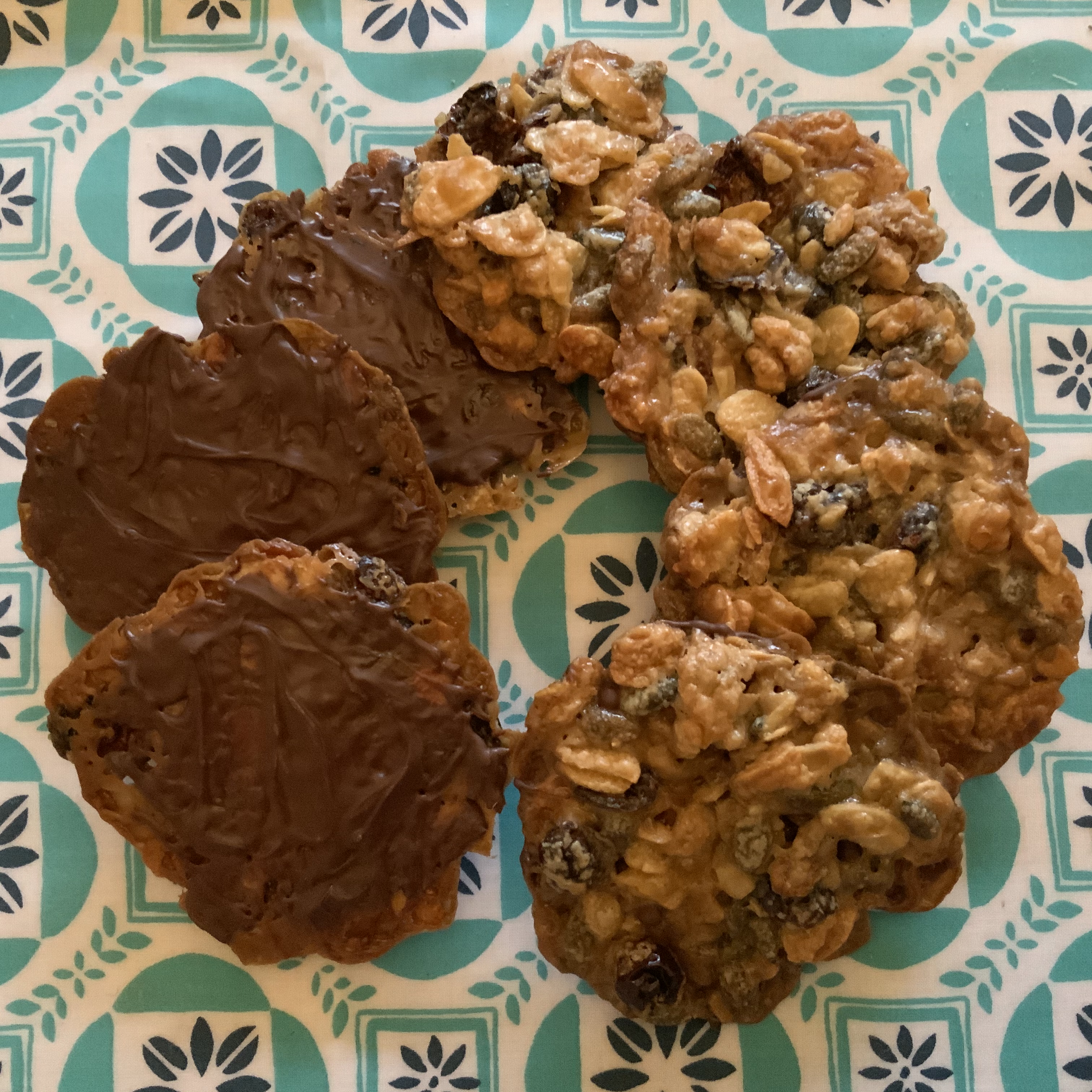 There is something utterly decadent about a Florentine, buttery/crisp yet chewy and full to the brim with nuts and juicy fruit. If a cookie could be described as sexy it would surely be this French frivolity with its little chocolate bottom ❤️ Just remember to put them in a safe place ( preferably hard to get to) because once you start munching you just won't stop...
25g butter - don't skimp on this, use proper butter not margarine, it's so worth it!!!
75g soft light brown sugar
10g plain flour
65ml double cream
Pinch salt
Grated zest, 1 large orange
75g flaked almonds
25g walnut halves, broken into 4's
25g pumpkin seeds
50g dried cranberries
25g dried apricots chopped into small pieces
50g plain chocolate
50g milk chocolate
Place the butter into a small saucepan and melt over a low heat, add the sugar and cook gently for 5 minutes, stirring frequently. Add the flour. Add the double cream, a little at a time to make a smooth paste.
Add in the remaining ingredients, stir well to coat then leave to cool.
Preheat an oven to 190c, 170c for a fan assisted oven, gas 5 then Line 2 large baking sheets with baking paper and spoon 16, equal sized blobs onto the paper, shaping and flattening them with a spoon.
Bake in the preheated oven for 12-14 minutes or until the florentines are golden brown on the edges, leave to cool on the trays.
Break the milk and plain chocolates into a small plastic bowl and melt in short bursts in the microwave or over a pan of almost boiling water.
Use a teaspoon to slather the melted chocolate over the back of each of the florentine's, leave in a cool place to set ( not the fridge)
Hide the florentines in the best hiding spot you can think of, don't tell anyone that you have made them and snuggle down on the sofa with a sneaky couple, a cuppa and a good book... heavenly!
Categories: Chocolate... chocolate and more chocolate!, something a little bit special..., Biscuits and Cookies