| | |
| --- | --- |
| Posted by me on October 27, 2020 at 10:10 AM | |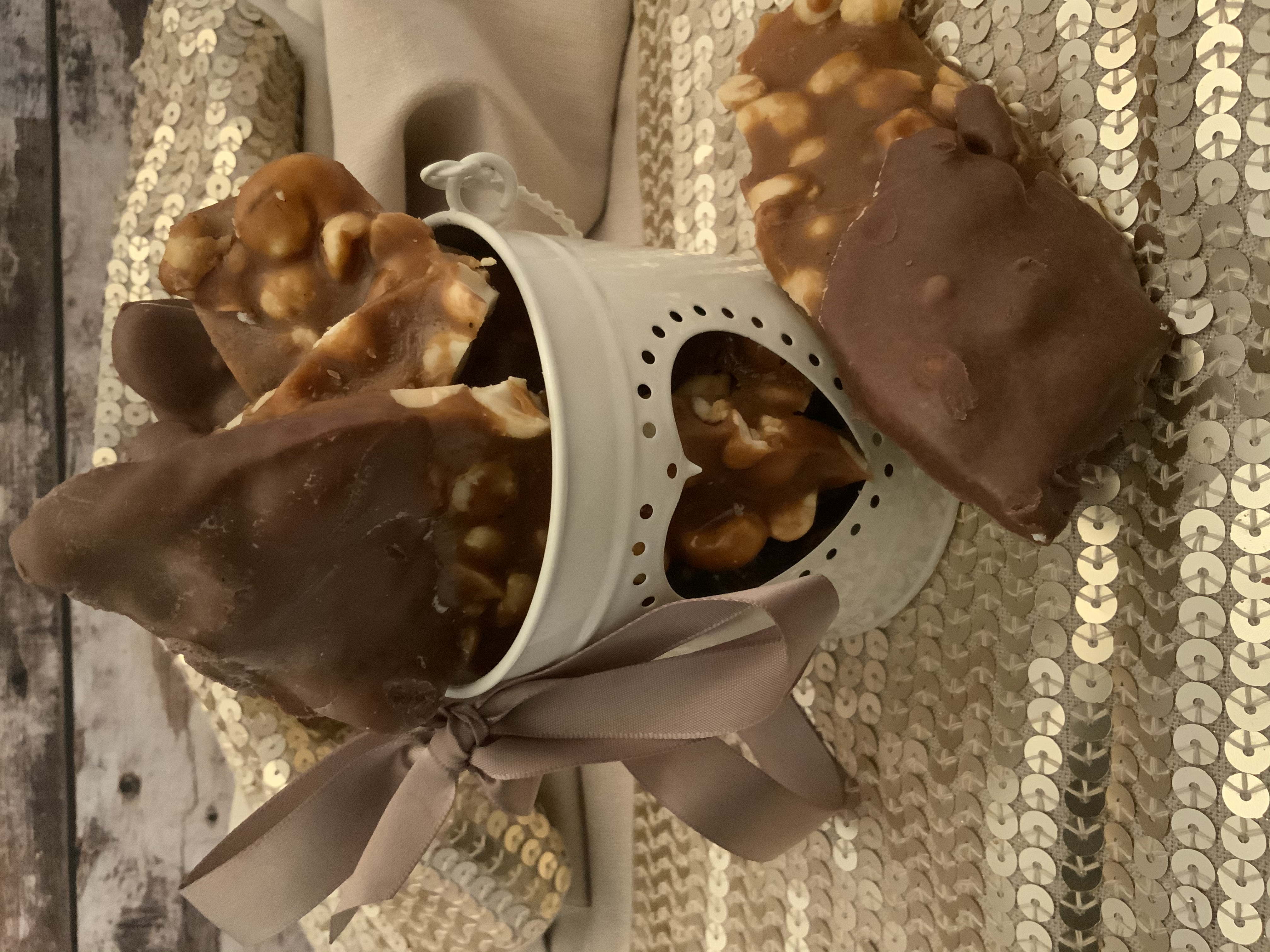 Hard, sucking toffee, rather than the chewy or liquid caramel varieties have always had a soft (if not crunchy) spot in my heart. It evokes memories of my childhood when my Soldier father would go into the kitchen and boil up a big saucepan of brittle, golden, glass like caramel toffee made with nothing more than a ton of sugar and a splash of vinegar.... it was divine - if not tooth rotting!!!! Us kids would huddle around the bowl, in front of the tv, with rivulets of sticky sugar running down our chins and fingers , occasionally Dad went even further and would tip in a bag of salted peanuts to the bubbling golden lava to make peanut brittle, those days were pretty damn special!
This is my grown up version, buttery/crunchy with a wee bit of a chew and yes, still terrible for your teeth but absolutely divine and worth a trip to the dentist for, especially when given as a gift in a pretty jar or box, tied with a ribbon .
What you need....
125g butter
125g double cream
125g golden syrup - or glucose syrup
125g white sugar
125g roasted, unsalted cashews - if you can't find them roasted and unsalted, just buy the raw ones and toast in a hot oven for a few minutes until light golden brown
125g roasted, unsalted peanuts
1 generous pinch of sea salt flakes
200g chocolate of your choice, I chose milk because I prefer it but you could use plain or white chocolate, or even a combination of all three.
Line a large baking sheet with silicone or non stick baking paper, or oil the sheet well.
Place the butter, cream, syrup (or glucose) and sugar into a large, heavy, thick bottomed pan and stir gently over a medium heat until the butter and sugar have melted then remove the spoon and bring the mixture to the boil. DO NOT STIR from now on.
Boil the mixture until it turns a rich golden brown colour, if you take if off too early the shards will be very chewy.... DONT let it burn tho, it should be golden and caramelised not dark brown and smelling burnt
Add the cashews and peanuts, stir gently then immediately spoon the mixture onto the prepared baking sheet, smooth and level, then sprinkle evenly with the sea salt and allow to cool completely.
Break the nutty toffee into shards.
Melt the chocolate in a small bowl over very hot but not boiling water and dip in the ends of the nutty shards , leave to set on the tray.
Categories: Chocolate... chocolate and more chocolate!, Sweets, treats and chocolates...., A blast from the past.... old fashioned recipes with a modern twist!