| | |
| --- | --- |
| Posted by me on October 27, 2020 at 10:40 AM | |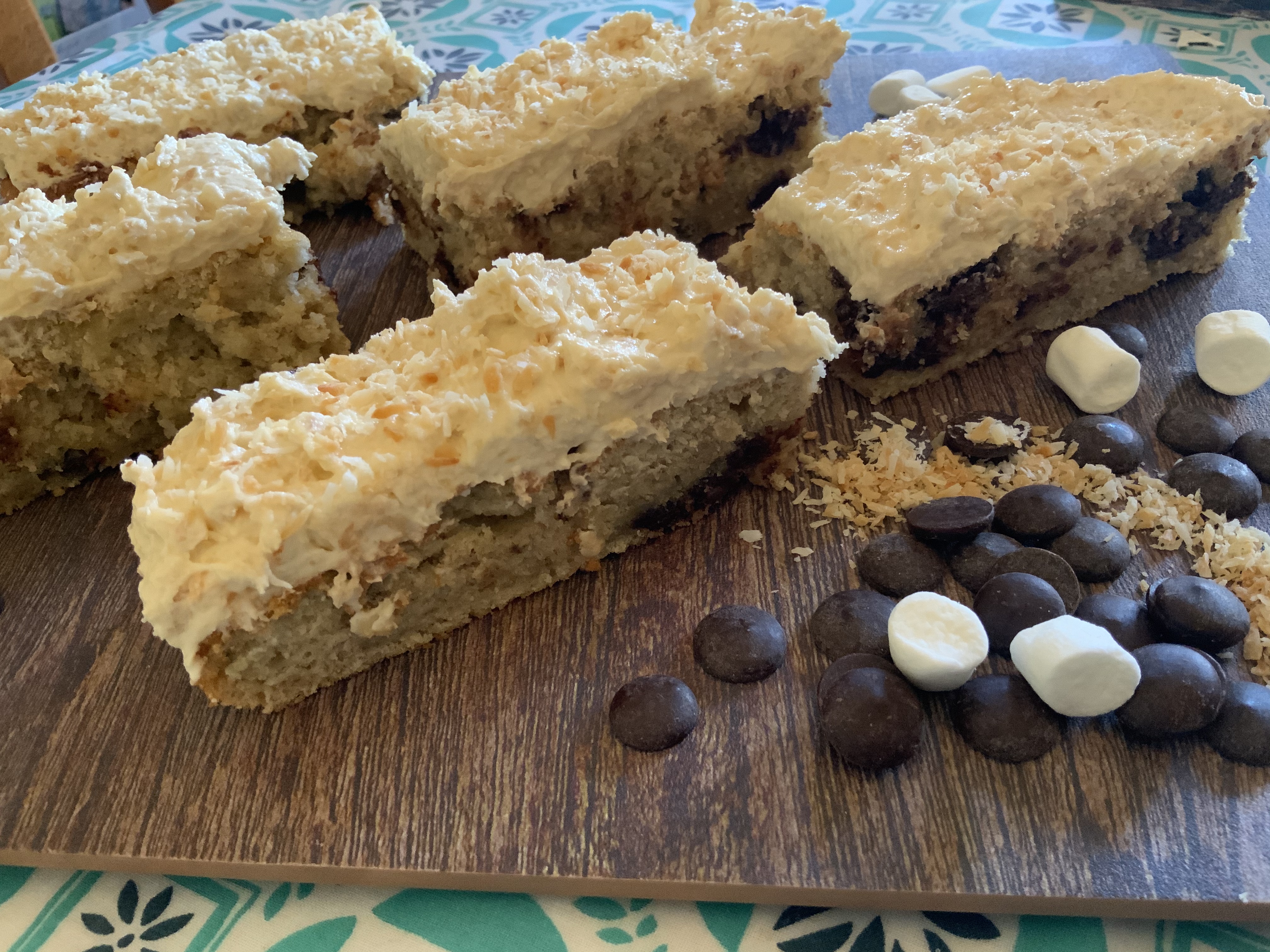 Over the last few nights I have been fantasising about a frosting containing toasted coconut and oven roasted squidgy marshmallows, I could almost taste it, the thoughts were that vivid!!! But what to put it on? What cake would be worthy of it's awesomeness??? Friends, romans, countrymen.... I give you
2 large very, very ripe, brown and squidgy bananas
100g butter at room temperature
175g soft light brown sugar
225g self raising flour
1 teaspoon baking powder
1 egg, beaten
100g plain chocolate chips
Zest of one large orange
1 good pinch salt
2 tablespoons orange juice
Frosting
125g butter
150g icing sugar
75g mini white mallows
50g desiccated coconut, lightly toasted ( reserve a heaped tablespoon for decoration)
Preheat an oven to 180c, 160c for a fan assisted oven or gas 4-5
Peel the bananas and squish with a fork in a small mixing bowl.
Place the butter, self raising flour, baking powder and salt, in a large mixing bowl and rub between your fingers to create fine breadcrumbs. Add the sugar, followed by the mushed up banana, eggs , orange zest and juice
Beat for minute or until everything is well mixed - add the chocolate chips.
Scrape into a lined 9" square tin
Pop into the preheated oven for approximately 30- 40 minutes or until the cake is well risen, golden brown and a thin knife comes out clean when inserted into the middle. Leave to cool.
Place the butter, icing sugar and salt into a small mixing bowl and beat until fluffy.
Line a baking sheet with baking paper and put the mini mallows on, place in a hot oven until they are golden brown and puffed up. Tip into the buttercream along with the toasted coconut (don't forget to keep a heaped tablespoon)
Beat until well mixed then smooth all over the cooled banana cake
❤️
Categories: Brownies and bars, Cutting cakes, something a little bit special...