| | |
| --- | --- |
| Posted by me on February 6, 2011 at 10:05 AM | |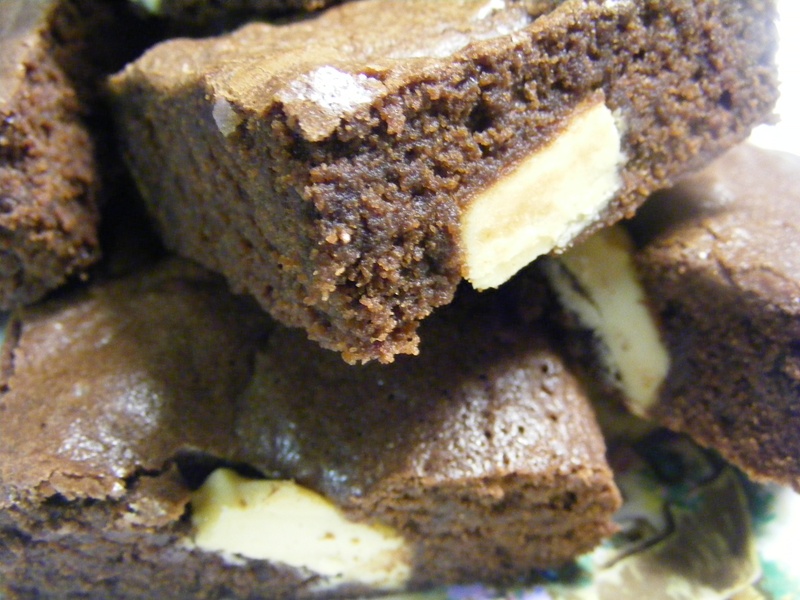 February is a cold...cold month, just right for a bit of baking and a decadent chocolate treat. 
Chocolate brownies fall into two categories, squidgy or cake like. I prefer a half way balance between the two because I am just greedy like that :D.
So, this easy peasy recipe is a half way house, moist and extremely rich and easy enough for the kids to do when its pouring with rain and blowing a gale and the little horrors are under your feet and driving you gaga.....
Ingredients
185g butter
185g dark (70% at least) chocolate- Dont skimp on this, the better the chocolate the better tasting the brownie
3 eggs
175g light brown soft sugar
1 teaspoon vanilla essence
110g plain flour, sifted with a pinch of salt
100g white chocolate, cut into chunks
So, now you have all your ingredients its time to get baking...Woohoo...Chocolate naughtyness is on its way!
First preheat your oven, 180c if you have a standard oven or 160c in a fan assisted oven.
Take a 10" square tin and line it with either baking parchment or silicone paper, not greaseproof or I guarantee it will stick to the paper and you will lose half of your brownie.
Right, thats the boring stuff out of the way.
Place the chocolate and butter into a plastic/heatproof bowl and pop it into the microwave for short 15-20 second bursts to melt them together, stir them frequently, allow to cool (about 10 minutes).
Place the sugar, eggs and vanilla essence into another bowl and using an electric hand mixer beat until the mixture is frothy and light.
Stir into the chocolate and then fold in the sifted flour.
Now, pour it into your prepared tin and 'dot' the chunks of white chocolate into the gooey mix, making sure that you can still see the tops of the white chocolate 'iceburgs'.

Have you licked your fingers yet or are you waiting for the bowl?
Cook in the pre-heated oven for 25 minutes.
Alow to cool in the baking tin and then cut into 12 equal sized pieces if you are greedy like me or 16 small pieces if you are not.
Dredge with a little icing sugar if you like but this is purely optional.
Gorgeous!!

Categories: Chocolate... chocolate and more chocolate!, Brownies and bars