| | |
| --- | --- |
| Posted by me on June 7, 2011 at 9:25 AM | |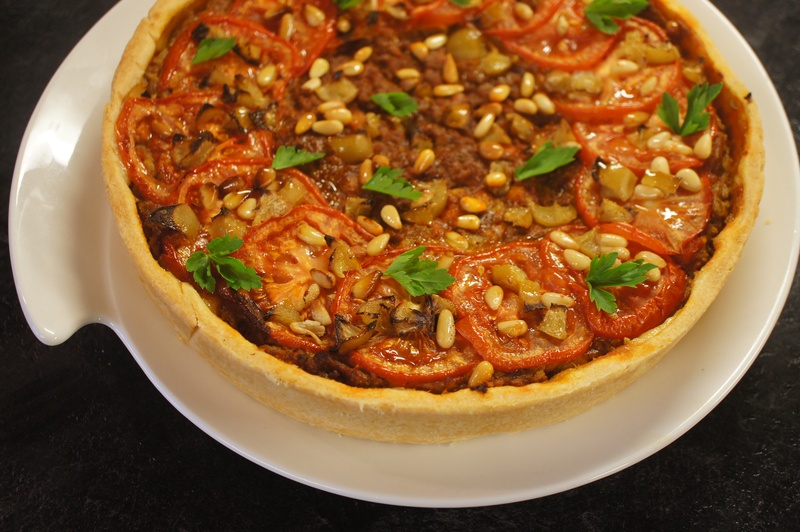 I thought it was about time I put my savoury baking hat on, because man cannot live by chocolate alone (but hey I will give it a damn good try).....
This fabulous tart is based on one that I used to buy every third Sunday of the month at the farmers market where I sold my chutneys and pickles. I have to say that its one of the best things to sink your teeth into on a cold, wet and miserable afternoon when your feet are aching and only something satisfyingly savoury will do. The lamb filling is wonderful when stuffed into roasted aubergines or under a mashed potato topping and is wonderfully versatile as well as tasty Enjoy!
What you need
500g short crust pastry used to line a 24cm (10") flan or shallow pie tin ( if you make gluten free pastry using 300g gluten free plain flour and 150g butter then this is a fabulous substantial tart that the whole family will enjoy....
1 large red onion, chopped
25g butter
400g minced lamb
1 large carrot, cut into 1/2 cm dice
2 red chillies, finely chopped (I add a little chilli powder too, to give it a bit more kick)
400g tin chickpeas, including liquid
2 cloves garlic,finely chopped
300g tin mushy peas or refried beans
200g tomato puree
1 level teaspoon Sumac (use the finely grated zest of 1 lemon if you cant find Sumac)
Seasoning-  half a teaspoon of sugar-  and salt and freshly ground black pepper to taste
A little chilli powder (optional)
Topping- 
3  tomatoes, thinly sliced
2 preserved lemons chopped
1 tablespoon pine nuts
 What to do....
Fry the onion, chopped garluic cloves and red chillies in the butter for 10 minutes or until soft but not too brown, add the minced lamb and cook till the mince is no longer pink.
Add the remaining ingredients including the liquid from the chickpeas and bring to the boil ,then turn the heat down and simmer uncovered for approximately 15-20 minutes,(stirring gently but continuously)  until the carrots are soft and the liquid has nearly all evaporated and you are left with a thick, dollopy- lamby- filling.
Test at this stage for chilli, flavouring and seasoning. It should have a bit of a bite without taking your head off and be sweet from the lamb and tomato puree, if its not add a litle more fresh chilli or a little chilli powder and some salt and freshly ground black pepper to taste.
Spoon into the  pastry shell and top with the sliced tomato and chopped preserved lemons, sprinkle with the pine nuts.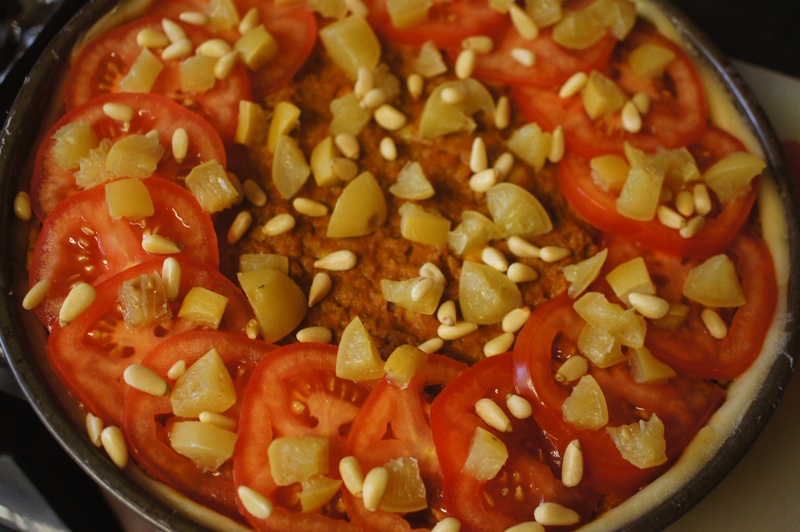 Bake in the oven 200c or 180c in a fan oven  for approximately 30 minutes or until the pastry shell is golden brown and crisp.
Serve hot or cold , or my personal favourite (luke warm), with new potatoes and a crisp green salad.
This is fabulous made into individual tarts and taken on a picnic. If you can go to the expence use all butter in the pastry.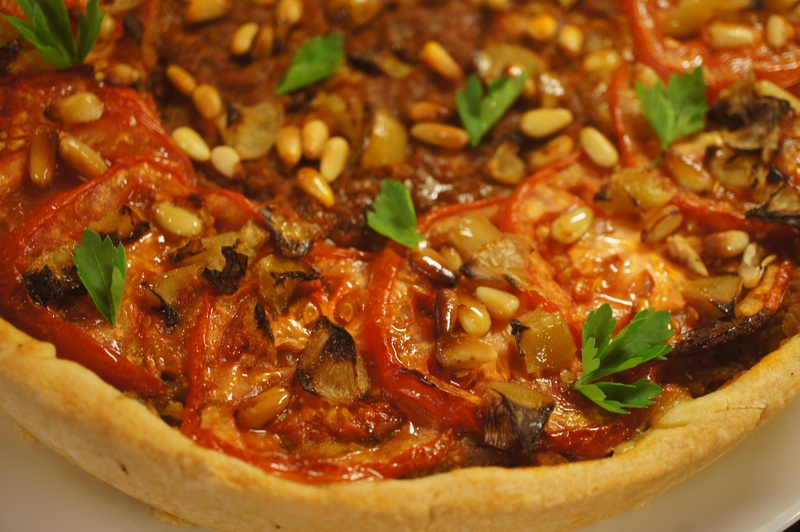 Categories: Something savoury, Free From....., Pies, pastry, Tarts and Tartlets