| | |
| --- | --- |
| Posted by me on October 21, 2011 at 5:35 AM | |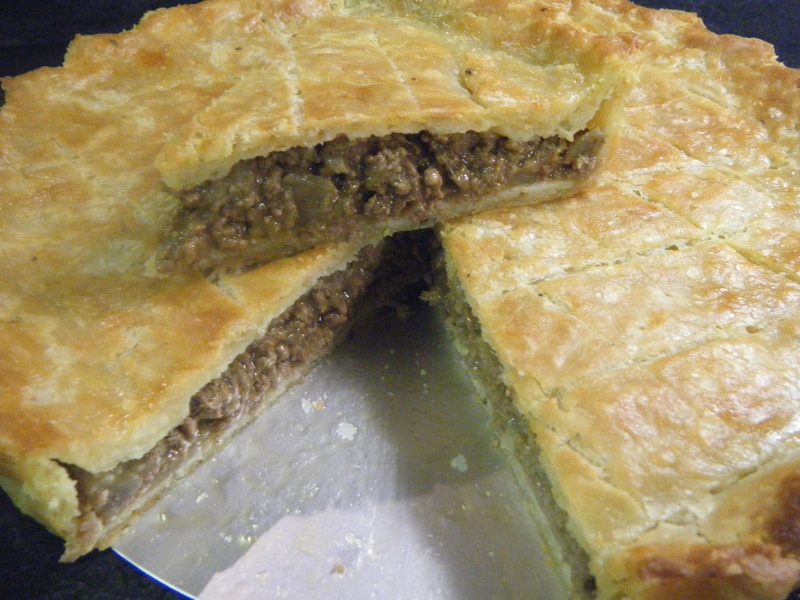 When I lived at home my mum used to cook this gorgeous savoury pie on a regular basis for tea, served with creamy mashed potato and fresh vegetables. Its mildly spiced with curry powder but if you like a stronger curry flavour then just add a little more.
It is very quick and easy and will serve a family of 6 for next to nothing, the best thing is that it utilises left over mashed potato, if you dont have any mash left over from a meal then I just make enough for tea and take out the 150g I need adding grated cheese and some fried over onions to the remainder and turning it into a baked cheesy mash....yummy....
Ingredients for pastry
250g self raising flour
125g beef or vegetable suet
150g cold mashed potato
1 egg, beaten
1/2 teaspoon salt
Filling
1 onion, finely chopped
1 tablespoon of oil
750g minced beef
1 - 2 tablespoons of curry powder depending on taste
2 tablespoons flour
beef stock cube
seasoning
egg or milk to glaze
Method:
Place the flour, suet, salt and mashed potato into a large mixing bowl and add the beaten egg, bring together with your hands to form a soft  but not sticky dough, you might need to add a little drop of water. Wrap in cling film and place in the fridge till required.
Place the finely chopped onion into a saucepan with a tablespoon of oil and fry gently until soft and golden brown, add the mince and the curry powder and cook for ten minutes, stirring well. Check the flavour of the curry powder at this time, you might need to add a little more if you prefer a stronger taste.
Add 2 tablespoons of flour, the stock cube and a little water (about 100mls) and continue cooking for another 10-15 minutes over a low heat until the meat is thoroughly cooked.
Divide the pastry into 2/3rds and a 1/3rd and roll  the larger ball to line a 9" round tin, add the cooked mince beef mixture and trim the excess pastry off, add to the remaining pastry and roll out to make a lid, Cover the mince and seal the edges.
Glaze with a little more beaten egg or milk and bake in a pre-heated oven for 30-40 minutes or until golden brown.
Serve with mashed potato and a selection of fresh veggies although it is absolutely yummy with tinned mushy peas, warm your cockles!
Categories: Just like Grandma used to make, Something savoury, Pies, pastry, Tarts and Tartlets