| | |
| --- | --- |
| Posted by bakinglady on September 5, 2009 at 5:00 AM | |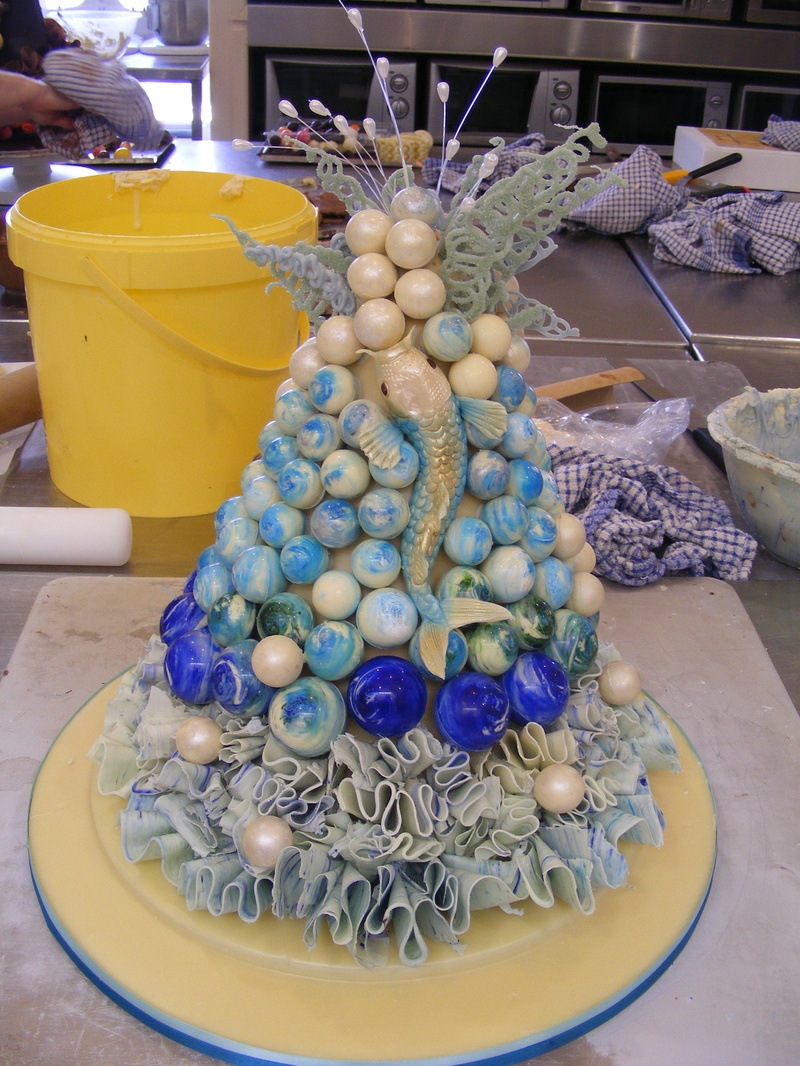 A question... What do you give a girl who has just about everything as a birthday gift?
Answer... a voucher for a course at the wonderful slattery's bakery and school in Manchester.
That is just what my very wonderful and intellegent man Glyn, did for my birthday this year, no unwanted bottles of nasty perfume and no boxes of Ferrero Rocher, nope he put the biggest smile on my face when he handed over a little envelope with a single A4 sheet of paper with Slattery's logo emblazoned accross the top. Yay.... play time for grown-ups!!!!
Slattery's is a bakery/restaurant/school of excellence that caters for the hoi poloi and riffraff of the North West. They attract alot of business from major league football players and their WAG's and as a result the starting price of most of Slattery's cakes are quite high, and that is an understatement, but they have a reputation for excellence that is built up over many years and as such can warrant the sort of prices I can only dream of asking for.
Deep sigh....
Anyway, I chose a two day advanced wedding cake course with my voucher and set off nice and early from home for the 9am start. The journey from Chorley was an absolute doddle, which is a very good thing as I dont own a sat nav and Glyn had taken himself off to work in the darkest depths of Northern Ireland so preventing me from cadging a lift, inconsiderate man!!
From Chorley its a straight run down the M61 and M60 and took about half an hour, its easy to find and as soon as you get off the motorway its a 5 minute jaunt.
Coffee and introductions to my fellow students started day one and then Julie the very lovely tutor gave us  a quick chat about the course and a tour  of the work shop and then way hey it was straight down to business.
This is one of three warming and tempering machines in the workshop and at 5k each are top of my wish list to Santa this year. I have to say I had to fight the urge to do a Dawn French/Vicar of Dibley and push my whole head under the flowing milk chocolate, I resisted but it was hard I tell you... hard!
The aroma of chocolate in the workroom is very evocative and pervades throughout the whole day, and because Slatterys uses a good quality couveture it tastes even better , I was in seventh heaven!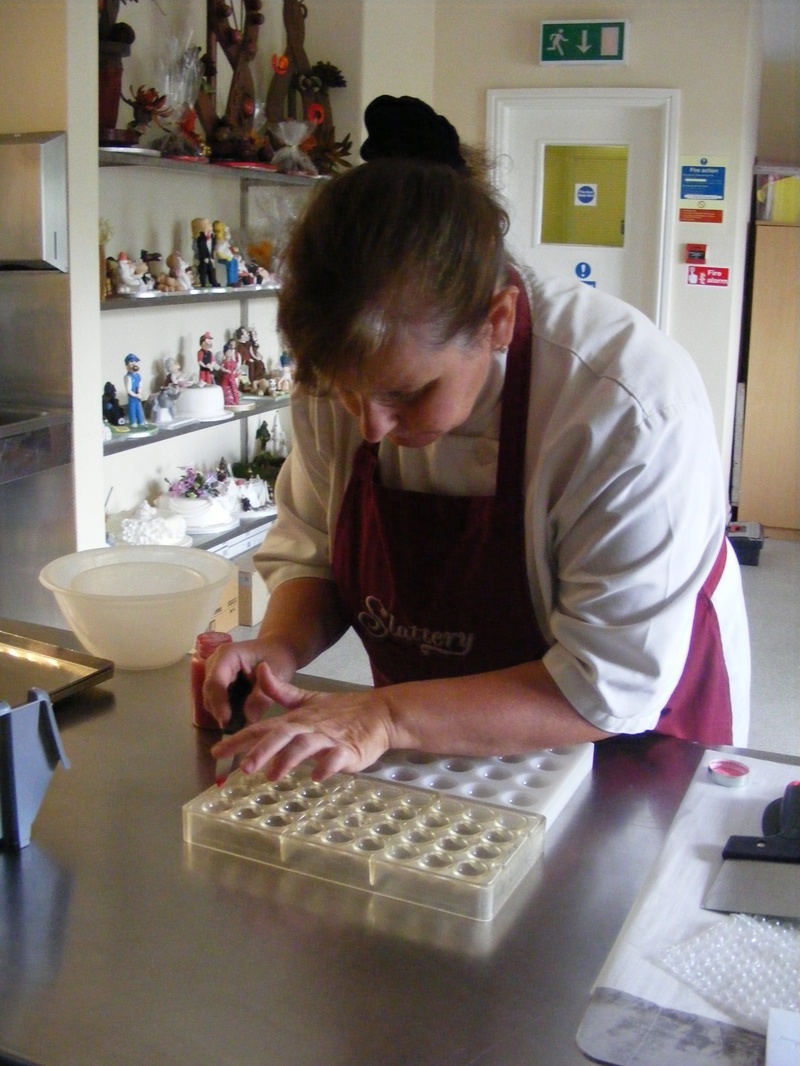 Julie started by showing us how to create a variety of chocolate products including...
Coloured 'marbles' using powdered edible colouring.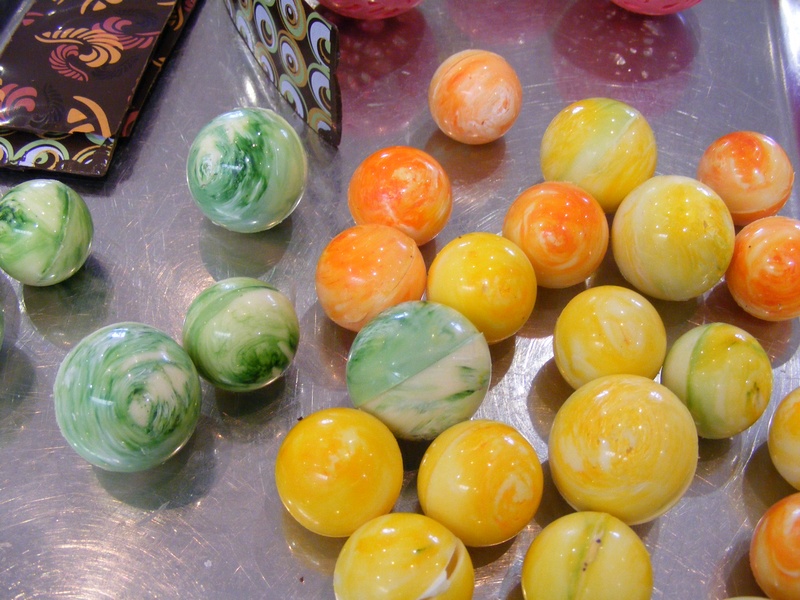 '
Knitted' spheres.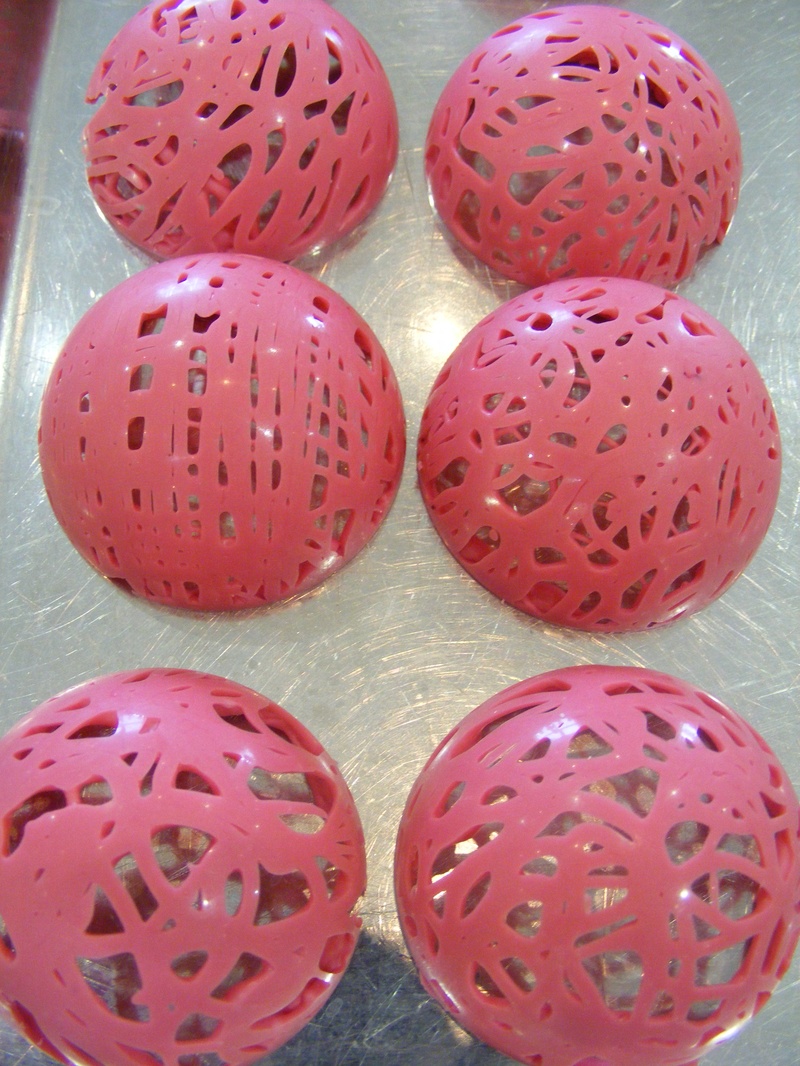 Bubble wrap chocolate.
Transfer sheet dominoes.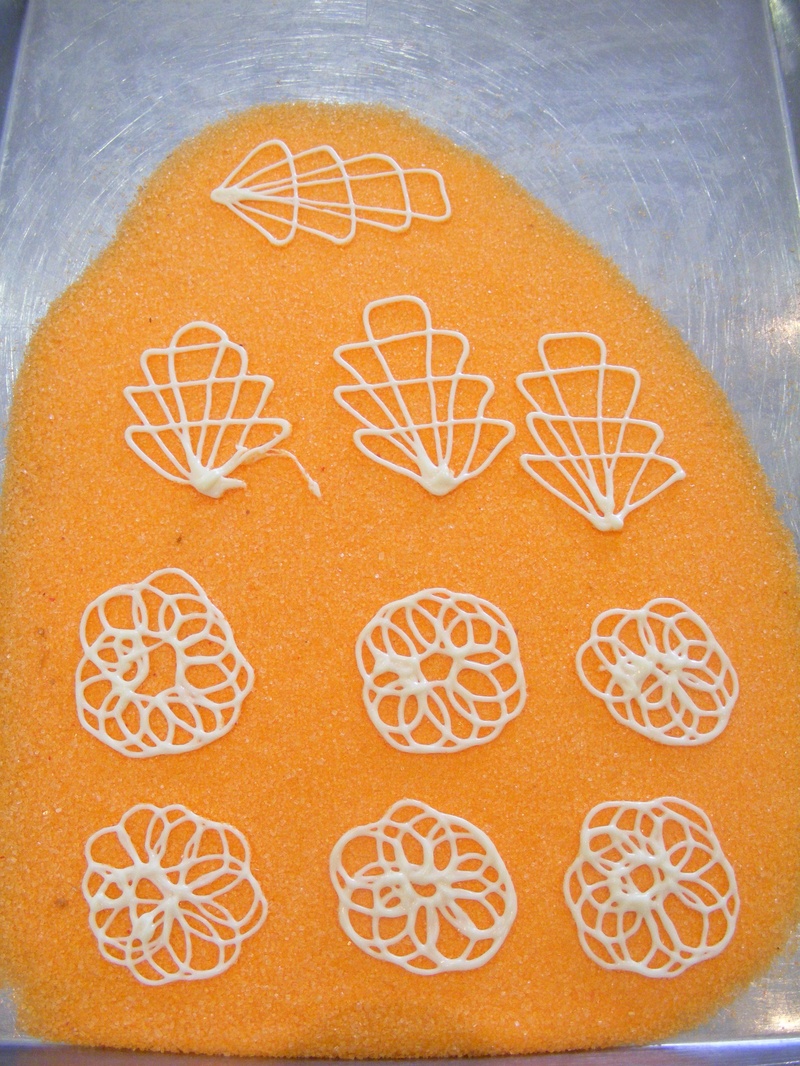 Piping onto funky coloured sugar.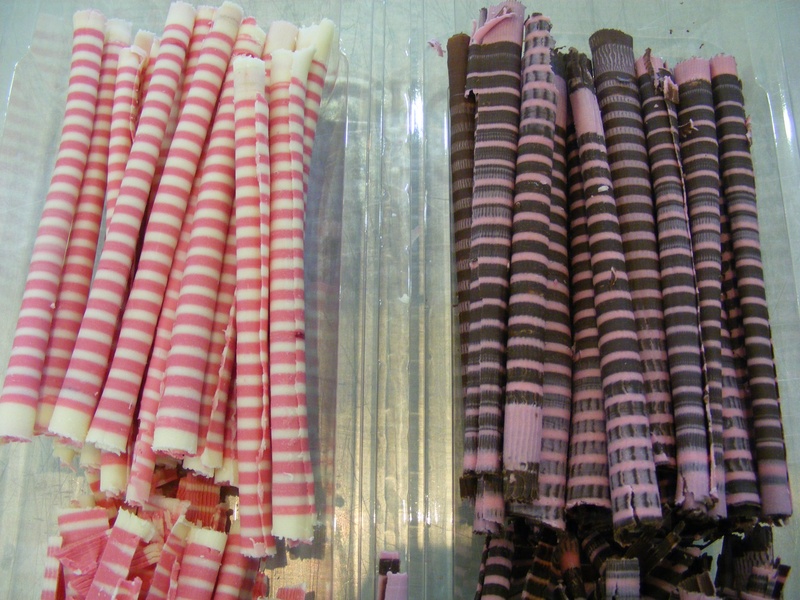 Two coloured cigarellos.
Moulds using cocoa powder, brass moulding,  scocolate snow balls and more, the list truely went on, and this was all before lunch.
After Julie demonstrated all the techniques it was time for us to roll up our sleeves and chuck on our aprons and start playing. 
Despite the fact that I am most definately a milk chocolate girl I decided to work with white chocolate and the funkiest colours I could find, I could never be describes as the shy and retiring type and I think one look at all the colours I produced above would tell you, that  day one was never going to be 'sophisticated' and a genteel out-pouring of my more delicate side. Nah! none of that silly nonsense, big, bright and bold that was the message!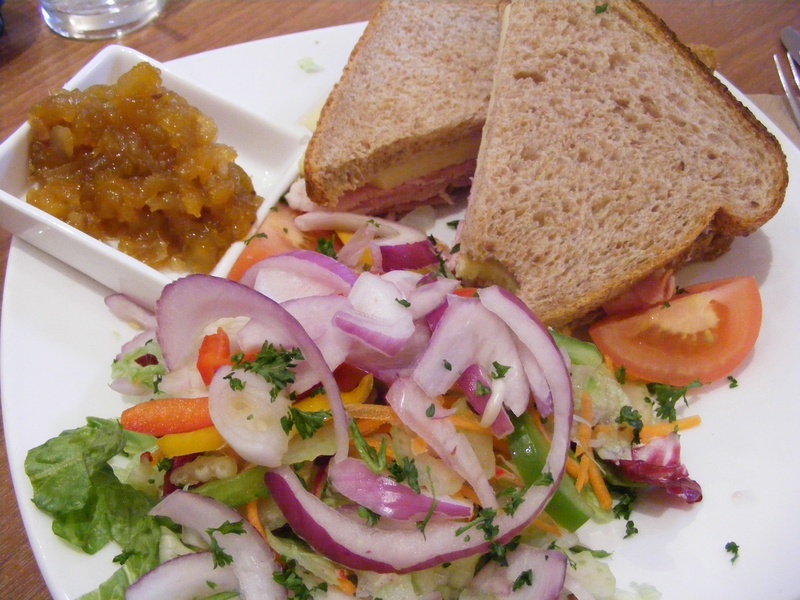 As part of the course lunch is provided and consists of a hot and cold sandwich buffet, because there were only three of us we were given a menu each from the restaurant and told to choose.
The day was getting better and better!
My choice of a gammon ham and mature cheddar sandwich, followed by bread and butter pudding and coffee sounded fantastic on paper but in reality was a huge mistake!
The sandwich was filled with the biggest chunk of cheddar I have ever seen in my life, it must have been 1/2 an inch thick and I am not exagerating.... It was totally gorgeous, but way, way to filling and I only managed a mouthful of the  bread and butter pudding which was equally yummy!!!!
Moral of the story, dont be picking at chocolate all morning when you are on a course or you will never eat all your lunch.
After staggering back up the stairs like a stuffed hippo it was time to put together all that we had made during the morning session.
The afternoon session was dedicated to producing a selection of desserts using all that we had made in the morning and although I have not mentioned this already, I cannot emphasise just how generous Slattery's are. There is no... 'that will be an extra tenner for your additional ingredients', or  'sorry you cant have that , its not covered in the course', we were only supposed to make four of each dessert but there are six in our household and an awful lot of crying would have ensued if I had gone home without something for everyone.
And its not just ingredients they are generous with, Julie (and John the owner of Slattery's)  will answer every question, every query, even if it results in you taking potential business away from their doors, they have no problem in you taking photographs of their cakes and confectionary and will hand out recipes at the drop of a hat. Now that is class!
Anyway, as usual I digress, but they really do have my respect , I believe its taken John Slattery 25 years to build up his business and they could easily take the same stance as another lancashire cake decorators that I visited recently who couldn't have been more un-helpful and stand-offish if they tried.
By the end of day one I was covered in chocolate, absolutely cream-crackered, and the proud owner of lots of lovely choccy puds...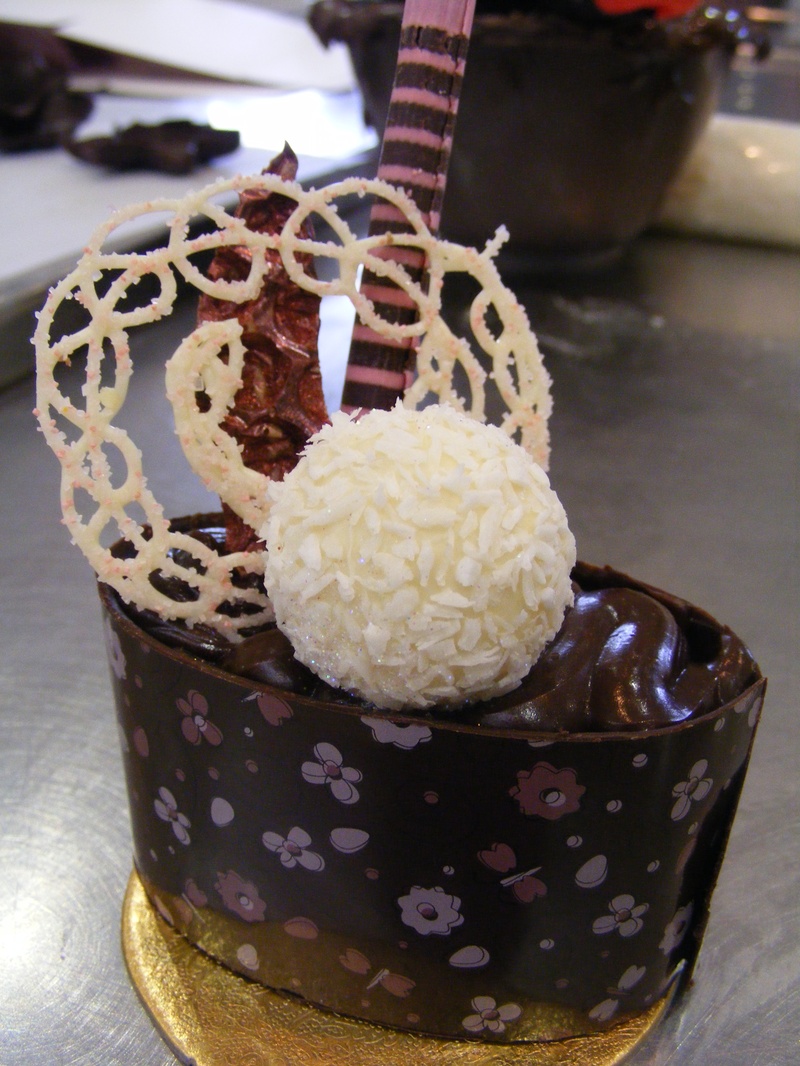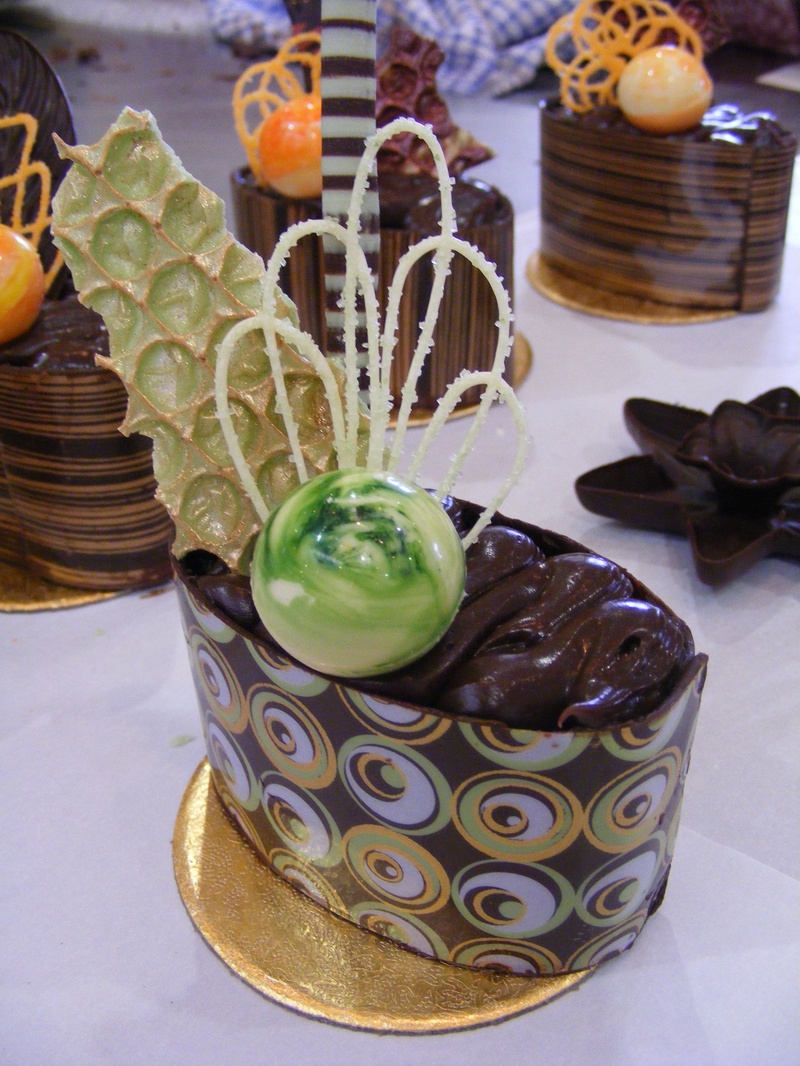 Pretty......
 I have to say that I was extremely happy with my days endevours and drove home laden down with three boxes of puds and left over decorations.
Day two here I come.
Bleary eyed from dreaming all night about giant bars of fruit and nut ( I kid you not), we started the session in much the same vein as the previous day but armed this time with the knowledge and skills necessary to produce the weding cake that was the aim of day two.
I had already decided that I wanted to move away from the wedding cake theme as Glyn and I were away the following day at his sisters annual garden party and the cake I would be making was our gift to them.
As a result I decided to make a 'sea' themed cake in various shades of blues and greens, this has no bearing on the garden party, as his sister lives in Winchester which is absolutely nowhere near the sea, but who cares, I like turquoise and I wanted to model a fish. out of modelling chocolate... enough said!
The morning session was dedicated to making balls... lots and lots of balls.... lots and lots and lots of balls.....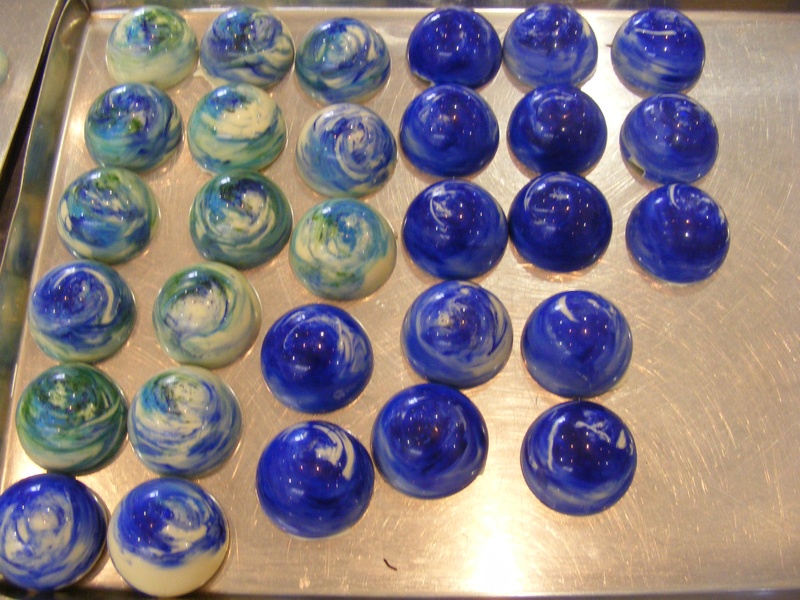 Big balls, little balls, hundreds of the little darlings!
In yummy shades of blue, green and silver with the occasional hint of gold thrown in for good measure.
Then we prepared, cut and filled our cake.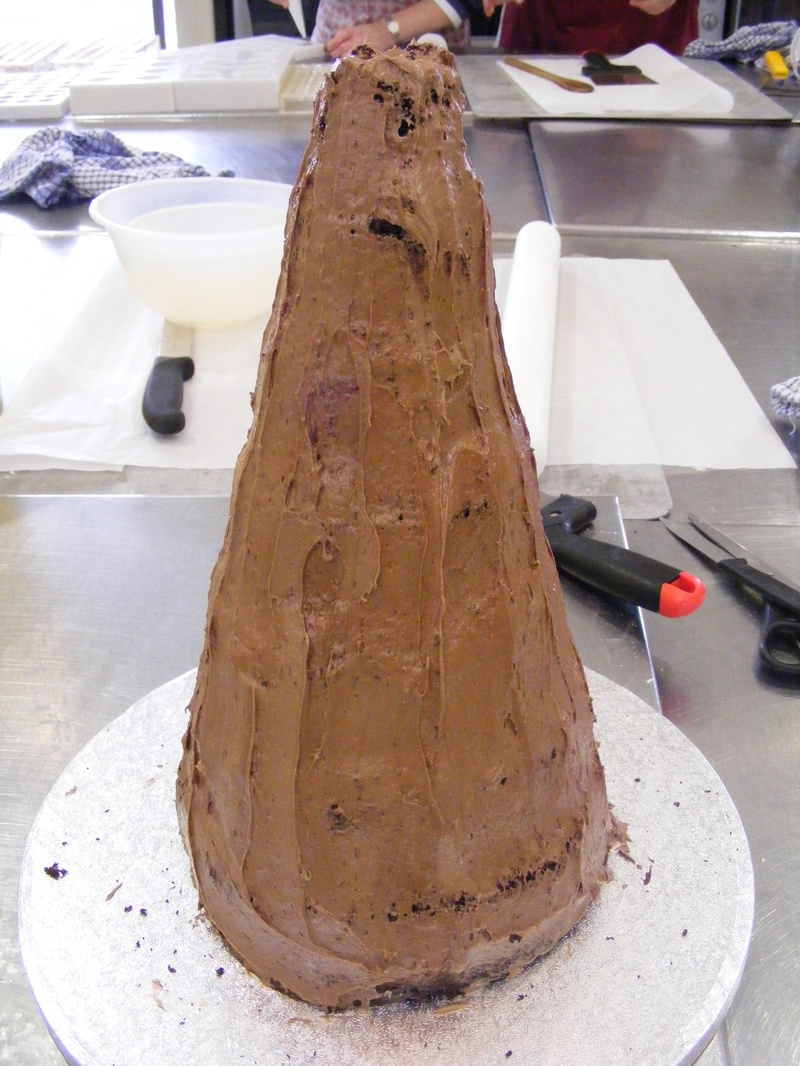 Covered it in marzipan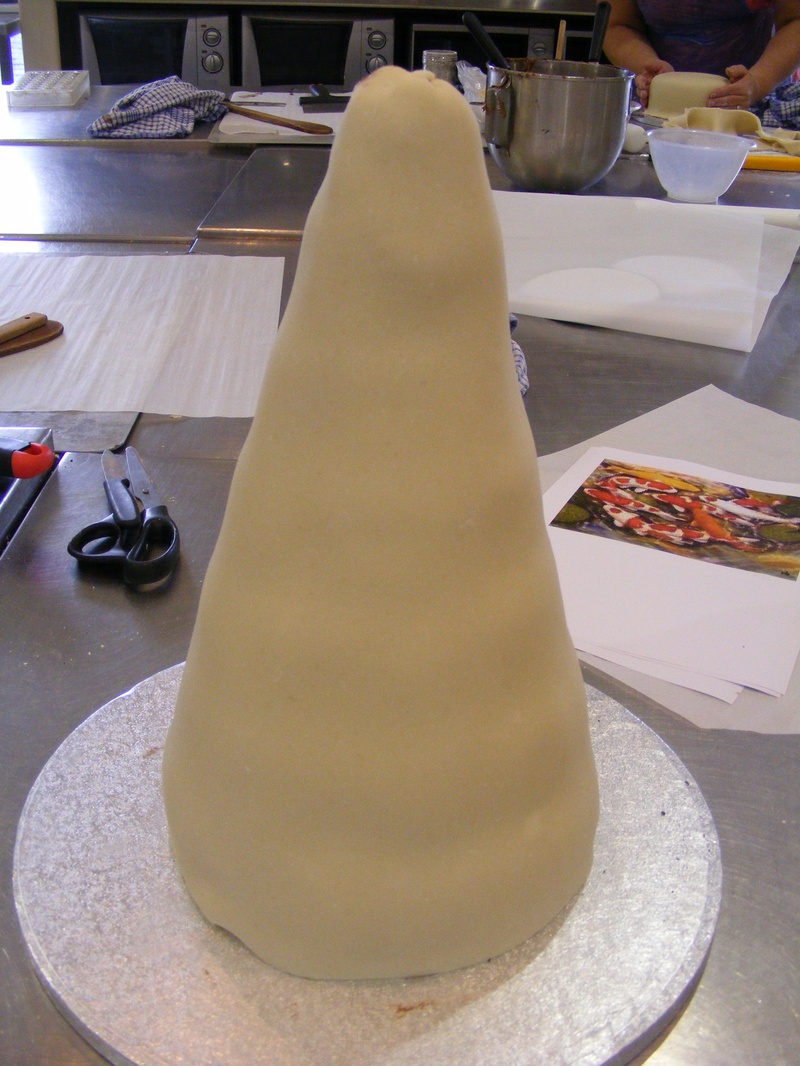 And then swamped it with a coating of gorgeous moulten ganache....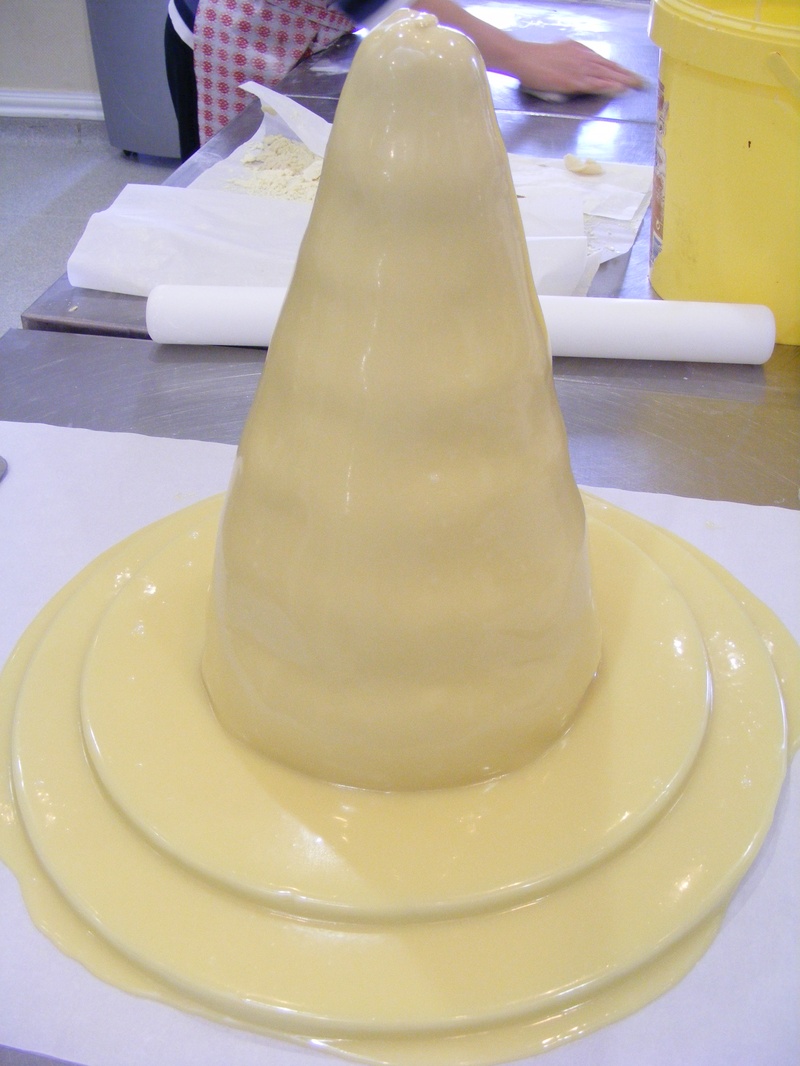 Once more I would like to emphasise the generosity of Julie and Slattery's.
My board was not big enough and without hesitation Julie found me a much larger one, no questions, no hassle, every where else would have said, 'sure, that will be an extra £4 please...'
Fridge time for my white mountain till after lunch.
I have no piccies of lunch, not because it wasn't absolutely delicious ( homemade cream of vegetable soup this time with a bread roll, no dessert, I learnt my lesson yesterday) but because the 'inmates' ( me and my fellow students) decided to go AWOL to a local cake decoraing shop and I forgot to take my camera.... Silly me!
The afternoon session was a simple matter of chucking all our bits onto the ganache covered cake and making the finished article presentable.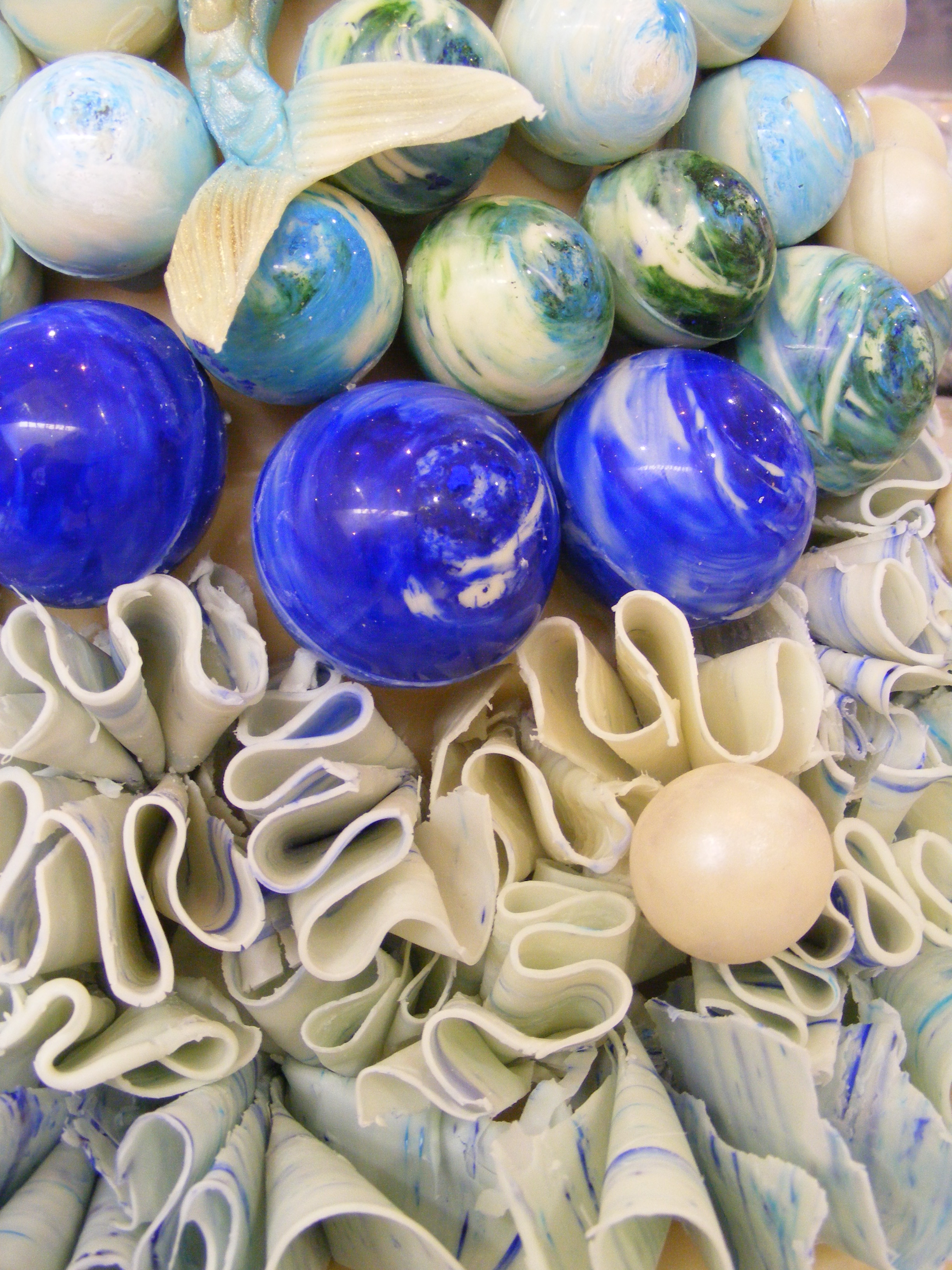 Ruffles at the base with graduating spheres, in all the hues of blue, and a 'fishy' made from modelling chocolate, my  creation was turning out exactly how I pictured it in my very overactive imagination.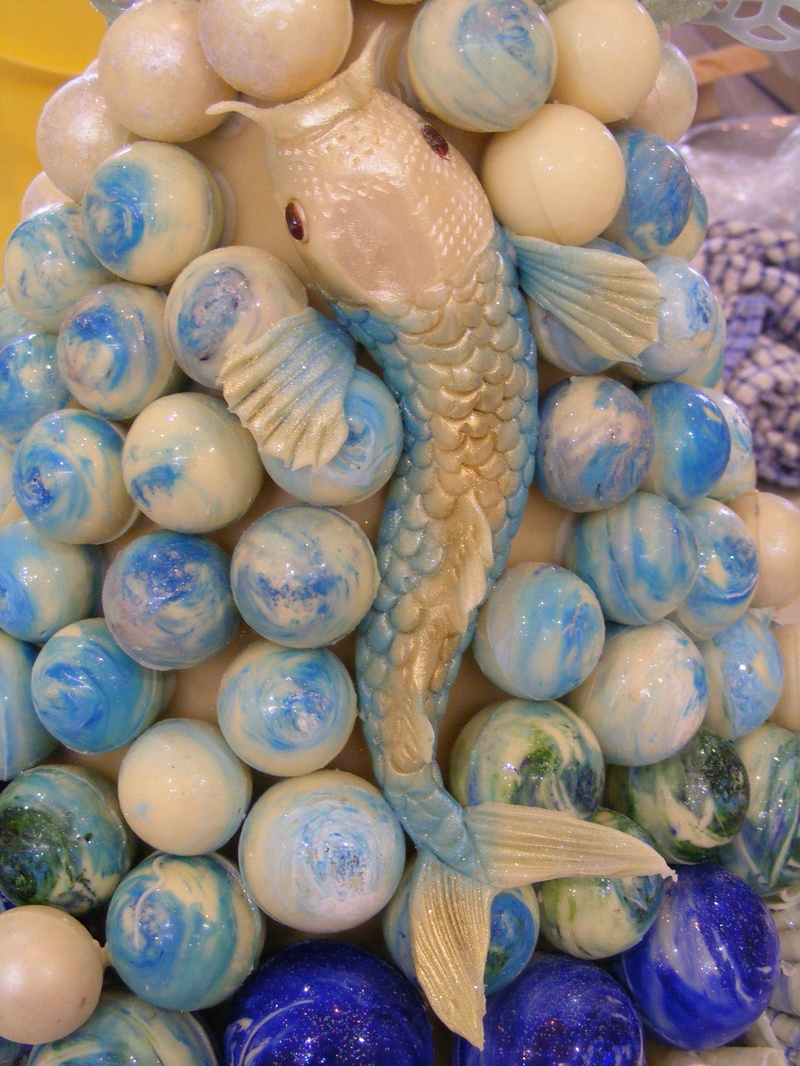 And loads of glitter.............
I ended up having to 'cadge' more balls from my fellow students as despite making hundreds before lunch I still hadn't made enough, and also piped some 'seaweed' onto green sugar to finish empty spaces at the top of the cake but I  think it was all the better for it and the oohs and aahs of admiration from Glyn's sister Claire were lovely to hear the following day.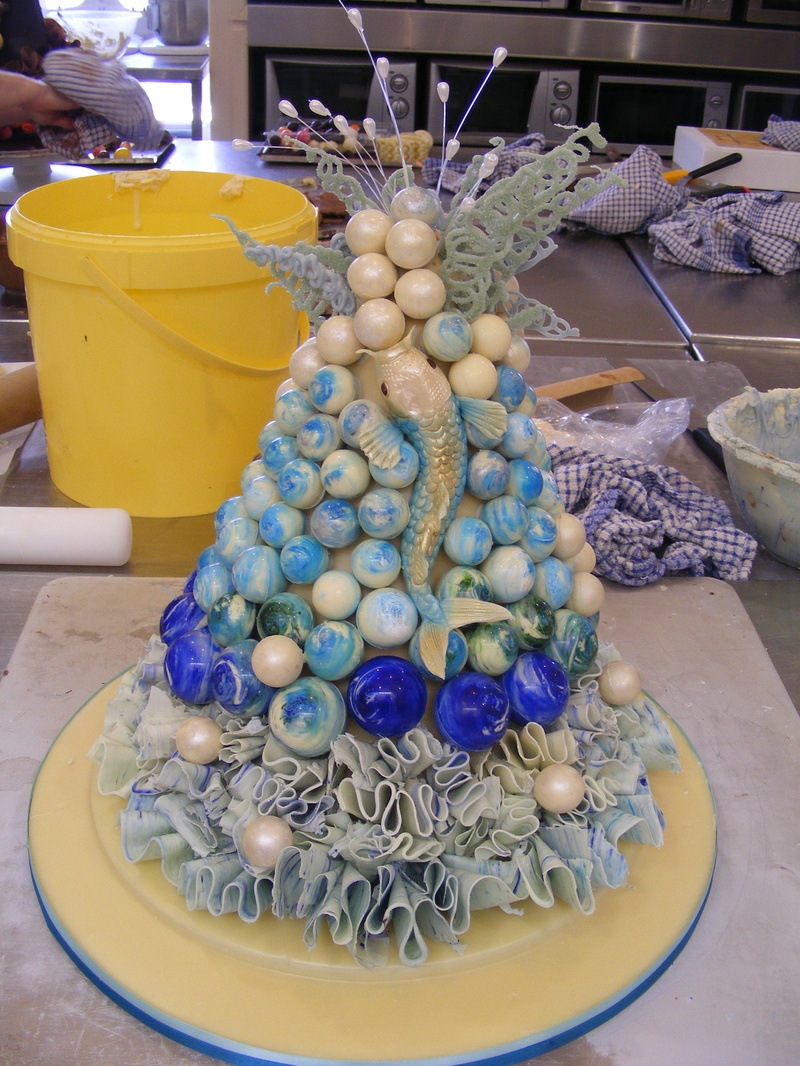 I had an absolutly fabulous two days at Slattery's and cannot reccomend them enough for a great 'play day', and the best bit is,  I won another days chocolate course through a competition I entered and that is coming up next week....
 woo hoo, Chocolate shoes....
Categories: None