| | |
| --- | --- |
| Posted by bakinglady on September 20, 2009 at 8:32 AM | |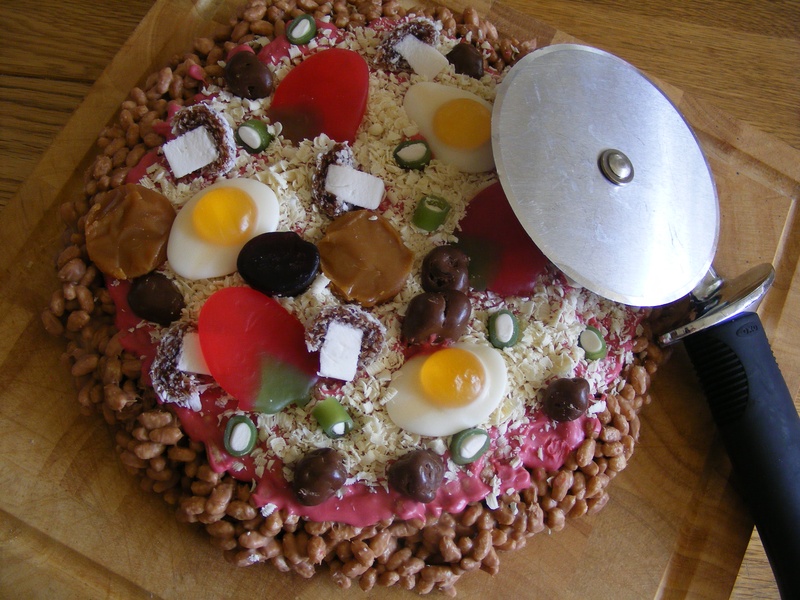 Tis' the middle of september and t'will soon be the time for all good witches to don their pointy hats and get making something tasty for Haloween, as long as this gets hidden it will easily last till then but make sure it is placed well out of the way of your little wizards or it will dissapear faster than you can say alacazam!!!!!!
What your gonna need.....
pizza base
150g white chocolate
75g milk chocolate
120g rice crispies
Tomato sauce
110g white chocolate
1/2 teaspoon red powdered food colouring- This is also known as petal dust and can be found on line ( Squires, have your cake and eat it, slatterys etc...) or from specialist cake decorating shops, DO NOT USE LIQUID OR PASTE FOOD COLOURINGS AS IT WILL 'SIEZE' THE CHOCOLATE, if you really cant find this I suggest you either use plain chocolate and call it a BBQ sauce based pizza or make up some royal icing instead and colour that a tomato sauce red, it will taste good however you make it.
Grated cheese
40g white chocolate, grated on a 'large' hole
Pizza toppings
100g of mixed sweets including coconut mushrooms, try and get them to look like regular toppings, tomato, pepperoni, onion, olives ham, minced beef,  pineapple etc
Start with the base, you will need to melt the two different chocolates for the pizza base, there are two ways of doing this, in a bowl over a pan of very hot, not boiling water ( making sure the water does not touch the bottom of the bowl), stirring occasionally until the chocolate melts or the way that I prefer which is in the microwave, place it into a medium plastic or glass bowl and microwave in 20 second bursts, making sure that the chocolate is only just melted and that you dont burn it , stir in the rice crispies until evenly coated, then tip out onto a tray lined with silicone paper or as I have used here a silicone mat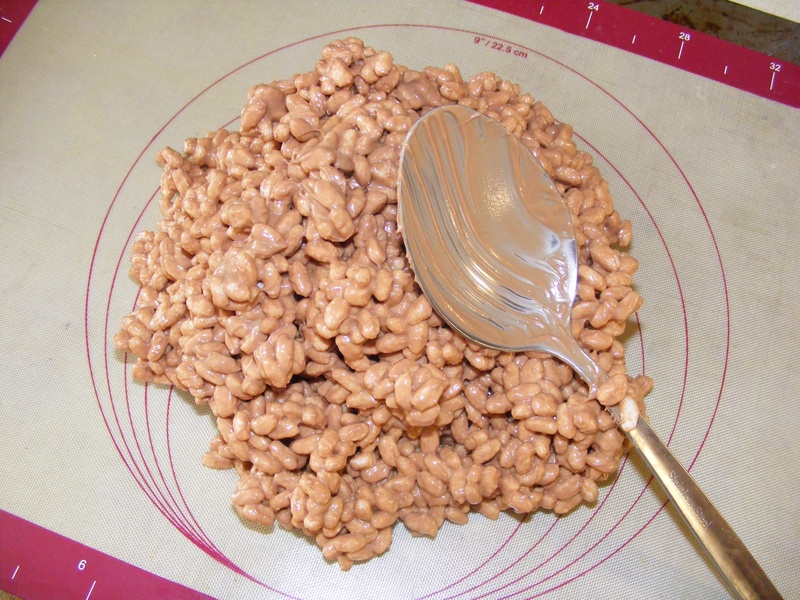 You might find your life easier if you draw a 9" circle before you spread out the crispies to keep a nice shape.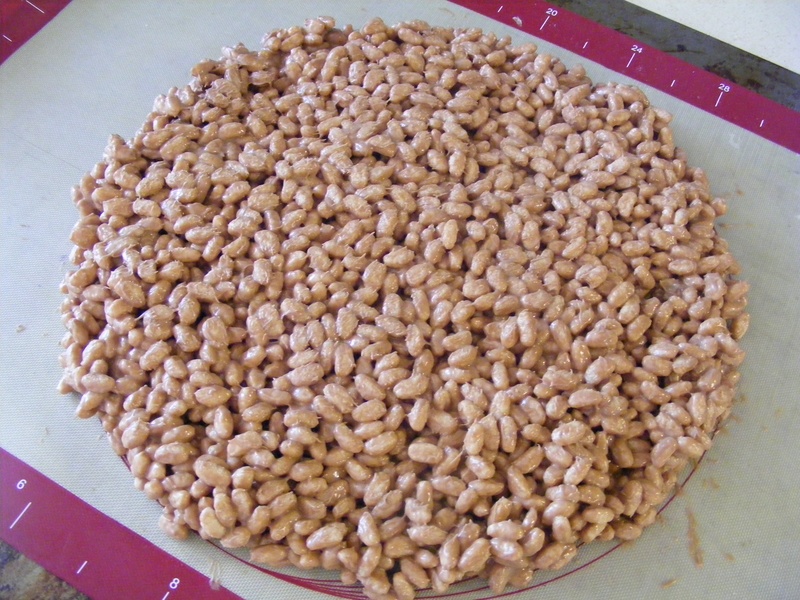 You will need to let the base set before you cover it with the 'tomato sauce'
Once again melt the white chocolate until just melted, it is better to have a few small lumps of chocolate remaining once it comes out of the microwave rather than it being fully liquid as the residual heat will continue to melt after the bowl has come out. Add the powdered red food colouring, stirring really well to ensure the colour is consistent throughout.
Spoon this over the set base.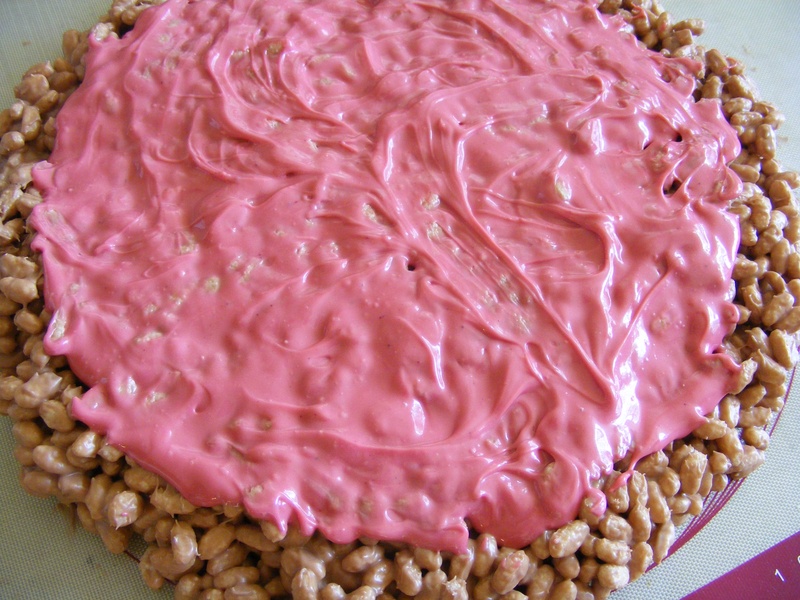 My tomato sauce look very pink, but in reality it was darker than the photo shows, if you are not happy with your colour add a little more red dust.
Now sprinkle the remaining grated white chocolate over the tomato sauce, you will need to do this before the sauce sets, and , finally position all your toppings on pushing them down into the sauce.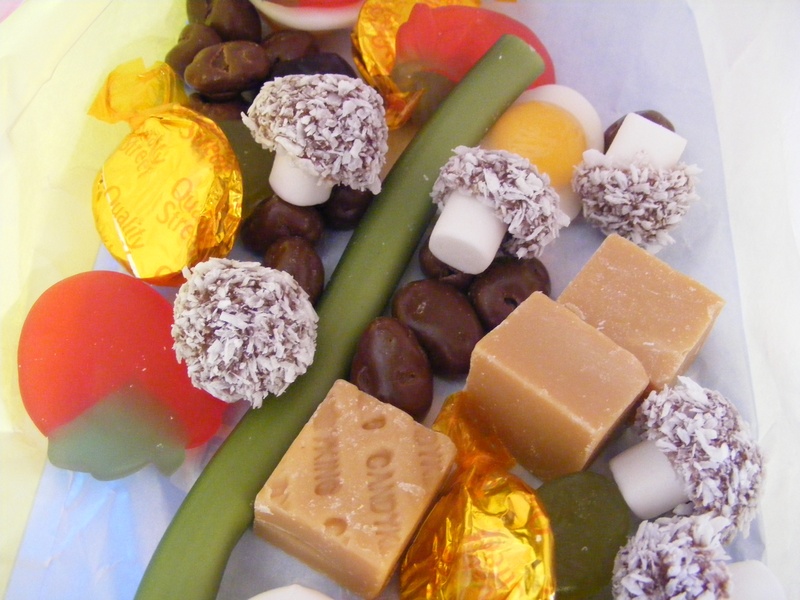 This treat is fabulous not just for Haloween, it also makes a funky gift for the kids to give to their friends, aunties, uncles and teachers at Christmas time. If you can persuade your local Pizza delivery place to give you an authentic pizza box to put it in it will look even better, if not put in on a thin cake board or paper plate and wrap in cling film....
AYYYYY Mama.........
Categories: Seasons eatings...., Chocolate... chocolate and more chocolate!