| | |
| --- | --- |
| Posted by bakinglady on October 10, 2009 at 10:50 AM | |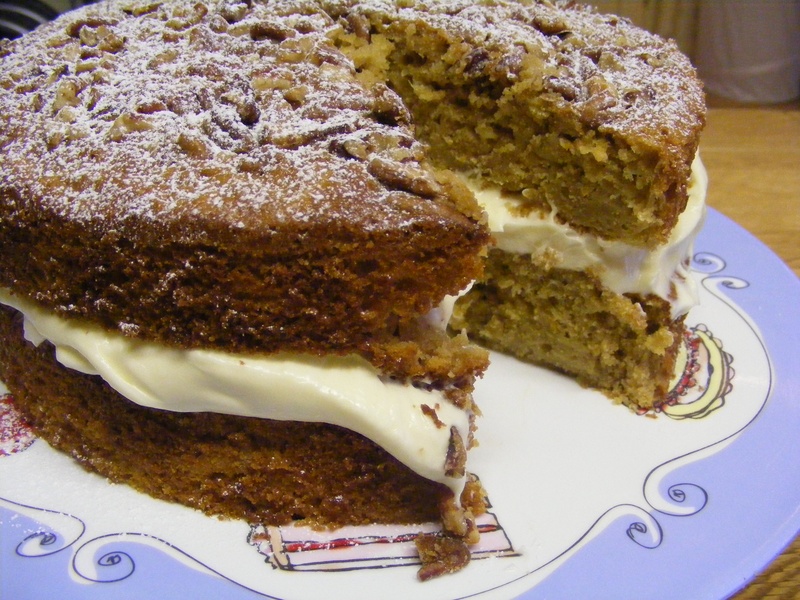 Saturday is upon us once more and usual I am to be found in the kitchen with an apron on, a spoon in my hand and a cake in the oven. This time it's a luscious little number with a very unusual ingredient- parsnips! And baby all I can say is don't knock it till you try it....
Ingredients
175g butter
100g soft brown sugar
50g soft dark brown sugar
3 eggs
250g special cake flour- If you cant find this use self-raising flour instead
100mls maple syrup
2 level teaspoons baking powder
1 level teaspoon cinnamon
1 level teaspoon mixed spice
250g parsnips, topped and tailed, peeled  and grated
1 granny smith apple, peeled, cored and grated
zest of an orange
30g chopped pecans
1 tablespoon icing sugar- to dust the top of your cake
Filling
1 tablespoon maple syrup
100g butter
150g icing sugar
100g good quality cream cheese, I use Philadelphia but you can also use Mascarpone cheese instead
Preheat the oven to 180c
Grease and line 2 x  8" sandwich tins.
Melt the butter, sugars and maple syrup in a heavy based saucepan then bring the mixture to the boil and boil gently for 5 minutes to reduce slightly and intensify the flavours.
Pour into a large bowl and leave to cool.
Beat in the three eggs and then sieve the flour, baking powder and spices over the top, fold in gently.
Finally fold in the grated apple, parsnips and orange zest .
Divide equally between the two tins.
Sprinkle the chopped pecans over ONE of the cakes and place onto the middle shelf of the oven, bake for 30-35 minutes or until golden brown, well risen and the cake springs back when lightly pressed with the fingertips.
Leave to cool on a wire rack.
Prepare your filling.
Beat the butter, maple syrup and icing sugar together till well combined then add the philadelphia, beat till well mixed then dollop it all over the 'un-nutted' layer, place the nutty layer on top and push down gently to make the filling ooze slightly in total lusciousness.
Dust with icing sugar.
I have to say this is one of the most unusual cakes in my cake baking repetoire and the origins of this really puzzled me so I hit the internet and discovered that up to the 15th century parsnips were widely used to make puddings, jams and wine and during the second world war they were a staple ingredient in puddings and cakes as sugar was rationed.... Ooh dont you just love a history lesson!
So go on give it a go, this is one scrumptious cake and surely must count  towards one of your 'five a day' if it doesn't then contact your local MP and demand changes.....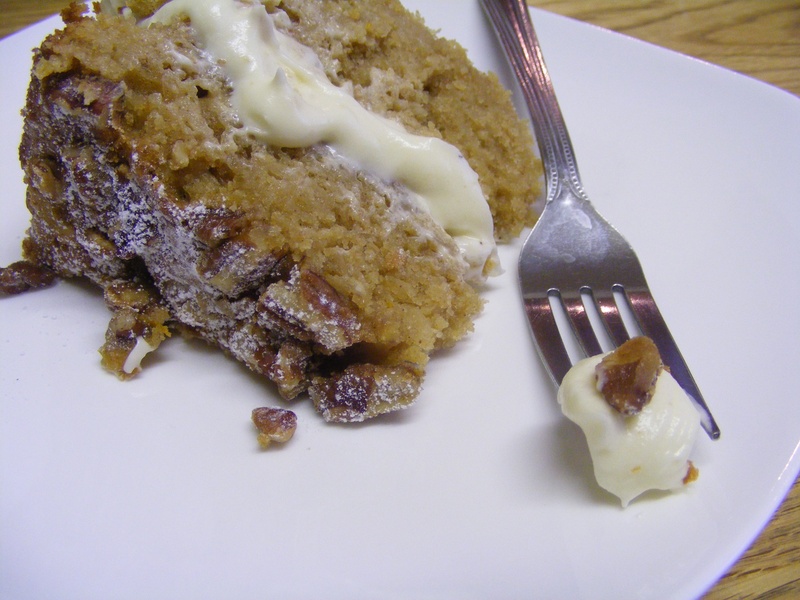 Categories: Just like Grandma used to make, Cutting cakes