| | |
| --- | --- |
| Posted by me on October 30, 2011 at 9:55 AM | |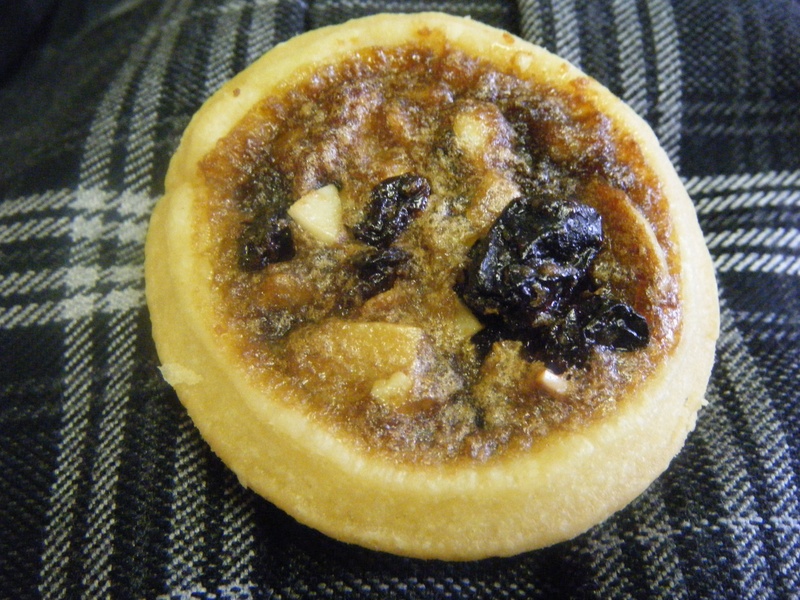 The North of England is renowned for its pastry, think Eccles or Chorley Cakes, Grasmere gingerbread and Betty's Hotpot but go further North and you will get to the Scottish town of Ecclefechan and their culinary offering the Ecclefechan tart. With its buttery rich filling, full of plump fruit, flaked almonds and a hint of orange they are ridiculously easy to make and offer a wonderful alternative to the traditional mince pie at Christmas, especially if you serve them warm with a dollop of whisky and honey infused cream...
Ingredients
450g Shortcrust pastry made with 300g plain flour, 75g butter, 75g Trex, pinch of salt and water to bind - leave in the fridge for half an hour wrapped in cling film before using.
125g melted butter
200g  soft dark brown sugar
2 eggs, beaten
1 Tablespoon red/white wine vinegar
100g raisins
100g sultanas
50g flaked almonds 
Zest of 2 oranges
Directions:
In a large bowl mix the sugar and melted butter together, then add the dried fruit and almonds, beaten eggs orange zest and vinegar, stir well.
Roll out your pastry to approxiamtely 3mm thick and cut out circles to line your bun tins. Dont use a shallow bun tin, try and find one with a bit of depth you want them deeper than a jam tart.....
Fill each pastry case with about a dessertspoon of the mixture (dont over fill or the mixture will bubble out and 1) stick the pastry to the tins making them a nightmare to get out 2) they wont look as nice....)
Bake for 15-20 minutes at 180°C until golden brown, when you think they are baked pull one out of the tin carefully (it will be extremely hot) and turn it upside down to see if the base is thoroughly cooked, if it isn't place the tray back into the oven with a piece of tinfoil over the top to stop them browning any further.
Leave to cool in the tins for about 5 minutes before removing to a wire rack 
I served them warm with lightly whipped double cream that I had added a little runny honey and a good dram of fine Scottish whisky to, dredged with a little icing sugar.....  Brilliant as the Scots would say
 !!!!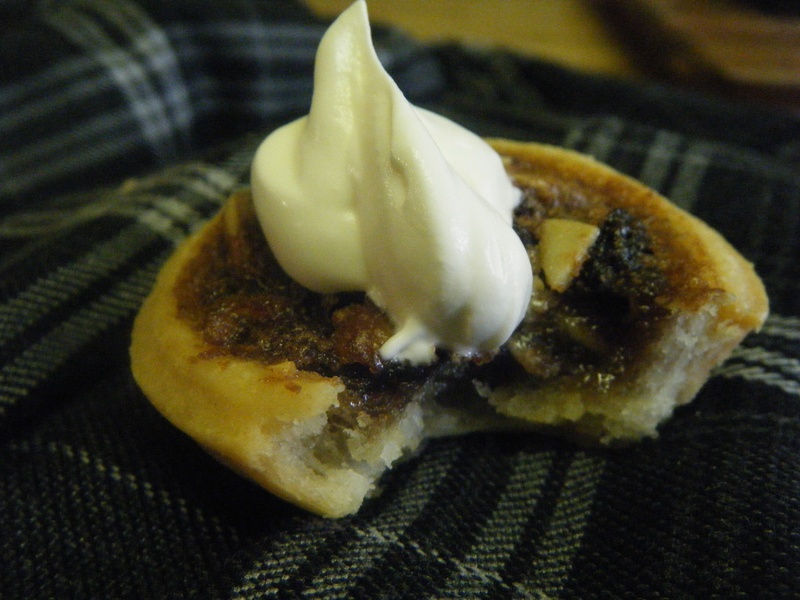 Categories: Christmas, Just like Grandma used to make, Pies, pastry, Tarts and Tartlets