| | |
| --- | --- |
| Posted by me on August 22, 2013 at 7:00 AM | |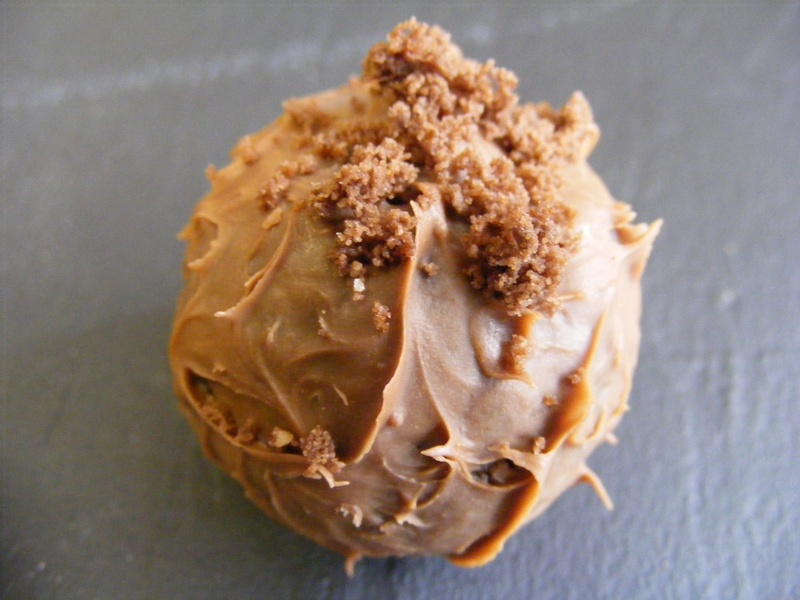 These gorgeous little chocolate and cream cheese bites are probably the quickest, easiest and definitely tastiest chocolate covered morsels you will ever make, they knock up in a flash and disappear twice as fast but they also make wonderful gifts and will keep for up to a week in the fridge
What you will need
350g cream filled chocolate biscuits such as Oreos or Burtons chocolate Dodgers or double/triple chocolate cookies they need to be very chocolaty in flavour. you could even use chocolate bourbons but you would need to kick up the flavour by adding a heaped teaspoon of cocoa powder.
150g full fat cream cheese ( I used Philadelphia)
1/2 teaspoon natural mint extract, or a little more if you want it extra minty..
200g milk chocolate
What you do
Bash the biscuits until you have a fine crumb ( go on take out all that pent up aggression on those cookies, you know you want to) then reserve a couple of tablespoons to sprinkle over the finished bites.
Mix the cream cheese and cookie crumbs together in a large bowl then place back in the fridge for 1/2 an hour to firm up before shaping into small walnut shaped and sized balls.
Melt the chocolate in a small bowl in the microwave ( highest setting in short bursts) or over a pan of hot but not boiling water then coat the balls individually in a little chocolate ( the easiest way of doing this is with your hands and it makes them smell fantastic afterwards, a beauty treatment for free....Bonus!)
Sprinkle with the reserved crumbs before they set.
store in the fridge
Categories: Chocolate... chocolate and more chocolate!, something a little bit special..., Seasons eatings....