| | |
| --- | --- |
| Posted by me on September 1, 2013 at 11:50 AM | |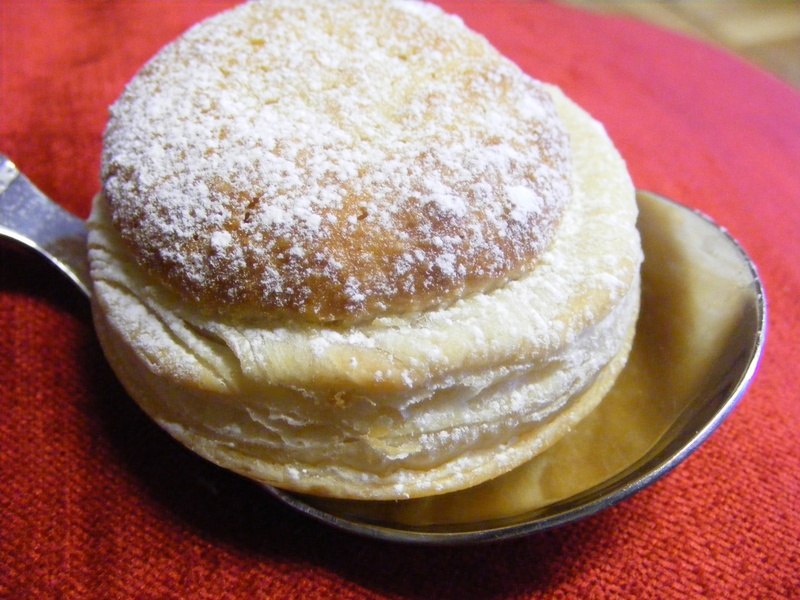 One day (so legend has it) Henry the Eighth was strolling through Hampton palace and happened upon Anne Boleyn and her girlfriends eating these tasty little pastries from a silver dish, now Henry was so enthused by them that he decreed that only the royal household should be allowed to wrap their diamond encrusted gnashers around their pastry, almond and orange filling that he selfishly locked the recipe away in an iron box in Richmond Palace. A couple of hundred years later the recipe eventually leaked out (Old Henry was six foot under so he didn't care) and they started to be made and sold in the town of Richmond in Surrey, hence ever more they became known as Maids of honour after Anne and her ladies…. History lesson over!
Now there are many varieties of these decidedly Royal pastries, originally the recipe called for curds (who can be bothered curdling fresh warm milk with the juices from a calves stomach for twenty four hours….ummmnn hands up!!!) and orange flower water but all the later recipes I have found contain three basic ingredients, puff pastry lemon or orange and ground almonds.
So after a few taste tests I have devised the tastiest Maids of honour for your delectation and delight, you might not be a queenly maid eating them but you sure will feel honourable if you can stop yourself eating the whole plate. Enjoy….
What you will need
500g readymade puff pastry
180g ground almonds
75g caster sugar
½ teaspoon salt
3 large egg yolks
1 teaspoon natural lemon essence
Zest of 1 large orange
4 tablespoons sour cream
1 ½ tablespoons plain flour
120g good quality lemon curd ( don't be tempted to buy the fluorescent yellow cheap stuff, splash out and buy a really good quality ones that actually tastes of lemons and butter)
You will also need a 12 hole shallow holed bun tin (not a muffin tin the holes are too deep)
What you do
Preheat the oven to 190c (180c for fan ovens)
Roll out the pastry to the thickness of a pound coin and cut 18 circles out with a 78mm cutter (about 3 ½" and line the holes in your baking tin.
Fill the pastry shells with a teaspoon of lemon curd (don't overfill or it will ooze out and spoil the look of your tarts)
Now mix everything else together in a bowl until well combined and then spoon a heaped teaspoon of the mixture on top of the lemon curd. Place into the oven and cook for between 15-18 minutes until the puff pastry is well risen and the almond filling has puffed up and is golden brown, remove to a wire rack and leave to cool, meanwhile repeat the process with the remaining 6 pastry circles….
The pastry base should be light and crispy and the almond and lemon curd filling should be soft and oozing under a golden brown shell once you bite into them, now put your feet up on the chaise longue, invite the girls around for a plate of these and a good gossip and imagine that you are royalty personified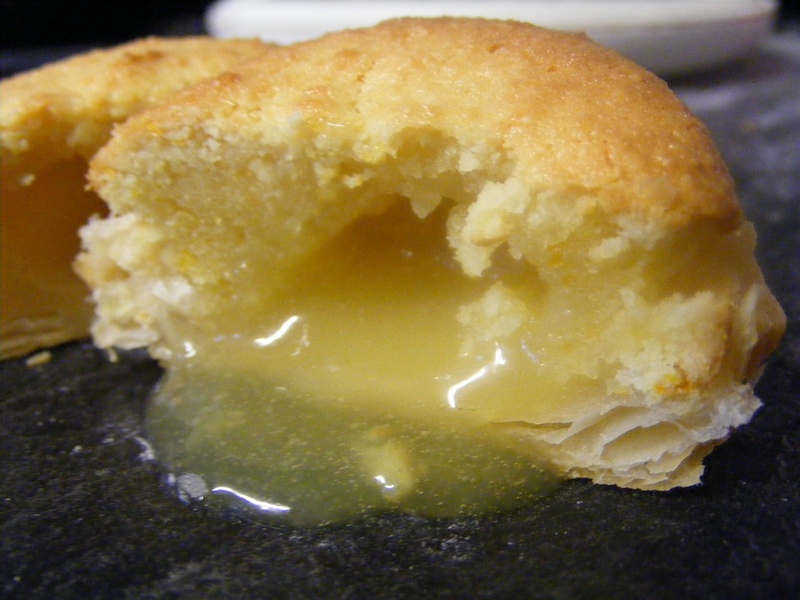 Categories: Just like Grandma used to make