| | |
| --- | --- |
| Posted by me on October 20, 2013 at 10:35 AM | |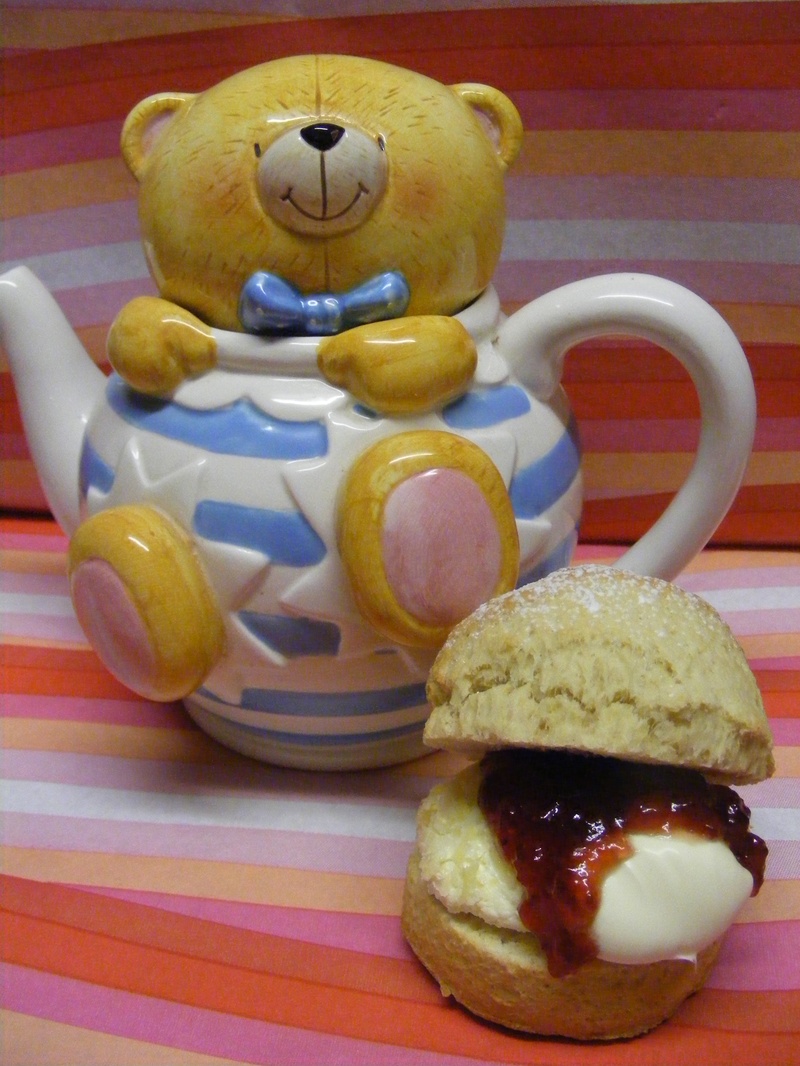 There is nothing quite so quintessentially English as a Scone cream tea with thick clotted cream and a great big massive dollop of extra fruity strawberry jam and no baking collection worth its salt(-ted caramel shortcake)should exclude this favourite old fashioned friend from its pages, never mind the fact that they originated in Scotland…yes Scotland my friends and were made with oats! See you learn something new every day….
However whenever I see scones in other cooking or baking epitomes they are always a little lacking in scone oomph'ness, always a little flat or heavy textured looking and I wanted to ensure that my scone recipe would be the scone supreme, so, five golden rules to help you achieve this….
1) Always use the freshest ingredients you can, don't use flour that's been sat at the back of the cupboard for the last three years when Great Aunt Maude decided to stop by and you made a batch of rock cakes to celebrate her eventual departure, the same goes with baking powder, don't keep it in the cupboard for more than 12 months… Oh and don't start me off on the freshness of eggs, I want to hear those babies almost clucking!!!!
2) Scone dough is much softer and wetter than pastry, don't be afraid to use a little more milk if you think it's a little dry, scones are meant to be soft and light, not the consistency of bricks!
3) Always give the dough a firm but quick knead to get rid of any wrinkles and smooth the surface area out but don't over work it or you will toughen the gluten up and produce a tough scone
4) Once you have cut the scones out with your cutter, place them on the tray and only milk wash the very top surface, not the sides then leave them in a cool place for 10-15 minutes before you bake them to let the gluten rest (just like you would leave pastry to rest)
5) And the last one… and probably the most important…never roll your dough less than 2 ½ cm or 1" thick, if necessary use a ruler to make sure they are the right depth, there is nothing worse than a flat little pancake looking excuse of a scone
6) Oh yes and don't forget to have fun…these little beauties are dead easy to make, just remember the five golden rules and your scones will take pride of place on the tea table….
I have now uploaded a video to show you how to make the PERFECT scone , have a look in my video section :-) x 
What you need
225g self raising flour
½ level teaspoon baking powder
Italian pinch of salt, (Three fingers or a really good pinch)
40g caster sugar
75g butter
1 egg, beaten
3-4 tablespoons buttermilk (you can find this in the milk section but if you can't find it just add a tablespoon of natural yogurt to 2-3 tablespoons of milk)
Egg or egg/milk wash
A little icing sugar if you decide to dust the tops once they are cool
What to do
Preheat the oven to gas 7, 220c or 200 for a fan oven
Sift the flour, baking powder and salt into a bowl and sprinkle in the caster sugar, and then rub the butter in lightly until the mixture resembles fine breadcrumbs.
Pour in the beaten egg and three tablespoons of the buttermilk.
Start to mix the dough with a fork and then finish off with your hands. The dough should be soft but not sticky, so add additional milk a teaspoon at a time if the dough seems too dry.
Next form the dough into a ball and turn it out onto a very lightly floured work surface, roll out no thinner than 1" or 2 ½ cm thick and cut out using a 58mm or 2 ¼ " plain cutter. Oh and one final hint, never twist your cutter when cutting, just cut straight down through the dough and then lift the cutter straight off, when you twist you can 'seal' the sides meaning that they wont rise evenly...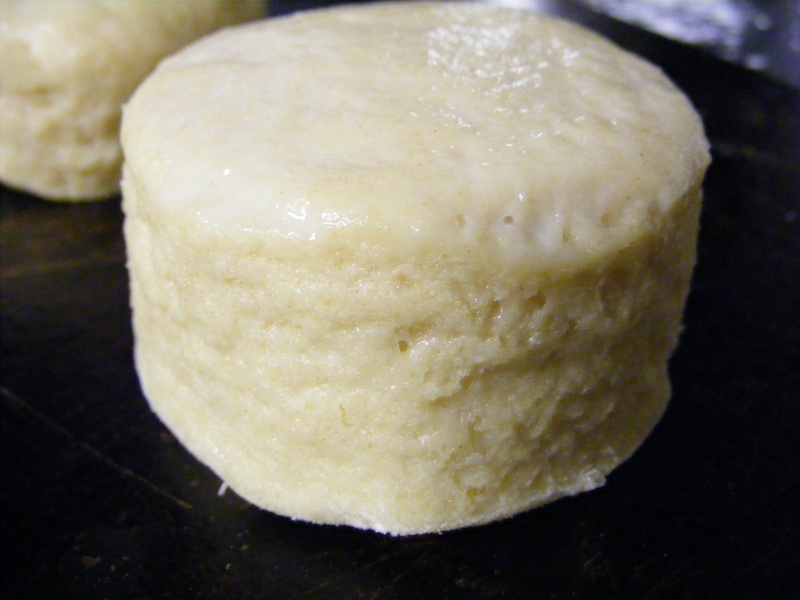 Place well apart on a metal baking sheet
Egg /milk wash, and then leave to rest for 10-15 minutes.
Cook for 10-12 minutes in the pre-heated oven, they should be well risen and golden brown, Cool on a wire rack… if you like you can give them the lightest dusting with some icing sugar but that's purely up to you
Now you decide whether to put the clotted cream on first with the jam on top or the jam then the cream….such tough decisions!!!!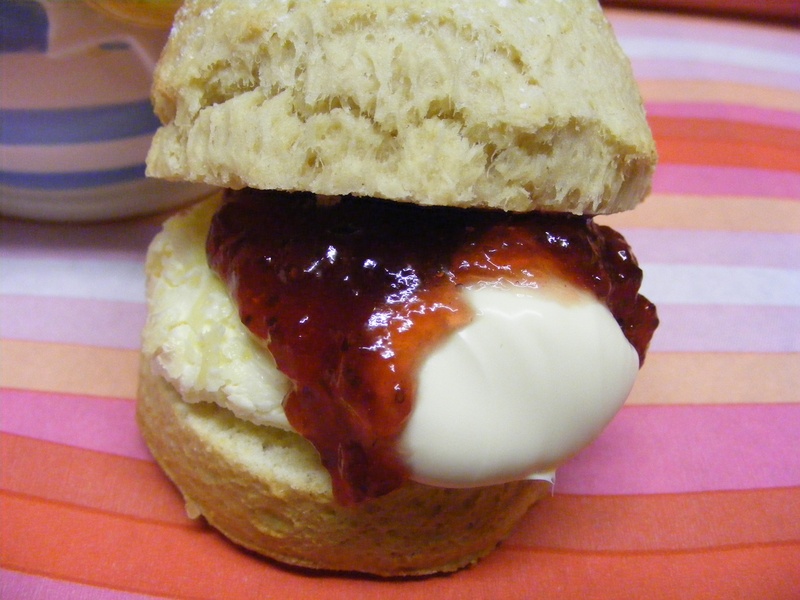 Categories: Just like Grandma used to make, Scones