| | |
| --- | --- |
| Posted by me on November 1, 2013 at 6:30 AM | |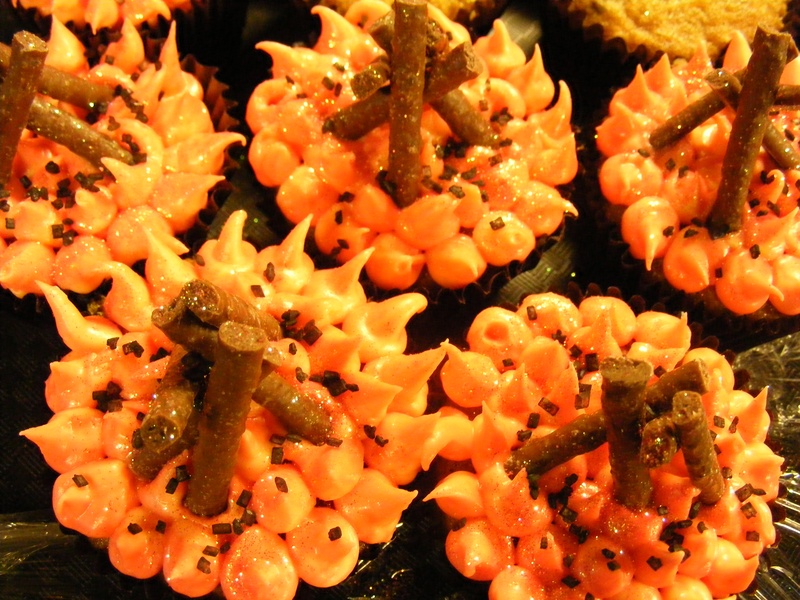 Remember, remember the fifth of November, gunpowder, treason and plot....Bonfire night happens in the United Kingdom on the 5th November as a celebration to mark the anniversary of Guy Fawkes who tried to blow up the Houses of Parliament in 1605 with the gunpowder plot. I made these cupcakes for BBC radio Lancashire as I was visiting the studio in Blackburn, Lancashire and they are made using the parsnip and maple syrup cake recipe but divided into 18 muffin cases and baked for 25-35 minutes or until golden brown and a cocktail stick is pushed into them and comes out clean
I used exactly the same frosting recipe but broke up chocolate and orange matchmakers (into three) for the wood and coloured half of the frosting orange and the remainder red before placing them both side by side in a piping bag to create a two tone flame.
I used glitter to sprinkle over the finished cakes giving them a lovely hint of sparkle.
Happy Bonfire night my little fire crackers...
You will need.
1 batch of the parsnip and maple syrup cake
1 batch of frosting
16-18 chocolate and orange matchmakers
sprinkles and glitter of your choice, I also used some popping candy to give them a bit of fizz and bang
What to do
Follow the recipe but divide the mixture into 16-18 cup cake cases, bake for 25-35 minutes then leave to cool.
Make up the frosting but divide the mixture into half colouring it orange and red and then place the mixture carefully into a piping bag and pipe little flames before sticking three pieces of Matchmaker to resemble wood.
Sprinkle with edible glitter and enjoy with your exploding rockets, Catherine wheels and firecrackers
Categories: Seasons eatings...., something a little bit special..., Cupcakes