| | |
| --- | --- |
| Posted by me on January 2, 2014 at 1:45 PM | |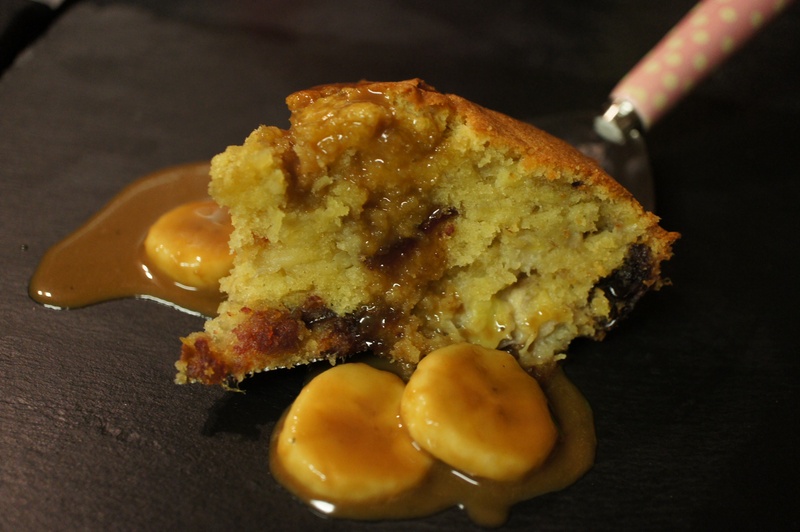 What do you do with four overripe bananas, half a dozen dates and half a tub of double cream left over from Christmas???? You make a gorgeous banana infused dessert with an indulgent banana and Rum sauce that's what…. Bananas and dates both contain masses of potassium a fantastic natural remedy to combat high blood pressure and bananas are a valuable source of Vitamin B6 which helps in dozens of ways including PMT, ulcers and aids metabolism to name but a few. Dates are stuffed full of fibre as well as Iron, they are both  super foods and this comforting pudding is perfect after the indulgences of the festive season when you want something warming and tasty but doesn't contain even the slightest whiff of chocolate..... Just what the Doctor ordered
What you need
For the cake
100g soft dark brown sugar
100g margarine
100g self raising flour
2 medium eggs
2 very ripe, brown bananas, mashed
6 dates, Medjool are the best but any fleshy dates will work as well, stoned then chopped into small pieces
For the sauce
100g dark soft brown sugar
50g butter
200mls double cream
2-3 tablespoons of dark rum or orange juice if you can't face another drop of the hard stuff.
½ teaspoon salt
2 ripe bananas cut into ½ cm thick discs
What you do
Preheat the oven to 180c or 160c for a fan oven
Cream the margarine and soft dark brown sugar until soft, light and fluffy then add the eggs a little at a time, beating well after each addition. Beat in the mashed banana, followed by the chopped dates and finally the flour, stir well to combine then tip into an 8" oven proof dish and bake in the preheated oven for 30-40 minutes or until well risen and golden brown.
Meanwhile make the sauce by placing all the ingredients (except the sliced banana) into a small saucepan and bring to the boil, simmer for two minutes then remove from the heat and add in the sliced banana.
Pour the sauce over the luscious sponge and if you want you can add a dollop or two of vanilla ice cream, the sauce is fantastic in the summer simply poured over ice cream for an indulgent treat, either way take heart in the fact that you are making the most of two super fruits and the diet can start tomorrow….
Categories: Just like Grandma used to make, Puddings and desserts