| | |
| --- | --- |
| Posted by me on February 7, 2014 at 7:25 AM | |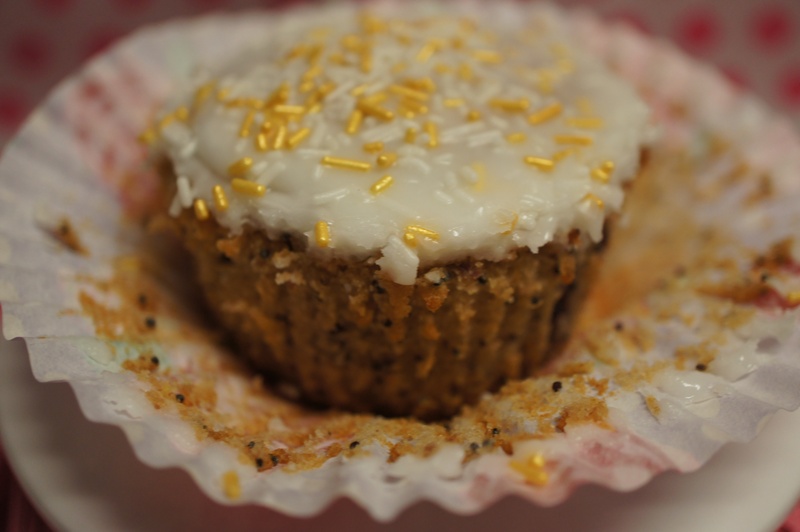 If you are anything like me you will have been foraging through your cupboards and come across a forgotten jar or tin of something or other that you are at a loss what to use it for. For me its a jar of cranberry sauce that I found hidden behind a jar of extra hot and spicy pickled onions and nestled next to a tin of chestnut puree ( I have big yummy plans for the chestnuts). Other than serving cranberry sauce with roast turkey or slapping it on top of hot buttered toast the gastronomic possibilities were pretty limited so I decided to create some dairy free muffins as I am being asked more and more for dairy/gluten/fat free recipes.
Whether you are dairy intolerant or not these muffins are soft, light, fluffy and totally delicious....
What you need
150g Trex, find this in the chiller section next to the butter and margarine
150g golden caster sugar
3 medium eggs
20g poppyseeds
Zest of 1 lemon (save the juice for the icing)
1 teaspoon lemon essence
250g cranberry sauce
180g self raising flour
For the icing
150g icing sugar
Juice of 1 lemon
Sprinkles to decorate
What to do
Preheat the oven to 180c or 160c for a fan oven and line a 12 hole muffin with paper cases.
Cream the Trex, lemon zest, essence and caster sugar together until soft, light and fluffy then add in the eggs one at a time, beating well after each addition.
Fold in the cranberry sauce and poppy seeds followed by the self raising flour and mix well.
Sppon the mixture into the paper cases filling them two thirds full then bake in the pre heated oven for20-25 minutes or until the muffins are well risen, golden brown and firm to the touch.
Leave to cool on a wire rack.
Mix the icing sugar and enough lemon juice to make a smooth icing then use a teaspoon to spread some on the top of each muffin before sprinkling with your choice of decorative topping.
Categories: Free From....., Cupcakes