| | |
| --- | --- |
| Posted by me on February 18, 2014 at 2:40 PM | |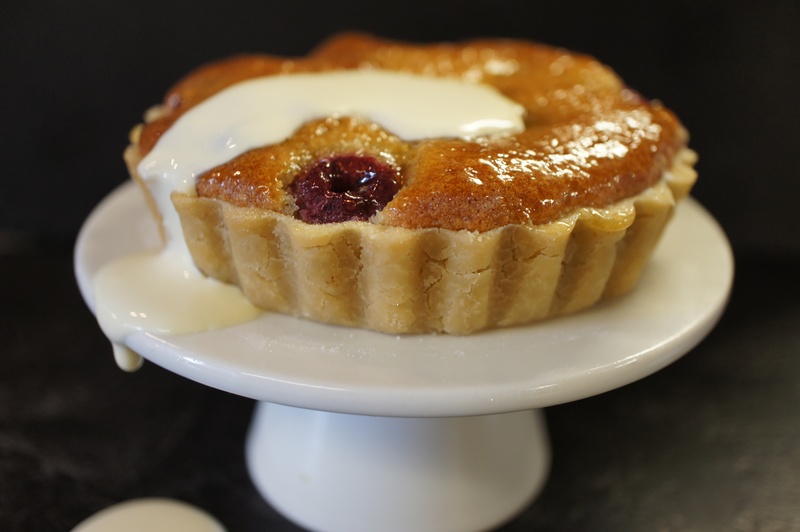 Fresh raspberries and apricots are a fantastic combination that remind me of long summer days and day trips to France where I would practice my dreadful mastery of the French language and scoff tart au apricot from backstreet patisseries. Over the years I have made many versions of this delicious zingy little tart but never with gluten free flour so I thought it about time that I corrected that mistake. You can find the original version further down in my recipes but this is equally as good and jam packed full of gorgeous ruby coloured raspberries and succulent apricots 
makes 4
What you need
Pastry
100g rice flour
25g butter
25g Trex
Large pinch of salt
Large pinch of sugar
A little water to bind
Filling
100g tinned apricots, drained and chopped
125g fresh raspberries
Frangipan
50g butter
50g icing sugar
50g ground almonds
20g rice flour
½ teaspoon bicarbonate of soda
1 medium egg
½ teaspoon almond essence
2 tablespoons of apricot jam, boiled and sieved to glaze the baked tartlets
What you do
Start by making the pastry, place the rice flour, salt and sugar into a bowl and stir well to combine then rub in the butter and Trex to make fine breadcrumbs. Add just enough cold water to bind the pastry (1-2 tablespoons) then divide it into 4 equal portions.
Roll out the pastry and line 4 x 10cm tartlet tins (You will find it much easier to roll the pastry if you roll it between two sheets of Clingfilm or food wrap, remove the top sheet and use the bottom sheet to guide and press the pastry into the tartlet tins.
Bake the tartlet cases blind for 10 minutes in an oven preheated to 180c or 160c for a fan oven or until the bases are just firm and starting to colour.
To make the frangipan filling
Place all the ingredients into a bowl and beat together using a food mixer or wooden spoon until well combined.
Divide the apricots and raspberries amongst the four part baked cases then top with the frangipan filling, smooth out the tops and return the tartlets to the oven cooking for a further 25 minutes or until the frangipan filling is well risen, golden brown and firm to the touch.
Once they are out of the oven brush the warmed and sieved apricot jam over the tops to give a lovely shiny coating.
Leave in the tins to cool for ten minutes then transfer to a cooling rack. Serve warm with cream, ice cream or custard or serve cold for afternoon tea.
Categories: Free From....., Pies, pastry, Tarts and Tartlets