| | |
| --- | --- |
| Posted by me on February 28, 2014 at 7:10 AM | |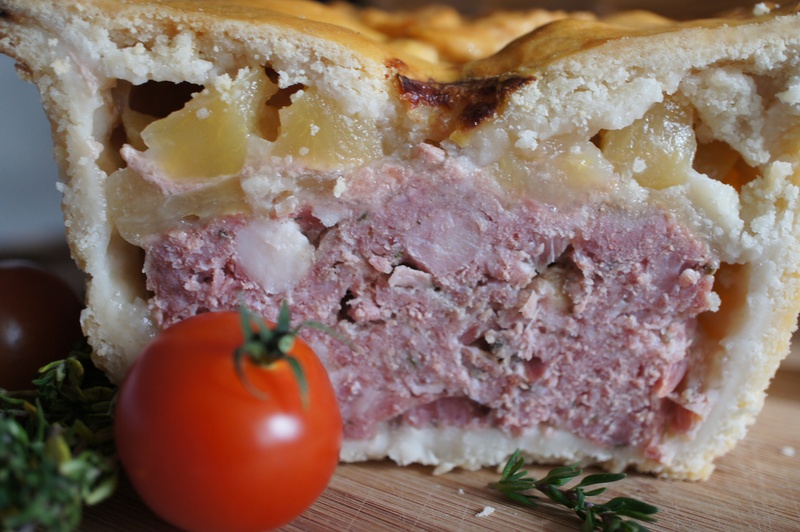 There is something quintessentially English about a pork pie and I don't know of any other country that makes Hot water pastry. Crisp pastry enrobing succulent flavoursome pork with a layer of either jelly or in this instance Juicy Brambly apples on the top.... Absolutely delicious! I am very fortunate to have organic pork delivered to my front door by a young farmer with a smallholding and I like to make something different with his lovely meat rather than just throwing it into a casserole or stew. Hot water paste is very easy to make and this pork and apple pie makes a wonderful dish to take on a picnic when the weather gets warmer.
What you need
500g pork, minced or finely chopped ( I used shoulder)
150g pork belly, chopped into ½ cm cubes
160g smoked bacon, cubed
½ tsp celery salt
¼ teaspoon freshly ground nutmeg
½ tablespoon freshly chopped sage
1 teaspoon freshly chopped thyme
½ tsp salt
1 heaped teaspoon sugar
½ teaspoon freshly ground black pepper
2 dessert apples, peeled and cored then cut into 1cm dice
120g brambly apple sauce
For the pastry
330g plain flour
150g lard
160ml water
To finish
1 egg yolk, beaten
What you do
In a large bowl mix together the minced or chopped pork, pork belly and smoked bacon then add the nutmeg, celery salt, freshly ground black pepper, salt, sugar, thyme and sage, cover with cling film or food wrap and keep in the fridge till required.
In a small bowl mix the chopped apples and apple sauce and cover with cling film or food wrap and keep in the fridge till required.
Place the lard, salt and water in a small saucepan and place over a medium heat, stir until the lard has melted then bring the liquid up to almost boiling point.
Place the plain flour into a large bowl and add the lard/water, stir well with a fork to combine then cool for 5-10 minutes or until it's just cool enough for you to handle. Remove a quarter of the pastry for the lid and wrap it in cling film then roll out the remainder on a sheet of cling film and use it to line a 2lb loaf tin (I keep the rolled out pastry on the cling film and roll it around my rolling pin to line the tin, it's so much easier to handle, just remember to remove the cling film). Trim the excess pastry off reserving it to add to the piece you have saved for the lid
Fill the lined tin with the meat mixture then top with the apple mixture.
Rollout the remaining pastry, once again using a sheet of cling film to make your life easier and place on top of the apple.
Push the edges down, trim then crimp using your thumb and forefinger on one hand and your forefinger on the other, make a hole in the middle of the pie with the end of a wooden spoon. You can use some trimmings to make some simple leaf shapes to decorate if you like.
Place the pie in an oven preheated to 180c or 160c for a fan oven for 20 minutes then reduce the heat to 160c (140c for a fan oven) and cook for a further 1 ½ hours, finally brush the top of the pastry with the egg yolk and cook for another 20 minutes until the pastry is golden brown.
Remove from the oven and leave the pie to cool in the tin before removing.
Categories: Something savoury, Pies, pastry, Tarts and Tartlets, A blast from the past.... old fashioned recipes with a modern twist!