| | |
| --- | --- |
| Posted by me on March 20, 2014 at 1:15 PM | |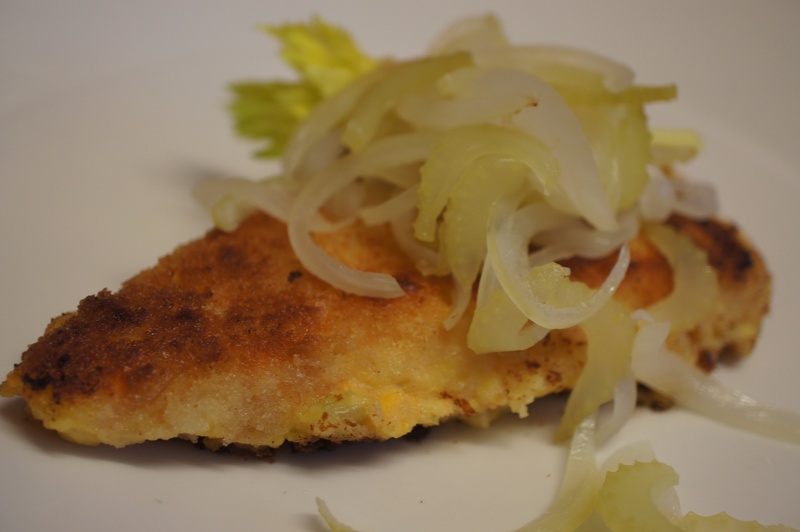 With lots of friends that don't eat meat, its a challenge to create something tasty and filling that's not full of nuts or mushrooms both of which seem to feature a great deal in vegetarian recipes and neither of which are particularly liked by my buddies, but the recipe must also appeal to us carnivores. These crispy wedges are bursting at the seams with nuggets of goats cheese, sweet potato and creamy polenta and I have served them with a quick and easy remoulade that perks up the taste buds a treat.
they make a fabulous side dish too instead of potatoes...
(serves 4)
What you need
500mls milk
125g fine polenta
1 stick celery, finely chopped
100g onion, finely chopped
100g sweet potato, peeled and grated
75g goat's cheese cut into small dice
Salt and Plenty of freshly ground black pepper to taste
100g fresh white breadcrumbs
1 egg
Oil to fry
For the remoulade
100g onion, sliced very thinly
1 stick of celery, sliced very thinly
2 tablespoons white wine vinegar
½ teaspoon Nigella seeds
1 tablespoon caster sugar
¼ teaspoon salt
What you do
Place the milk, finely chopped celery, finely chopped onion, grated sweet potato and polenta into a non-stick saucepan and place over a medium heat stirring occasionally until it comes to the boil then turn the heat down and simmer gently for 10 minutes until the polenta goes very thick (you will need to stir continuously or it will stick and burn)
Add the diced goat's cheese and seasoning to taste.
Line a 6" round tin or dish with cling film and pour the polenta mixture into it, smooth the surface down and cover with another sheet of cling film. Place the polenta into the fridge for an hour or until it has set and is completely cold then remove from the cling film and cut into four equal portions.
Whilst the polenta is cooling make the remoulade.
Place the very thinly sliced onions and celery into a small saucepan with the vinegar, nigella seeds and sugar and bring to the boil over a high heat, boil rapidly for 3-5 minutes or until the vinegar has almost evaporated and the celery and onion have just started to soften, season with a little salt then leave to cool.
Beat the egg in a shallow bowl and coat the polenta wedges in the egg followed by the fresh breadcrumbs. Heat a little oil in a large frying pan over a fairly low heat and cook the wedges until they are golden brown, crispy and hot all the way through.
Serve the wedges with the remoulade
Categories: Something savoury, Free From.....