| | |
| --- | --- |
| Posted by me on March 29, 2014 at 12:40 AM | |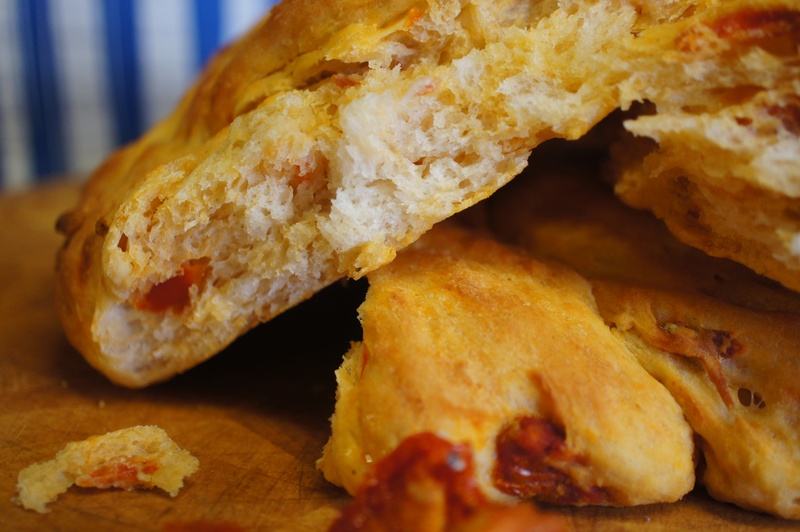 Making and baking bread has got to be one of the most therapeutic pastimes you can think of.Just kneading the dough releases pent up aggression and emotions and the harder you beat it the more your bread will benefit. When I was going through my divorce many moons ago I used to bake bread on almost a daily basis and within a week or two I was making the softest, lightest dough in the world as I pummelled, beat and exuded my frustrations and anger on the poor unsuspecting dough.
I am in a happy place now but I still bake bread because there is nothing quite as satisfying as seeing a gorgeous well risen loaf coming out of the oven.
This is a wonderful sharing bread, simply ripped into chunks and served with Italian food or with a great big bowl of soup when the weather is cool. Enjoy.
What you need
500g strong white bread flour
10g salt
20g fresh yeast- buy this from your in store bakery in your local supermarket
20g milk powder
20g white fat- Trex or vegetable shortening, not lard
290g of hand hot warm water, this is a weight of water not a liquid measurement
100g soft goats cheese cut or crumbled into small cubes
100g sunkiss (or sundried) tomatoes well drained of their excess oil and chopped into small pieces
What you do
Preheat your oven to its lowest heat setting (60c in a fan oven) and place a pan of boiling water in the bottom then close the door and don't open it again until you place your bread to prove.
Place the salt into the bottom of a large mixing bowl and add the flour on top then sprinkle with the milk powder - never put yeast directly onto salt, always separate it or the yeast will die...
Weigh the water into a jug or bowl and crumble in the fresh yeast, mix the two together with your hand (this is called dispersing) then pour the yeast liquid on top of the flour and use your hand to bring the mixture together into a dough. It should be fairly wet and very slightly sticky, now tip the dough out onto a very lightly floured work surface and knead the dough by stretching and ripping it away from you, until its smooth and stretchy, (you can also do this in a free standing food mixer with a dough hook for 2 minutes on the lowest speed then 8 minutes on medium speed but it's so much more fun to take out your pent up aggression on the bread dough by kneading it by hand….
Now place your dough back in the bowl and place in the preheated oven (TURN THE OVEN OFF NOW!) for 45-60 minutes or until the bread has doubled in size, the steamy warm atmosphere is the perfect environment for allowing the yeast to work its magic.
Once the dough has doubled in size, tip it out onto your work surface and add in the goats cheese and sundried tomatoes (the mixture will now go very soft so you may need to add in a little extra flour). Place the dough into a 31cm x 22cm Swiss roll tin or balking sheet and preheat the oven once more with a fresh pan of boiled water and prove for a further 25-30 minutes or until the bread has once more doubled in size (don't forget to turn your oven off leaving just the residual heat and steam).
Remove the bread from the oven whilst you preheat the oven to 220c or 200c for a fan oven and bake the bread for 15-20 minutes or until golden brown and the base sounds hollow when knocked.
Leave to cool on a wire rack
Categories: Something savoury, Free From....., Bread and dough