| | |
| --- | --- |
| Posted by me on April 20, 2014 at 10:15 AM | |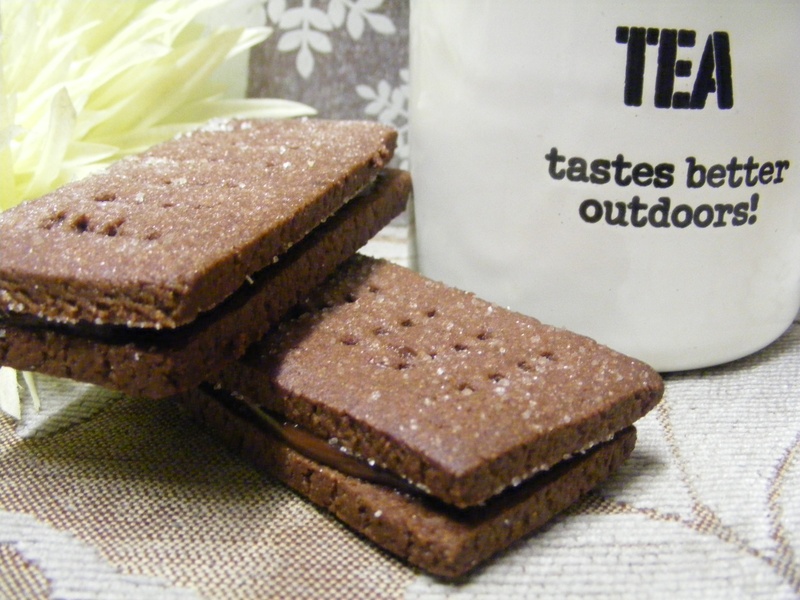 I cannot imagine anything more British than sitting with your feet up on the sofa, watching slushy soap operas with a steaming mug of tea and a biscuit or three and these traditional Bourbon biscuits fit the bill perfectly, the only decision that has to be made is whether to dunk or not to dunk…..
Bourbon biscuits (or Bourbon creams) originated in Bermondsey, London in 1910 and were called Creola biscuits by their manufacturer Peek Frean's & CO of London who also introduced that other British institution the Garibaldi biscuit (or Dead/squashed Fly biscuits as they were affectionately known). Peek Frean's also made the wedding cake for Queen Elizabeth II and Prince Phillip in 1947 which reached nearly two meters or six feet in height complete with the crowning glory of a metal Knight.
The factory was the first mass producer of biscuits but unfortunately closed in 1989 although they were also responsible for the manufacture of that mainstay of parties the extra scrummy Twiglet before they closed their doors for good after selling out to the US giant Kraft.
They might be made now by our Trans Atlantic cousins but they will never get confused with a cookie and will remain the mainstay of a good old cuppa….
This recipe makes 12 good sized Bourbon biscuits
What you need
50g unsalted butter, softened
50g soft light brown sugar
1 tablespoon golden syrup
110g plain white flour
20g cocoa powder
Pinch salt
1/2 teaspoon bicarbonate of soda
1 tablespoon granulated sugar, for sprinkling
About two tablespoons of milk
For the filling- Ganache
125g good quality milk chocolate chopped into small pieces
120mls double cream
1 knob butter about the size of a walnut
What you do.
For the biscuits
Preheat the oven to 180c, 160 for fan ovens or Gas 4 and Line a baking sheet with non stick baking paper.
Cream together the butter and brown sugar until light and fluffy. Beat in the golden syrup, then sift in the flour, cocoa, salt and bicarbonate of soda and beat to combine. Add a little milk, a teaspoon at a time, until a soft, even dough is formed.
Turn the dough onto a floured surface and knead for about one minute. Roll into a rectangle about 3mm thick then cut into 24 even rectangles, approx. 5cm x 3cm. Dot holes into the dough with the end of a fork (or any other pattern you like), then sprinkle half of the biscuits with the granulated sugar and transfer to your prepared baking sheet.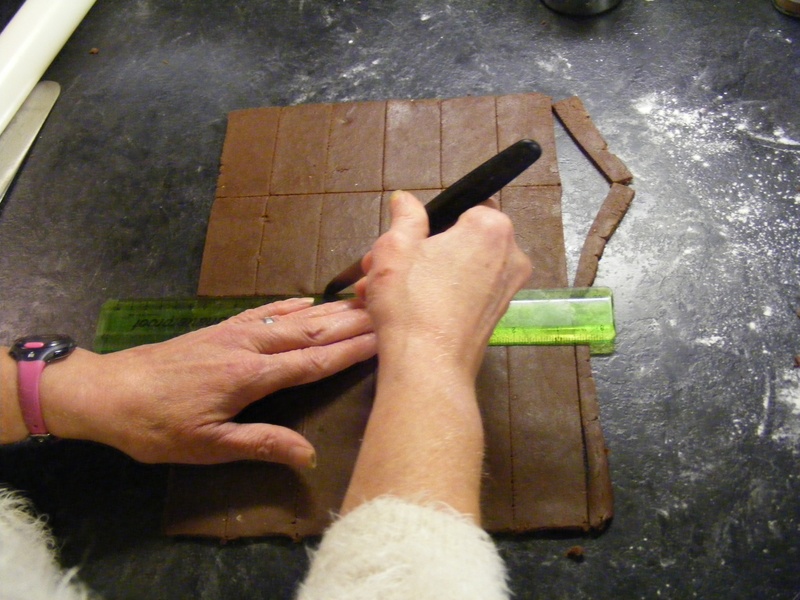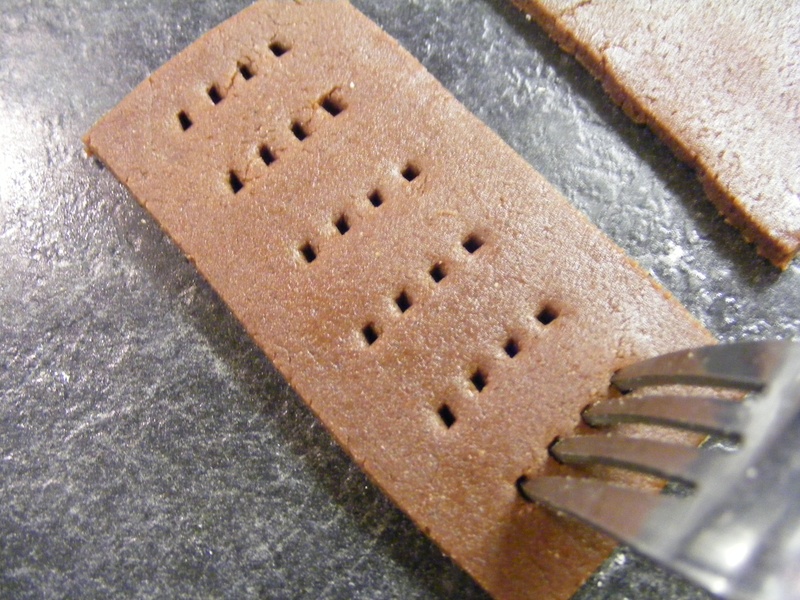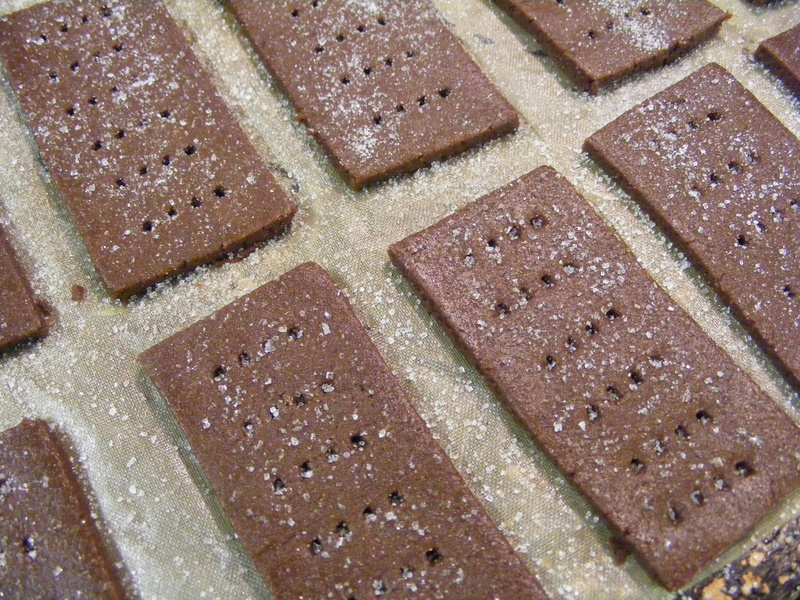 Bake for 8 – 10 minutes, then remove from the oven and transfer to a wire rack to cool.
For the filling- Ganache
Place the chopped chocolate into a bowl then heat the cream in a small saucepan until almost boiling, pour the cream over the chocolate and add the knob of butter, stir or whisk until the chocolate has melted and the mixture is smooth and glossy then leave to cool for about 20 minutes or until the mixture is spreadable.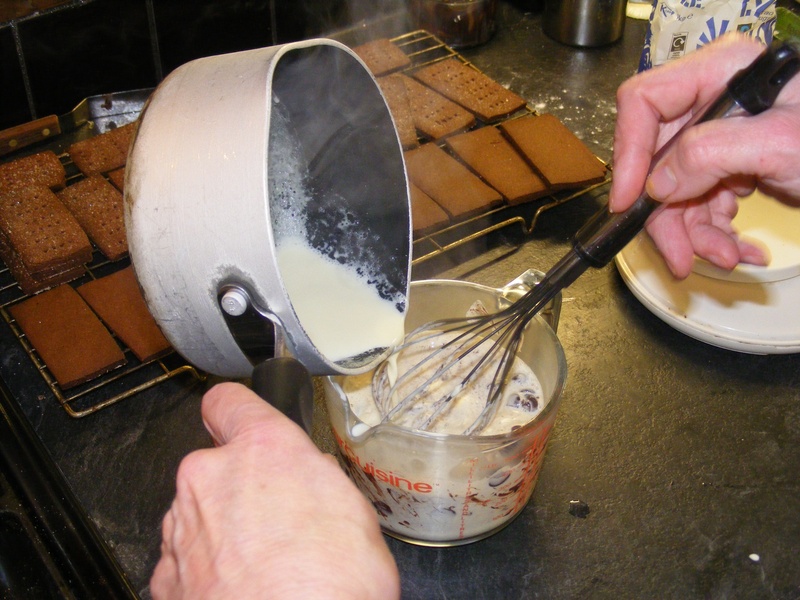 To assemble the biscuits, take a heaped teaspoon of chocolate ganache and spread over the underside of one of the 'un'sugared biscuits, smoothing equally right to the edge then sandwiching together with a second sugar topped biscuit. Repeat until all your biscuits are filled, leave them to set completely then store in an airtight container.
Now put your feet up, tune into 'Corrie' or Eastender's and practice the triple dunk method with a mug of your favorite brew….
Categories: Chocolate... chocolate and more chocolate!, Biscuits and Cookies, A blast from the past.... old fashioned recipes with a modern twist!