| | |
| --- | --- |
| Posted by me on May 3, 2014 at 10:05 AM | |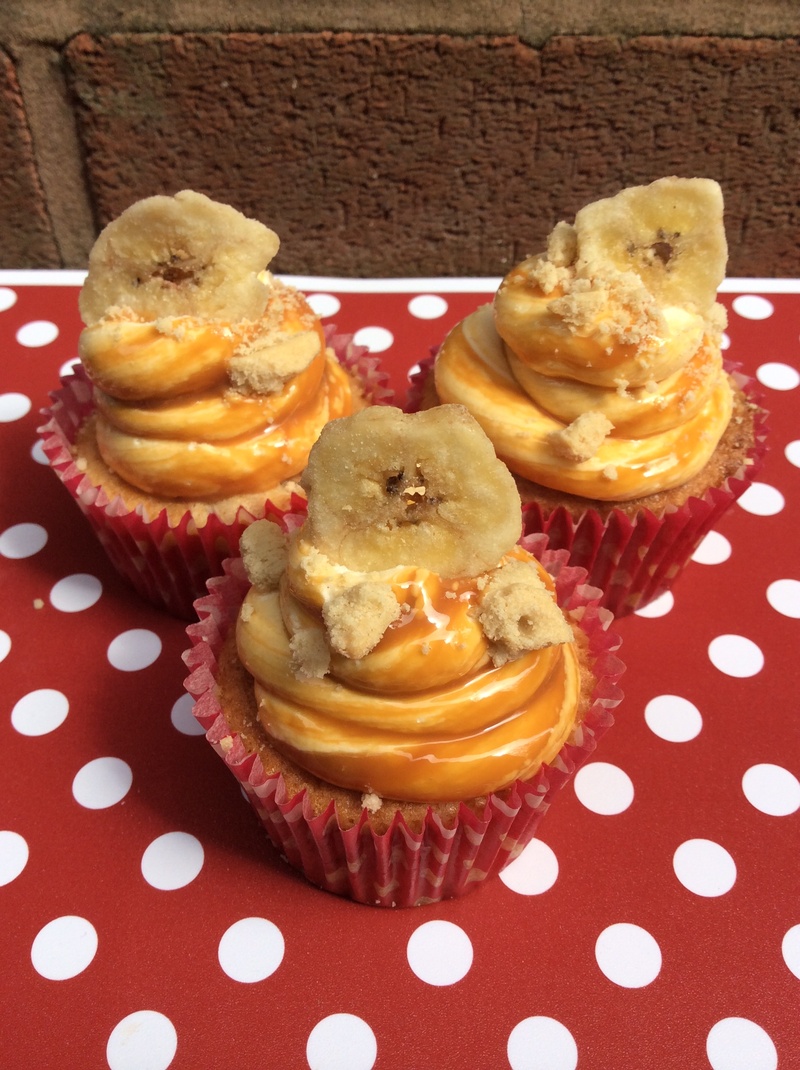 Banoffi pie is one of my absolute all time favourite desserts, that combination of crisp biscuit or pastry base, whipped cream, golden slices of unctuous banana and smooth caramel sends my taste buds into food heaven and every opportunity I have to make it, I do.... with that thought in mind I figured it was about time that I combined it with another fabulous favourite, the humble cupcake!
Moist, banana infused cake topped with a marbled vanilla and caramel frosting and sprinkled with shortbread crumbs and a jaunty little sweetened banana chip perched proudly on the top for good measure. You could add some plain chocolate chips into the cake batter for good measure if you want to be extra naughty.... You know you want to!!!!
What you need
150g cake margarine
150g caster sugar
3 medium eggs
150g self raising flour
1 teaspoon vanilla essence
1 large very ripe banana, mushed with a fork
100g plain chocolate chips (optional)
Frosting
150g butter
75g Trex
300g icing sugar
1 teaspoon natural vanilla extract
2 Tablespoons of Dulce de leche or Nestle tinned caramel (find this next to the condensed milk in your supermarket. If you can't find it simply place an unopened tin of condensed milk into a saucepan of boiling water and boil it for 2 hours, allow to cool and voila you have readymade caramel)
2 shortbread biscuits, crushed to sprinkle on top
12 dried sweetened banana chips
What you do
Preheat the oven to 180c or 160c for fan ovens and line a 12 hole muffin tin with large paper cup cake cases
Cream the cake margarine, vanilla essence and caster sugar until soft, light and fluffy then add the eggs in one at a time, beating well after each addition.
Add the self raising flour and the mushed up banana and mix until just combined, spoon into the paper cup cases.
place into the oven and bake for 18-20 minutes or until the cakes are well risen, golden brown and spring back when pushed gently with your finger. Remove from the oven and leave to cool in the tin to prevent the papers from coming away from the cakes.
To make the frosting…. Place the Trex, vanilla extract and butter into a bowl and beat until smooth then add the icing sugar and beat again to make a smooth butter cream.
To finish the cupcakes, place the butter cream into a piping bag but only on one side then turn the bag over and place the two tablespoons of dulce de leche into the other side of the bag ( this will give you a two toned appearance to your butter cream).
Pipe a swirl on the top of each cupcake with the two tone butter cream, sprinkle with the crushed shortbread and top each cake with a sweetened, dried banana chip.
Categories: Cupcakes