| | |
| --- | --- |
| Posted by me on June 4, 2014 at 10:20 AM | |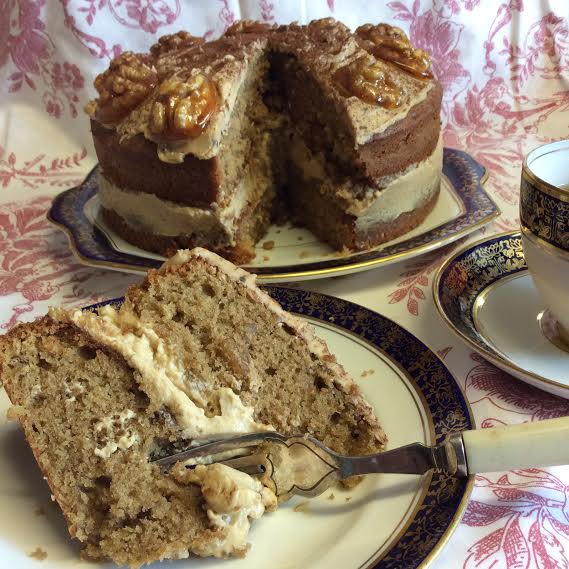 I don't boast very often but this is definitely the best coffee and walnut cake you will ever try... the combination of rich coffee infused cake, studded with little nuggets of walnuts, the most sumptuous mascarpone cream with a hint of vanilla and coffee and caramelised walnuts make this an absolute winner and I guarantee that even if you are not a fan of coffee this will become a firm favourite...
What you need
250g butter at room temperature
75mls black coffee, made with 2 tablespoons instant coffee granules- remove and reserve two tablespoons to use in the mascarpone filling….
280g self raising flour
250g soft light brown sugar
1 level teaspoon baking powder
4 eggs
1 teaspoon vanilla essence
75g chopped walnuts
For the filling
100g icing sugar
150mls double cream
100g mascarpone
1 teaspoon vanilla essence
For the water icing
150g icing sugar
1 teaspoon instant coffee granules
1 ½ tablespoons boiling water
For the caramelised walnuts
10 walnut halves
100g caster sugar
2 tablespoons water
A little cocoa powder to dust (optional)
What you do
Preheat the oven to 180c or 160c for a fan oven and grease and line 2 x 20cm cake pans.
Place the butter, brown sugar, flour, baking powder, eggs, coffee infused liquid (minus the two tablespoons) and vanilla essence into a bowl and beat with an electric mixer until light and fluffy then fold in the chopped walnuts. Divide equally between the two prepared tins and bake in the preheated oven for 25-30 minutes or until well risen and firm to the touch. Cool.
For the filling- Place the mascarpone, double cream, icing sugar, vanilla essence and the remaining two tablespoons of coffee infused liquid into a medium sized bowl and whisk until the mixture holds firm peaks, use to fill the two cakes.
For the caramelised walnuts- place the caster sugar into a small non stick saucepan with the water and bring slowly to the boil, stirring all the time to dissolve the sugar crystals then remove the spoon and boil the syrup rapidly until you get a golden brown caramel. Drop the walnut halves in and coat them with a fork then remove and place them individually onto baking parchment or a silicone sheet, leave to cool.
For the water icing- place the coffee granules and boiling water into a small bowl and stir until dissolved then add the icing sugar until you have a smooth spreadable consistency, spread over the top of the cake and position the cooled caramelised walnut halves around the edge, leave to set then dust with the c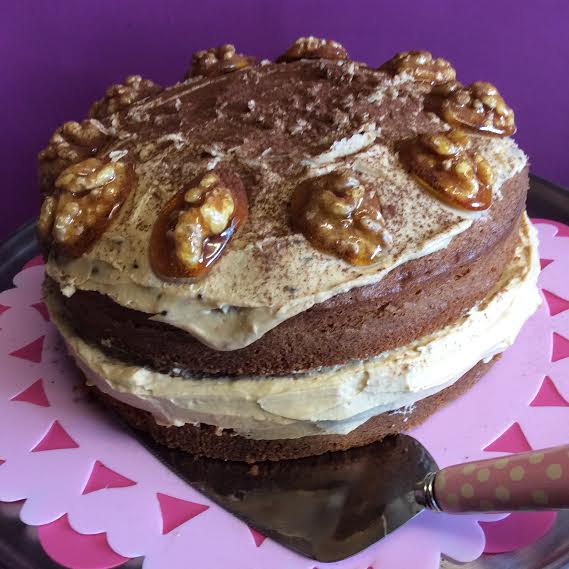 ocoa powder is using.
Categories: Cutting cakes, something a little bit special..., Just like Grandma used to make