| | |
| --- | --- |
| Posted by me on October 21, 2014 at 6:00 AM | |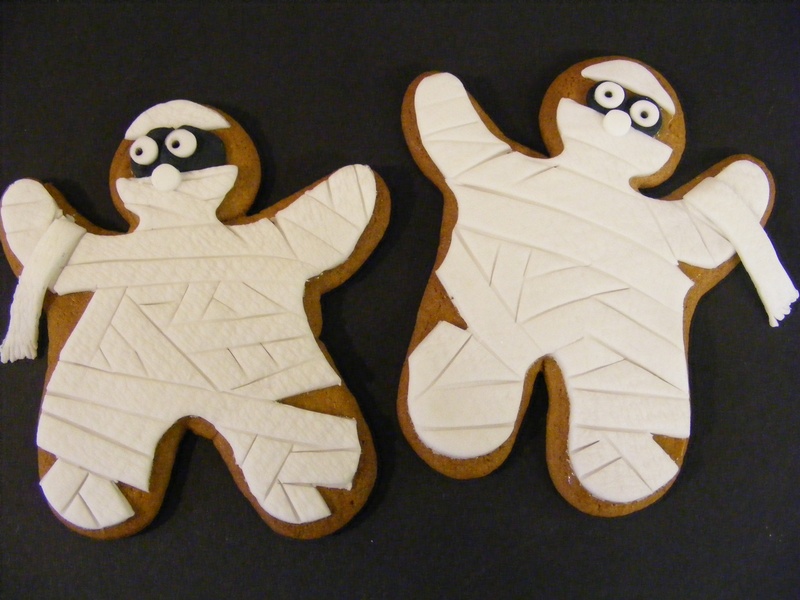 These adorable cookie mummies are the perfect treat for Halloween and can easily be made by small hands using very little equipment, so what are you waiting for? Grab a bowl and mix up a batch of gingerbread cookie dough.... Happy Halloween x
Makes approximately 12 (depending on the size of your cutter)
What you need
350g plain flour, plus a little extra for dusting
1 level teaspoon bicarbonate of soda
¼ level teaspoon salt
1 level tablespoon ground ginger
1 level teaspoon caraway seeds ( caraway seeds have a lovely gentle aniseed flavour which complements the ginger perfectly)
Grated zest of 1 orange
125g butter
175g soft light brown sugar
1 medium egg
4 level tablespoons golden syrup (you can use maple or corn syrup if you can't find golden syrup)
To decorate
2-3 tablespoons of good quality lemon curd or smooth apricot jam
500g fondant or sugar paste icing ( this is known by several titles around the world but it's the icing that you can roll out)
A little icing sugar for dusting
A little black food colouring
A black edible ink pen (or use a good quality children's black felt tip pen as the ink is non toxic)
What you do
Place the flour, spices, salt, orange zest and bicarbonate of soda into the bowl of a food processor and blitz for a second or two to mix all the ingredients together then add the sugar and butter and blitz again until the mixture resembles breadcrumbs.
Add the egg and the golden syrup (the easiest way to measure the syrup is to warm the tin up first so the syrup becomes more pourable) and blitz once more until the dough comes together into a ball. Wrap in cling film and leave in the fridge for 30 minutes.
Preheat the oven to 180c or 160c for a fan assisted oven and lightly grease 2 baking sheets.
Roll out the gingerbread dough to the thickness of 1/2cm and cut out as many gingerbread men as you can, re-rolling the mixture until you have used it all up.
Bake in the preheated oven for 12-15 minutes depending on whether you like a soft or a crunchy cookie, I prefer mine crunchy so bake them for the full 15 minutes.
Leave to cool on the trays.
Now… Watch my video on you tube on how to decorate and finish your cookies or…
Spread a thin layer of lemon curd on the cooled cookies then roll out the icing thinly and lay a clean, unused cleaning cloth on top, rolling over it a couple of times to imprint the pattern.
Cut out a gingerbread man shape with your cutter then use the back of your knife to mark bandages, cutting out a few gaps around the edges to look like its unravelling a little. Now cut off ½ from the top and reserve. Finally cut a 1 cm strip and remove, this is where its eyes will be. Carefully life the icing and place it on top of the prepared cookie.
Next, colour a little fondant icing black and roll out two small pea sized balls place on the cookie and squash them down gently then cut out 3 small circles using a large plain nozzle or roll out three much smaller balls. Position two on the eyes and one for the nose, finally use the edible ink pen to mark pupils.
I always add a little length of unravelled bandage on my mummies, just cut a small strip from the rolled imprinted fondant and stick onto the cookie using a little water.
Categories: Biscuits and Cookies, Seasons eatings...., something a little bit special...