| | |
| --- | --- |
| Posted by me on October 22, 2014 at 1:20 PM | |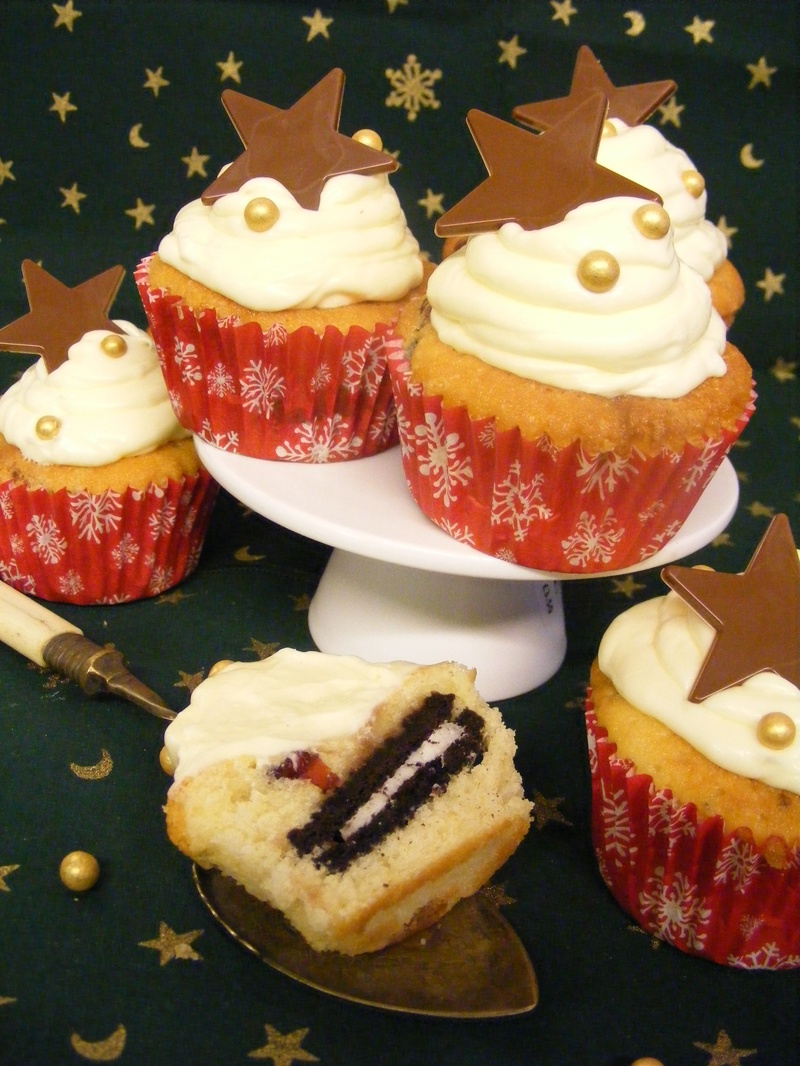 Makes 12
Christmas is such a magical time with sounds, sights and scents evoking all that is wonderful about the season of goodwill.
For me it's the aroma of zesty oranges the gleam of plump, ruby red cranberries and soft, golden apricots and of course all the beautiful array of totally divine chocolates, candies and nuts.
These Christmas cupcakes with their succulent cranberries and jewel like apricots contain a secret in the centre because Christmas just wouldn't be magical without a surprise or two…
What you need
125g butter
125g caster sugar
1 level teaspoon of orange extract or the grated zest of one large orange
2 medium eggs, beaten
125g flour
5 tablespoons milk
50g dried cranberries, roughly chopped
50g dried soft apricots, chopped into small pieces
12 Oreo cookies
Cream cheese frosting
180g full fat cream cheese
100g butter
250g icing sugar
1 level teaspoon of orange essence or the grated zest of one large orange
2-3 tablespoons of cranberry sauce or redcurrant jelly
12 chocolate stars
Edible gold decorations
What you do
Preheat the oven to 180c or 160c for a fan assisted oven then line a 12 hole muffin tin with paper muffin cases.
Place the butter, orange essence or zest and sugar in a large mixing bowl and beat until the mixture is soft and very fluffy.
Add the eggs a little at a time then fold in the cranberries, chopped apricots and flour. Finally add the milk and beat gently to combine.
Place a heaped teaspoon of the mixture into the base of each muffin case then place an Oreo cookie on top pushing it down gently so the mixture squishes up the sides a little to meet the top of the biscuit.
Divide the remaining mixture between the cakes and bake in the preheated oven for 18-20 minutes or until the cakes are golden brown, remove from the oven and leave to cool in the tins to prevent the paper case coming away from the cake.
Meanwhile beat the butter, icing sugar and orange essence or zest together in a mixing bowl until soft and fluffy then gently beat in the cream cheese until it's just incorporated, spoon the mixture into a piping bag and cut 1cm from the tip.
Pipe a circle of butter cream around the outside edge of each cake then spoon half a teaspoon of cranberry sauce or redcurrant jelly on top, pipe more cream cheese frosting on top to form a peak.
Finally top with a chocolate star and a few edible gold decorations
Categories: Christmas, Cupcakes, something a little bit special...