| | |
| --- | --- |
| Posted by me on November 25, 2014 at 3:50 PM | |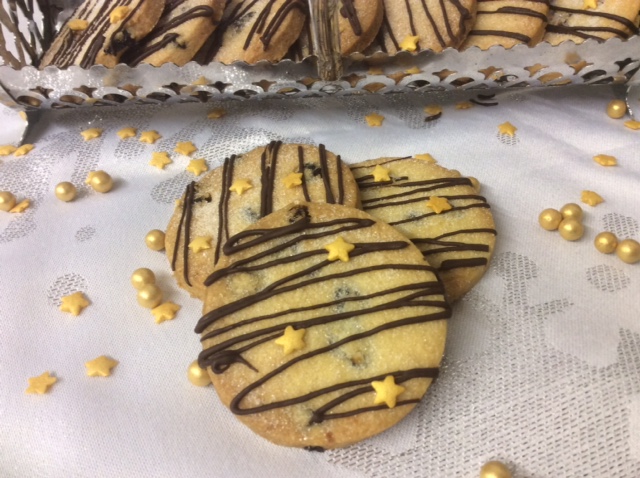 Lemon and butter goodness in one delicious mouthful with a dusting of sugar and a drizzle of chocolate, these scrummy cookies make a lovely little gift when bagged up in cellophane bags tied with some festive ribbon... or you can simply make a batch and munch them hamster style
 x
What you need
300g plain flour plus a little extra for dusting
200g butter
100g caster sugar plus a little extra for dusting
75g dried blueberries
2 lemons, finely grated zest
¼ teaspoon salt
1 egg yolk
75g plain chocolate
What to do
Preheat the oven to 190c or 170c for a fan assisted oven.
Place the plain flour, butter, sugar, lemon zest and salt into the bowl of a food mixer with a paddle blade attachment and mix on low speed until the mixture forms a firm dough, add in the dried blueberries and egg yolk and mix again to combine. If you don't have a food mixer simply beat the sugar, lemon zest, egg yolk, salt and butter together until soft and fluffy then add in the flour in two halves. Bring the mixture together with your hands.
Lightly dust your work surface and roll the dough out until its 3-4mm thick then cut out circles using a 10cm cutter.
Place onto baking trays and bake in the preheated oven for approximately 12 minutes or until the cookies are a light golden brown then leave to cool before sprinkling with some caster sugar.
Melt the plain chocolate in a small bowl over some hot but not boiling water then drizzle the cookies with it.
Categories: Biscuits and Cookies